Premium Salesforce App
New Account Spike data is generated and pushed to Salesforce every morning so that your sales team always has a fresh view into their top engaging accounts. Through our existing RollWorks ABM Salesforce App, we can visualize this data through native Salesforce reports and dashboards and our Account Page Component.
Salesforce Account Page Component
Once you have Account Spike reports and dashboards configured for your sales team in Salesforce, the important next questions that often come from sales teams are to tell them:
Who was engaging that led to the Account Spike event?
What pages were they viewing? What content were they consuming?
The answers to those questions are critical to arming sales reps with the information they need to prioritize outreach to that spiking account, and those questions are answered via our Salesforce Account Page Layout Component.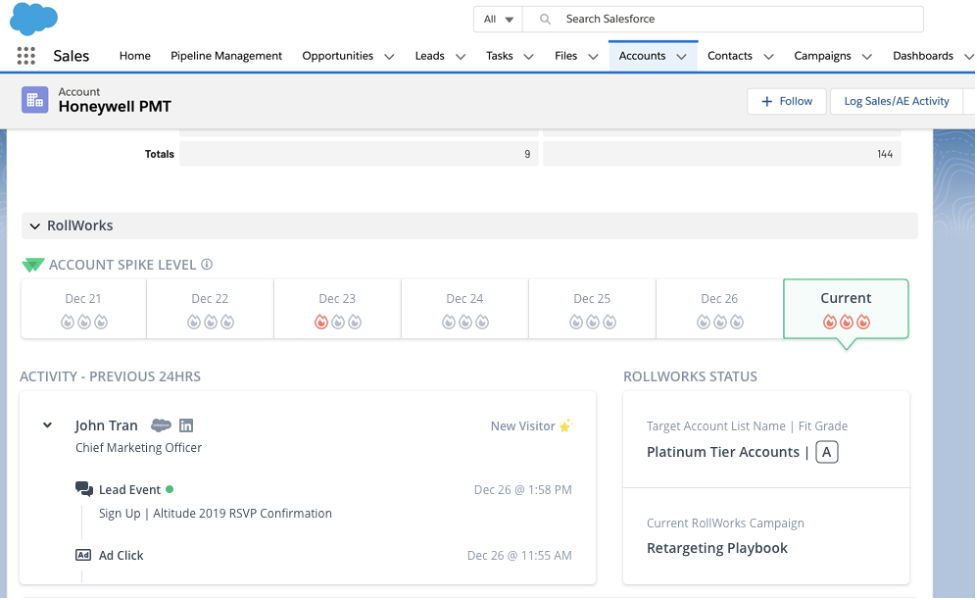 Once added to the page layout by your Salesforce Admin, sales users will be able to interact with the Sales Insights Account Component to see a trailing 7 day window of spike activity, a user-level view of the engaged contacts and what actions they took, as well as key additional RollWorks ABM program insights like what Target Account List they are on, their Account Fit Grade, and whether or not the account is currently active in any RollWorks campaigns.
Account Spike Salesforce Reporting
Once you have set up the Sales Insights product and assigned Sales Rep and Sales Manager seats, the Account Spike data will begin pushing into Salesforce for accounts assigned to those users. You can get started viewing Account Spike data in Salesforce reports by navigating to:
Salesforce Reports
Search for the RollWorks Custom Reports folder.
Click the Account Spike Report (Template) Salesforce report. This may be called the Engagement Spike Report (Template) for customers who installed our Salesforce app before January of 2020.
View your Account Spike data grouped by Sales Rep. This template serves as the starting point to begin sharing Account Spike data with your sales team.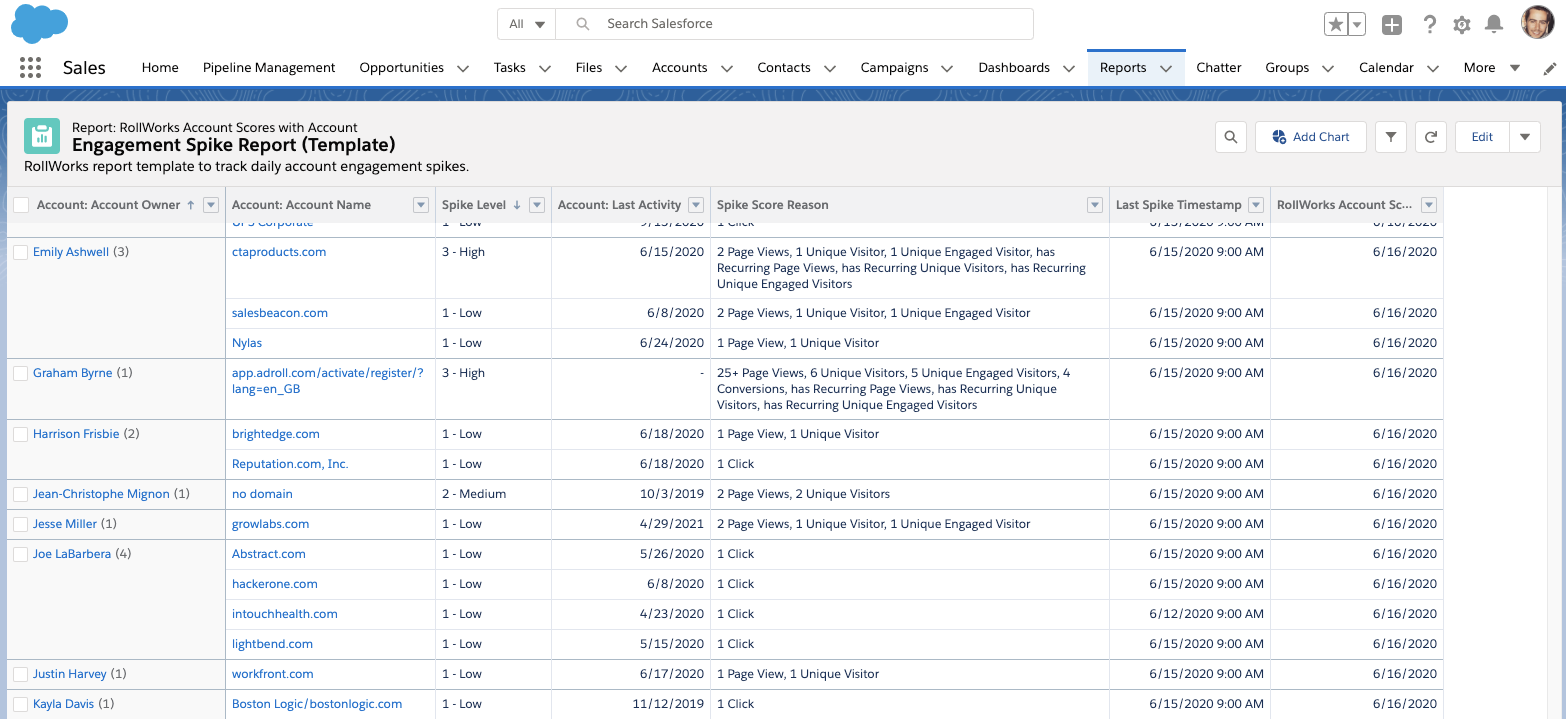 Next, you'll want to Edit the report and add your own fields and filters to make the reports curated for the sales teams using them. For example, you may want to Save As the report to create a few versions that will breakout spiking accounts by:
Sales Unassigned Accounts - update filter to set Account Owner equal to your unassigned account Salesforce alias
SDR/BDR Assigned Accounts - add or edit your filters to only show accounts specific to your SDR/BDR team
Sales Account Executive owned Accounts - add or edit your filters to only show accounts specific to your account executive sales reps
You can then further slice and dice this data by region, product line, or business unit. Because we push this data to a custom object in your Salesforce org, it is fully customizable to edit these reports to meet your team structure and business objectives. You can find more details on the exact Salesforce object and fields we sync our data to in the section below!