What are Journey Events
RollWorks Journey Events pulls timestamped events from Salesforce and HubSpot CRM, Marketing automation platforms like Marketo and HubSpot, and partnership integrations like G2, combining those events with intent, engagement, and journey stage data contained within the RollWorks platform. Journey Events include two main features:
Event Timeline.  View activity data like SDR emails sent and opened, meetings booked, opportunities opened/progressed, and deals closed from Salesforce, Marketo, and Hubspot alongside RollWorks Web and Ad engagement data in a single timeline to see a complete picture of ABM program events.

Journey Stage Visualization.  View an account's stage progression or regression next to account engagement and activity to understand what activities are more efficient at driving accounts through the buying journey.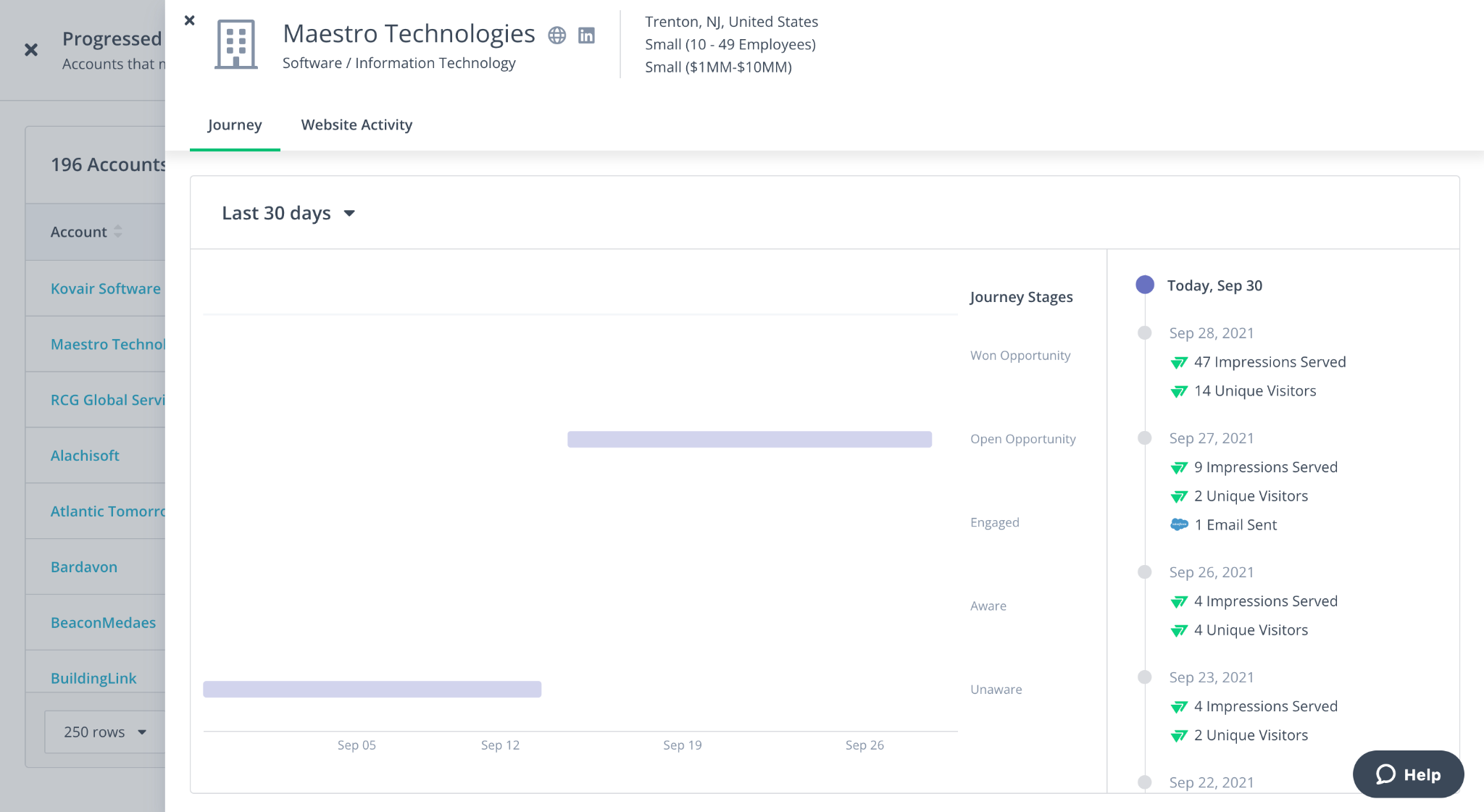 Benefits
Journey Events help you understand how marketing and sales activities are driving account progression by creating a single visualization of all account events from within and outside RollWorks.
Seeing how an account is influenced while moving through the buying journey allows you to understand what is working and what needs refinement in your ABM program.
Turn Activity Data Into Actionable Insight.

Get a better understanding of what is working and what can be further improved across all channels.

Digital Advertising

Website

Sales Outreach

Events

Email Campaigns

Direct Mail Advertising
Make Marketing and Sales Events More Efficient

at driving engagement and funnel motion.

Ultimately, more efficiency drive accounts from Unaware through Closed-Won.
Look back window
You can see Journey Events for an Account for the last 7, 14, 30, or 90 days. At this time you cannot see Journey Events for an Account for more than 90 days.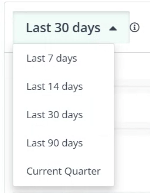 Data signals
Journey Events has the following data signals available:
Who can access
All RollWorks customers on a Starter, Standard, Professional, and Ultimate package can use the Journey Events Feature at no additional cost.
To find your current subscription, log in to RollWorks and navigate to Settings > Billing > Plans & Usage.
Use Journey Events in RollWorks
Journey Events are accessible anywhere on the platform from Journey Stages, to Adversiting Reports to Accounts pages.  Anywhere there is a list of accounts, users can click into the account and see their Journey Events.
View Journey Events from Journey Stages:
To access Journey Events from Journey Stages in order to see what events progressed an account down the funnel, users should click into Journey Stages and select a comparison date.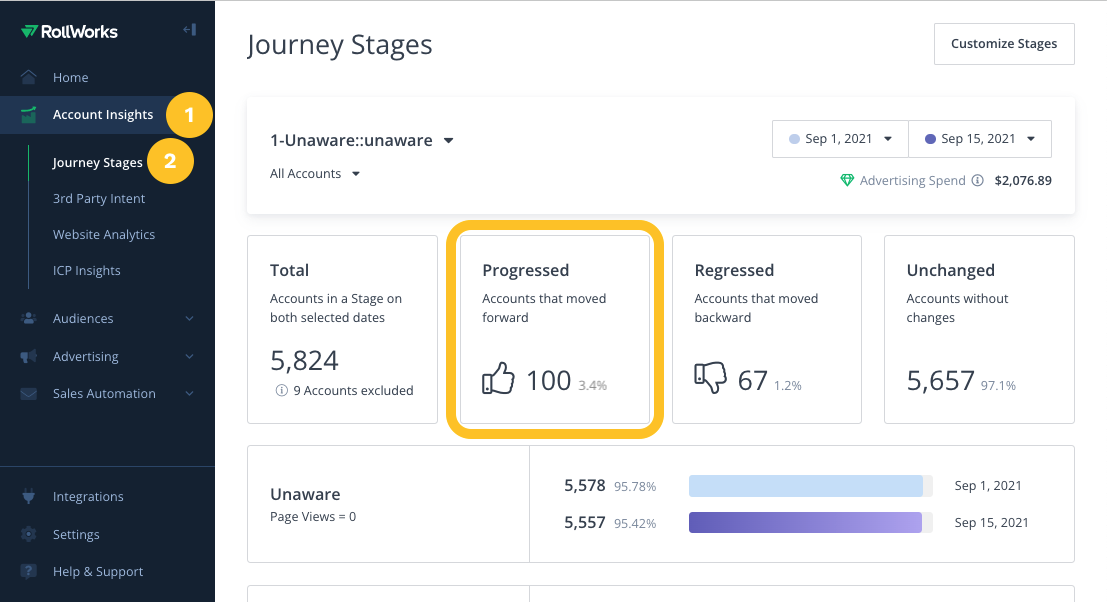 To see a list of accounts that progressed through the funnel users should click the 'Progressed' icon.   Once clicked, a list of all the progressed accounts will appear on the right.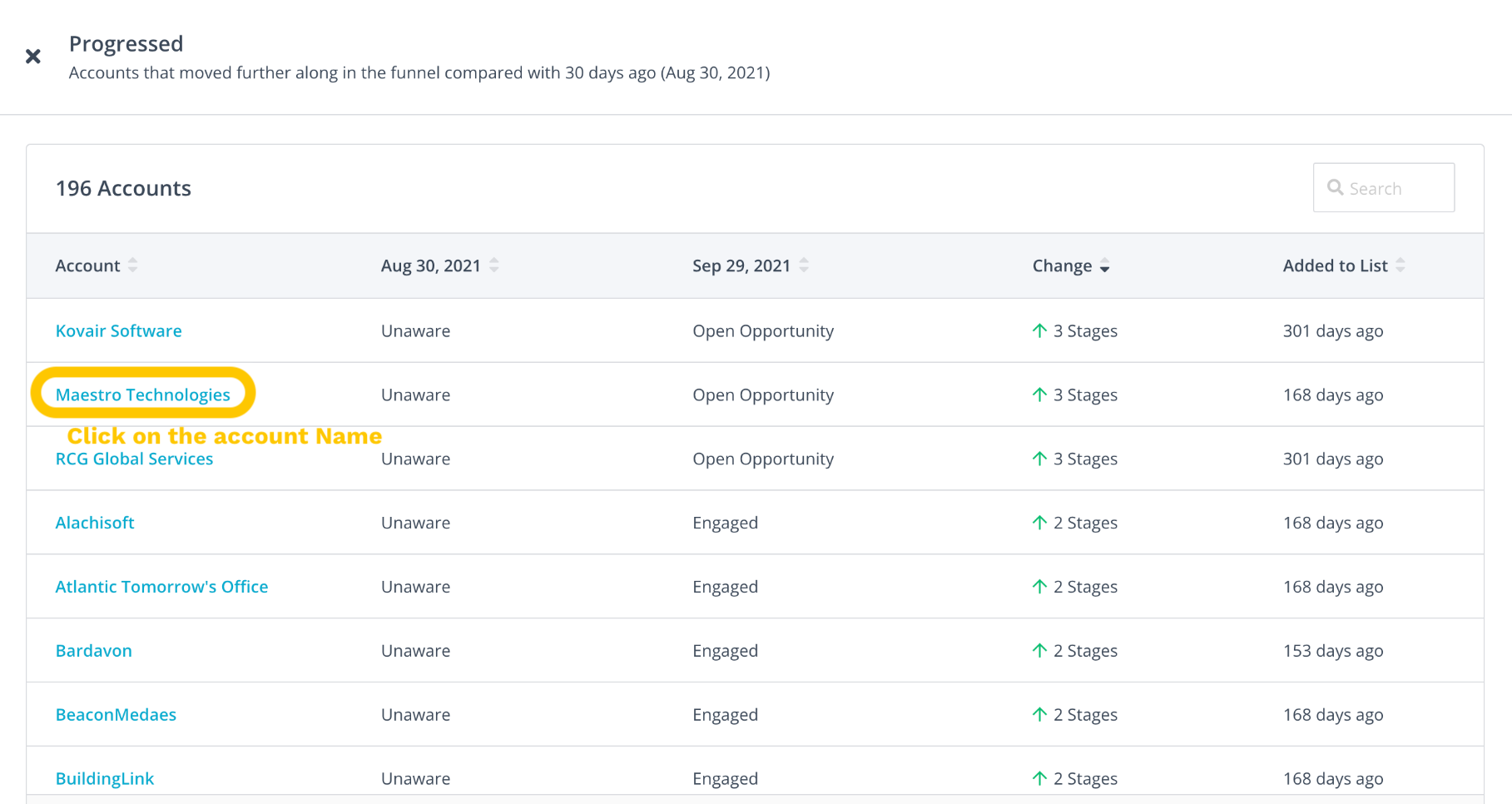 To see all Journey Events for a particular account, users can click the account of interest.  Once clicked, that account's journey events will appear on the right-hand side of the screen.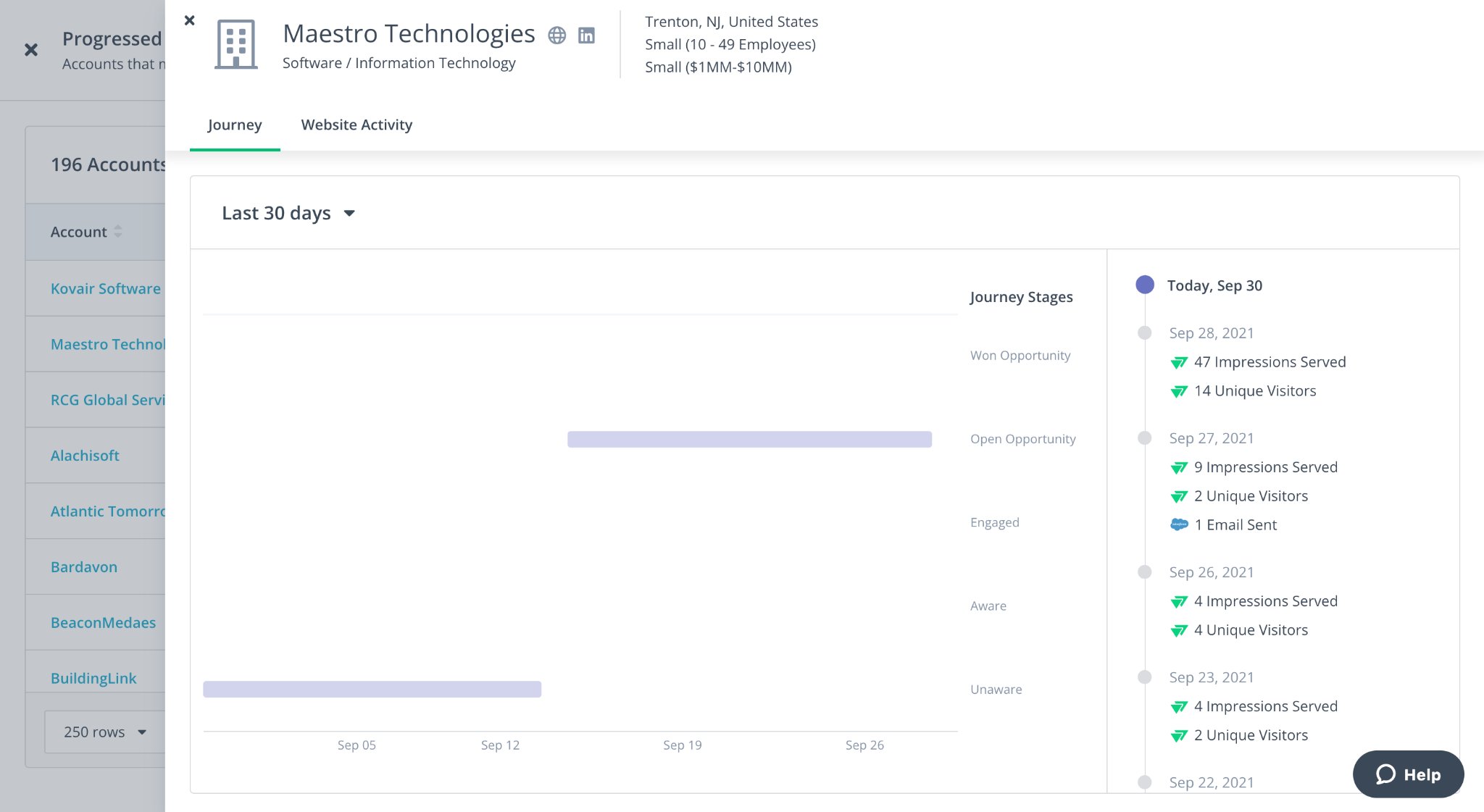 Use Journey Events in your CRM
You can access Journey events direct from your CRM.
To enable access to Journey Events in your CRM you will need:
Connect RollWorks to one of our supported CRM:

Assign Sales Insights seats to each CRM user that needs access to view Journey Events directly in your CRM. Follow the instructions in this guide to assign Sales Insights seats.

Open your CRM and follow the instructions to find Journey Events:

For Salesforce: Go to an Account record, click the RollWorks Sales Insights tab and scroll down to Journey Events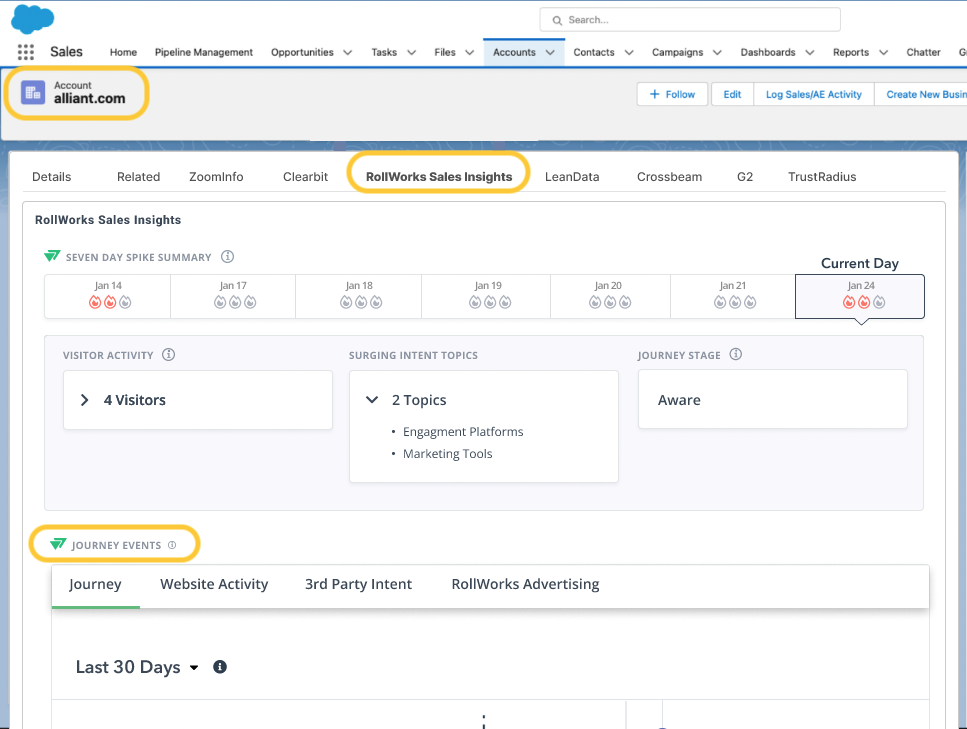 For HubSpot: Go to a Company record, click on the RollWorks Sales Insights CRM card on the right and click the button View Journey Events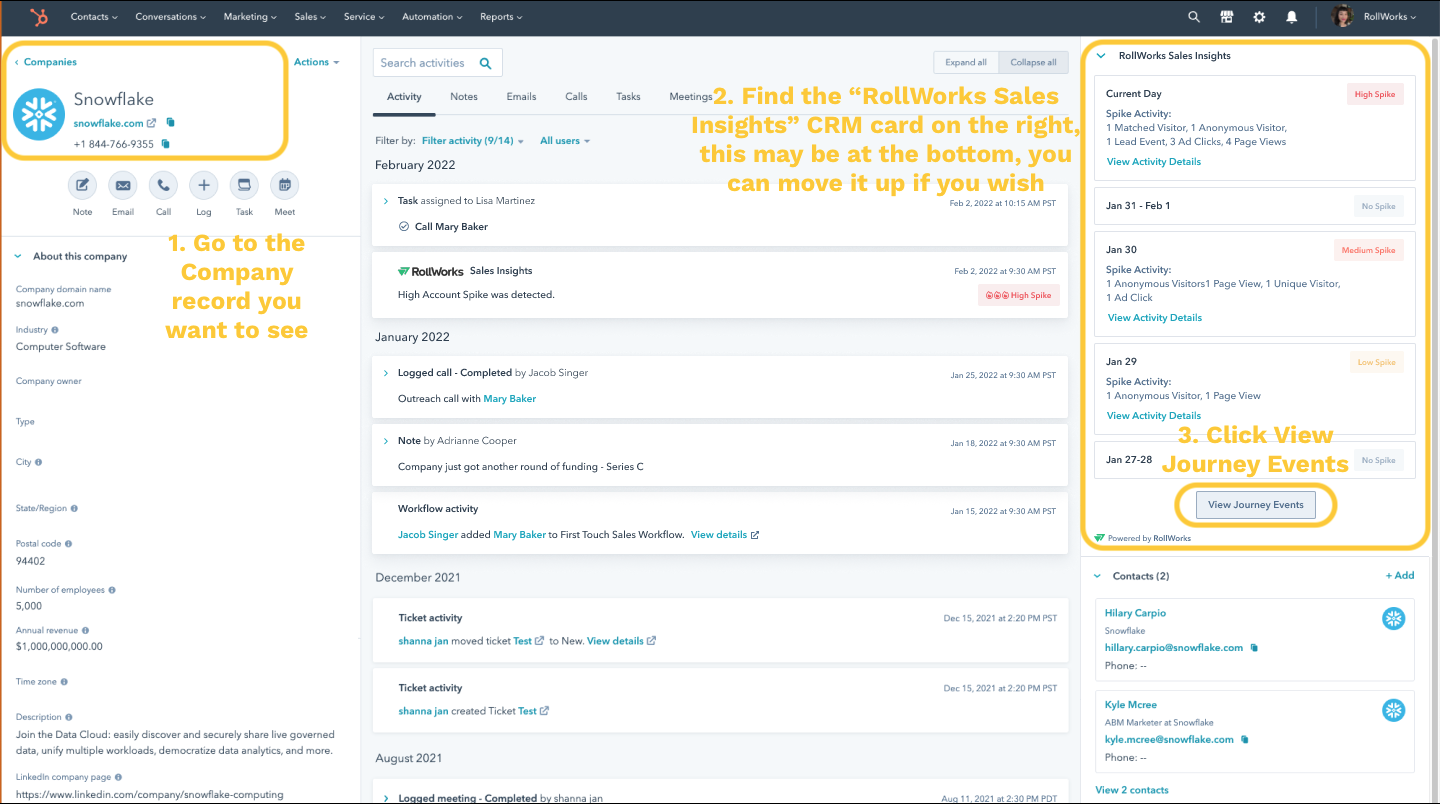 Troubleshooting
For these events to appear, the appropriate integrations need to be in place.  Please see the list below to enable all events for Journey Events:
Watch Videos
View Journey Events in Salesforce