What is Sales Insights
Sales Insights is a RollWorks feature that helps SDRs, Sales Reps and Sales Managers better prioritize accounts for outreach by uncovering which Salesforce accounts are spiking with website and ad engagement. It provides valuable insights to your sales organization directly in your CRM and through daily spiking account email alerts, in-Salesforce account insights, and spiking account Salesforce reports. Read the table below for a quick glance at these Sales Insights features or learn more in our Sales Insights Introduction Guide.
Daily Account Spiking email alerts for sales reps and managers
Daily email alerts are sent when their assigned and/or unassigned accounts are spiking in engagement so that they can prioritize their outreach. Account Spike email alerts include a snapshot of spiking accounts with contact-level engagement details. Learn more here.
View Account Spike insights directly in your Salesforce Account records
Assigning a seat in Sales Insights in RollWorks will automatically assign the Salesforce permission set RollWorks Sales Insights to that user in Salesforce so that they can:
View spiking account and contact-level engagement details in Salesforce. Learn more here.
View the Sales Insights Account Page component on your account records spiking with engagement. Learn more here.
View all Accounts Spiking using Salesforce reports
Use our out-of-the-box Account Spike report template to view all accounts spiking in activity at a glance or c
ustomize our out-of-the-box Account Spike report by adding filters, adding columns, and scheduling the report to be sent to any recipients. Learn more here.
Who can access
Sales Insights is available to customers with a paid RollWorks subscription: Starter, Standard, Professional, and Ultimate. Each package includes a set number of Sales Insights seats, and additional seats are available for purchase at an additional cost. 
To enable your team to use Sales Insights you must connect RollWorks with of one the following CRMs:
CRM
CRM Editions supported
How to setup Sales Insights

Salesforce

An API-enabled Salesforce edition such as Enterprise Edition, Unlimited Edition, Developer Edition, or Performance Edition.

Click here to view the latest list of API-enabled Salesforce editions.

Continue reading this article.

HubSpot

Free, Starter, Professional, and Enterprise.
Before you Start
Before moving forward with the initial configuration of Sales Insights, you must complete the following RollWorks platform onboarding steps:
Once these pre-requirements are complete you are ready to onboard your sales team to use Sales Insights in Salesforce following the steps below:
Step 1. Set Salesforce as your default CRM
Since Sales Insights can be configured for HubSpot or Salesforce, you will need to set HubSpot as your default CRM in RollWorks in order to activate Sales Insights for HubSpot.
Login to RollWorks and go to

Settings → Integrations → Salesforce

Mark the checkbox next to

Set Salesforce as CRM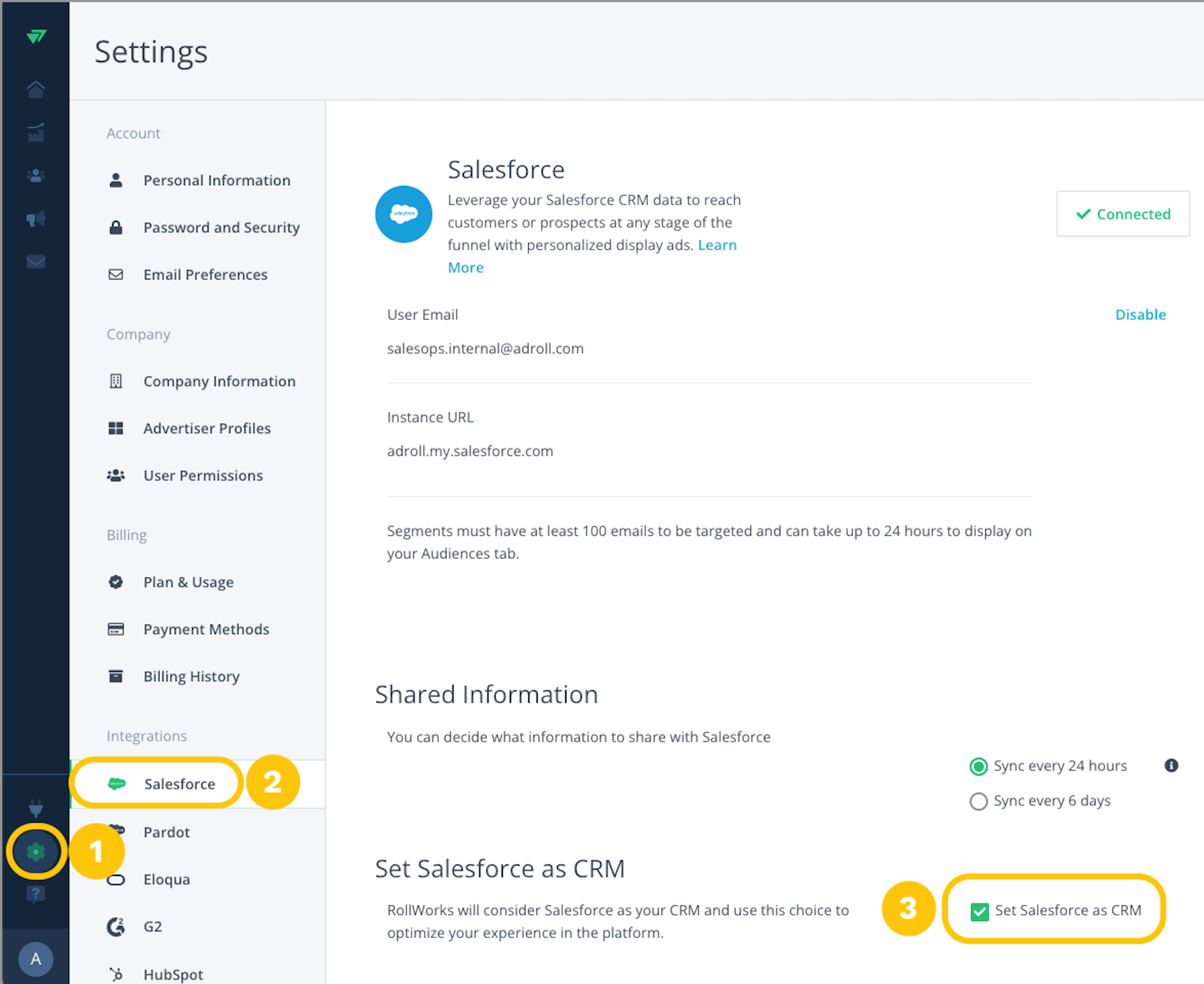 If you miss this step, you will be prompted to connect and select your default CRM when you access Sales Insights from Settings > Sales Insights > Seat Management
Step 2. Enter the email alias for unassigned Salesforce accounts
In this step, you will enter the email alias used as the Account Owner for Salesforce accounts that have not been assigned to a rep yet. This step is necessary so that RollWorks can identify which Salesforce Accounts don't have an owner and should be considered unassigned accounts.
Find the Salesforce alias for unassigned accounts
This typically defaults to your Salesforce Administrator email address or can be a placeholder email address created by your Salesforce Administrator to use as the Account Owner for all your unassigned accounts.
This help center article walks you through the steps to find your email alias for unassigned accounts in Salesforce. Alternatively, contact your Salesforce administrator.
Once you have the alias used for your Salesforce unassigned accounts, log in to RollWorks.
Navigate to Settings → Sales Insights → Seat Management.
Click Unassign Account Spike.
Use the search bar to find the Salesforce User alias used for your sales unassigned accounts in Salesforce.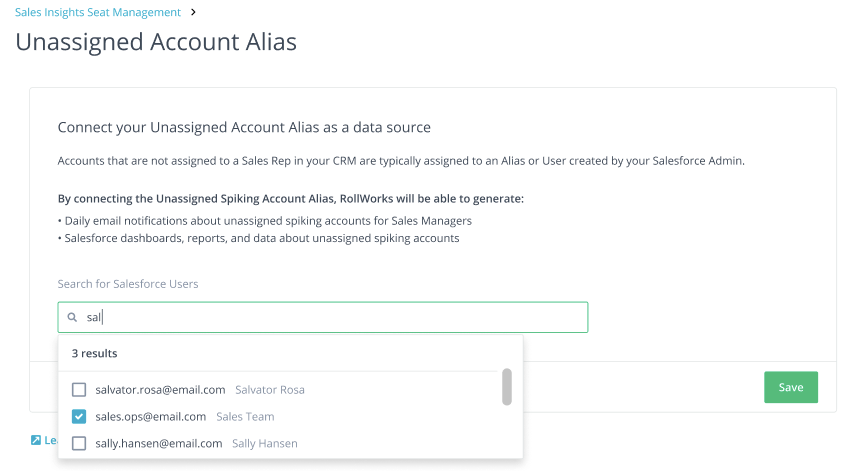 Step 3. Select Account Team Roles
In this step, you will define what constitutes an assigned Salesforce account. Typically account owner roles are user lookup fields in your Salesforce account records that indicate which reps in your organizations are associated with an account. In the example below, there are three account owner roles: the Account Owner field, the Assigned SDR (Account) field, and the Account Manager.

Your Salesforce accounts may only use one Account Owner to define ownership of an account, or you may have multiple owner roles, depending on your sales team structure and how your company has customized Salesforce.
Account Owner - this is the default standard field for Account records used to capture ownership of an account in Salesforce.
Other account owner roles - these are user lookup fields on your Salesforce Account pages that capture additional Salesforce users in different roles assigned to an account. These roles may vary greatly from company to company as they are customized by your Salesforce administrator based on your sales team structure. Below are some common account owner roles to get you oriented:
| Account Team Roles | Definition |
| --- | --- |
| SDR / BDR | The hunter: Sales Development Reps (SDRs) or Business Development Reps (BDRs) find new leads for account executives and are often the first point of contact a new potential customer has with your organization. SDRs source leads from a variety of places, build contact lists, and then reach out to contacts to gauge their interest. |
| AE / Sales Rep | The closer: Account executives (AE) or Sales Reps guide qualified prospects through the sales funnel with the ultimate goal of sealing the deal. Because of this, account executive roles have more impact on the outcome of a deal than any other role on the sales team. |
| AM / CSM | The farmer: When a sale is made, the Account Manager (AM) or Customer Success Manager (CSM) will focus on renewing that sale as well as up-selling and cross-selling current customers with different add-ons and product offerings.  |
Partner with your Sales Team
The end users of Sales Insights email alerts and CRM insights are your sales team members, for this reason, we recommend partnering with a stakeholder in your sales leadership team to understand your sales team structure so that you can assign Sales Insights seats effectively for them. Optimal ABM impact is only possible when Marketing and Sales teams are aligned!
Continue to select the roles in your Salesforce Account Team that should receive Account Spike email alerts following the instructions below:
Navigate to Settings → Sales Insights → Seat Management.

Click

Salesforce Account Team Role.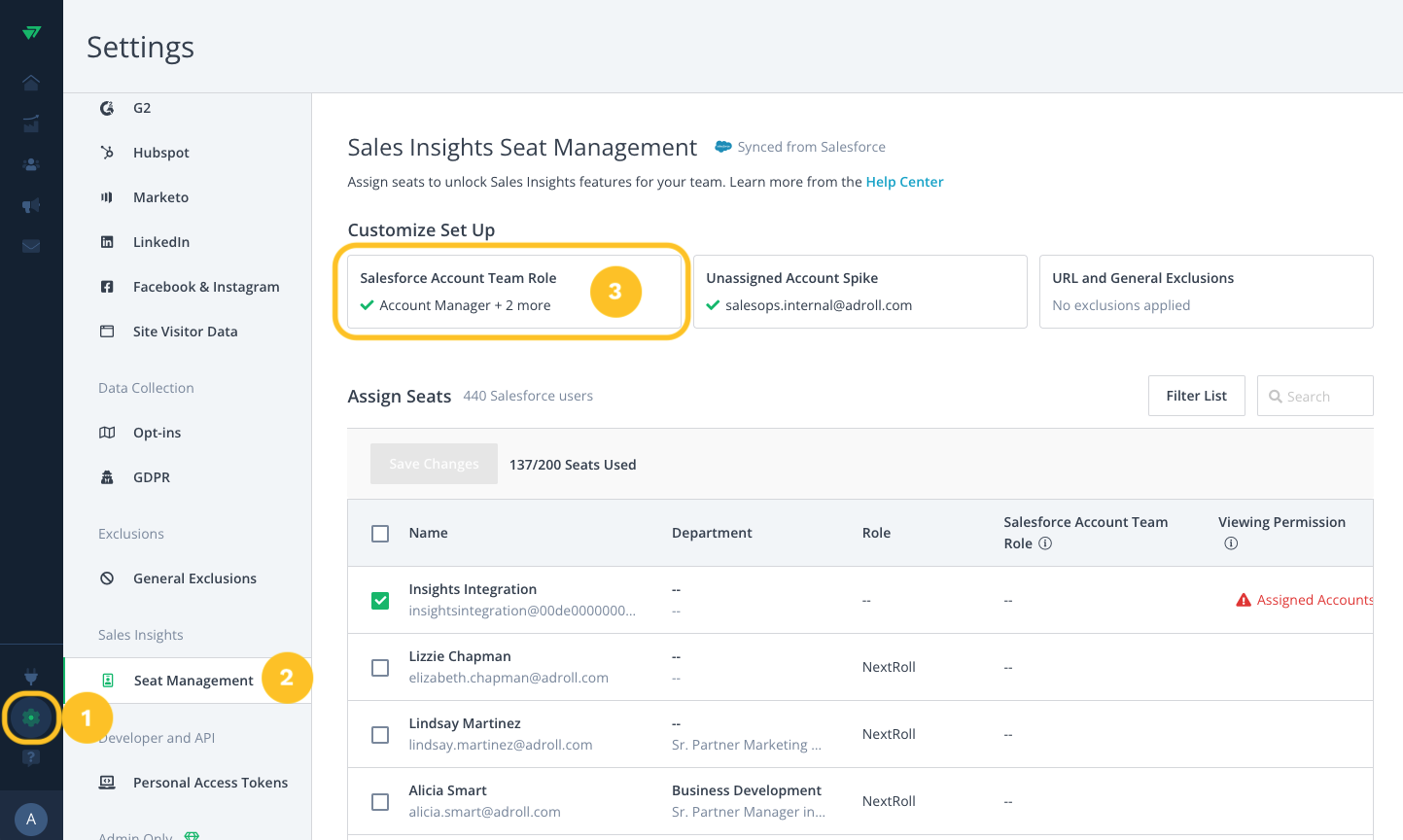 Select the roles that should be receiving Spike email alerts.

A drop-down menu will appear that shows all the Account Team Roles that are available as configured in your Salesforce. 
Click Save.

Ensure you are adding all Account Team Roles
If you add a Sales Insights seat for a person that is not associated with any of the Account Team Roles you configured they will not receive Spike email alerts. You must ensure that you configure all the Account Team Roles associated with people that need Sales Insight seats for assigned accounts. If you add a seat for a person that does not have an associated Account Team Role configured you will receive an error as follows:

Step 4. Assign Seats to your sales reps and managers
Depending on your RollWorks subscription you will have a different number of Sales Insights seats available to assign to your Sales team so that they can receive Spike email alerts. To find out how many Sales Insights seats you have available:
Go to

Settings > Sales Insights > Seat Management.

Look at

Assign Seats > seats used.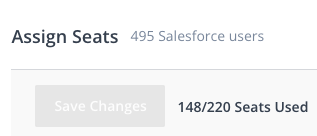 Once you confirm which salesforce users should receive Spike email alerts follow the instructions below to assign them a seat:
Scroll down the list of Salesforce users available under columns Name/Email to find the people that need a Sales Insights seat. All your existing Salesforce users will be listed automatically and they don't need to have a RollWorks user account to get a Sales Insights seat.
Alternatively, if you have a very large amount of Salesforce users you can use the search box to find a user or apply a filter for Department, Title, and Role to find the Salesforce users that need a Sales Insights seat.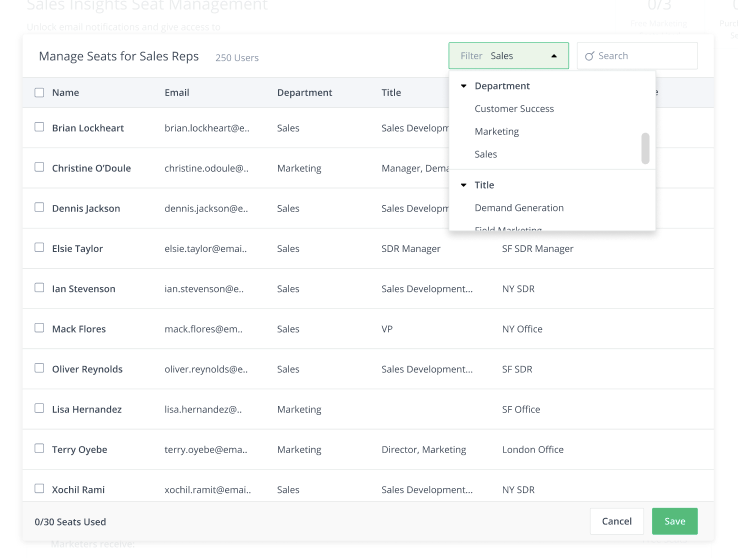 Once you find the Salesforce user that needs a Sales Insights seat, mark the checkbox on the left-hand side. You can select multiple users at once.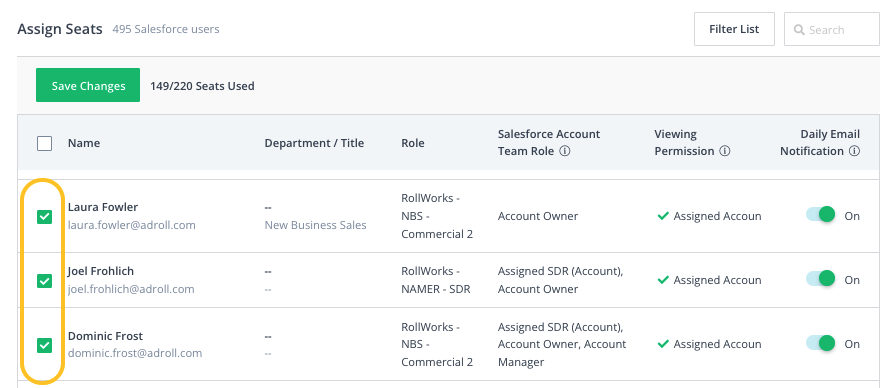 Select one of the available options under

Viewing Permission

 to choose what type of alerts this user should receive.

Assigned Account: the user will receive Spike notifications for any Salesforce Accounts when the account is assigned to them.

Unassigned Accounts: the user will receive Spike notifications for any Salesforce Accounts that do not have any assigned owner for any of the Salesforce Account Team Roles.

Unassigned and Assigned: the user will receive Spike notifications both for Accounts assigned to them and accounts not assigned to anyone. 
Choose the best type of user viewing permission by role:
-

For Sales Managers and Sales Ops
: select Unassigned Accounts so that they are set up to view accounts that don't have an owner for any of the Salesforce Team Roles you defined in Step 2. If your Sales Managers own account records you should select the option Assigned and Unassigned instead.

For Sales Reps, AEs, and SDRs

: select Assigned Accounts so that they are only setup to view accounts assigned to them in Salesforce.
Toggle on/off

Daily Email Notifications to choose if you want to send Spike daily email alerts to this user.
Click Save Changes

After assigning a Sales Insights seat to a Salesforce user they will receive an email confirmation so they know how it works and what to expect.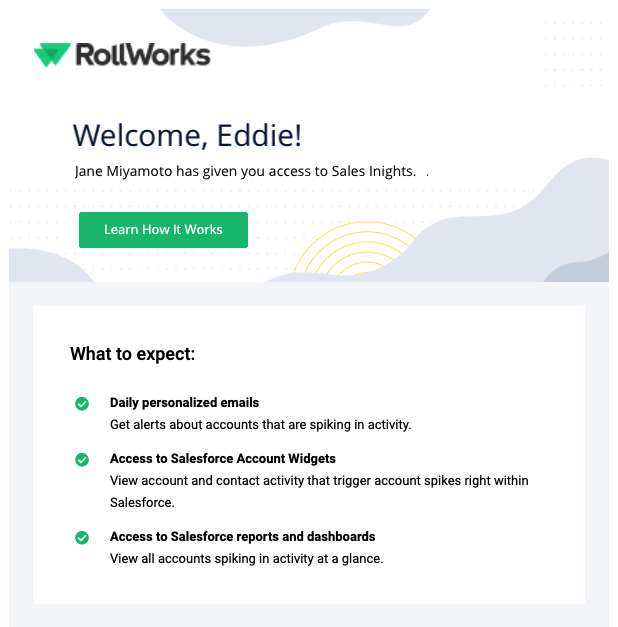 Step 5: Add the Visualforce component to Account Page Layout
With your Sales Rep and Sales Manager seats configured in RollWorks, your sales team will start receiving Spike emails, however, your Salesforce Administrator should configure your Salesforce Page Layouts so that they can see the RollWorks Sales Insights Account Page Component on your Account Pages as shown below.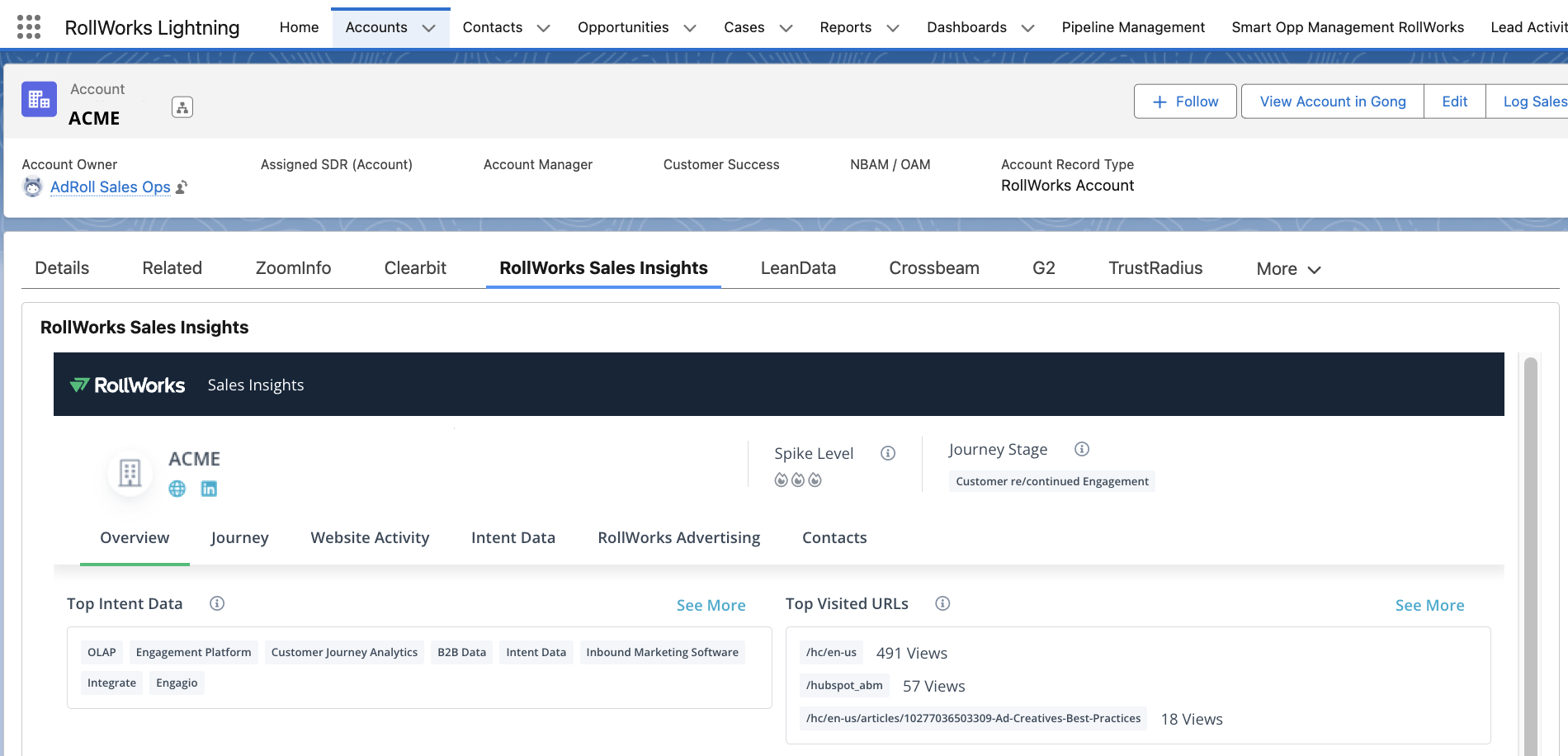 Send this 4-minute video to your Salesforce Administrator to add the Sales Insights Visualforce widget to your Account page layouts, or follow the instructions below.
Log in to Salesforce.
Navigate to Setup → Object Manager → Account → Page Layouts and select the page layout configuration used by the sales team that will be using RollWorks Sales Insights.

From the Page Layouts editor, create a new Section for your page layout and call it RollWorks Sales Insights and select the 1-Column Layout. We recommend creating this section high up on the Account Page Layout so that your sales team has easy access to daily Sales Insights updates.

After creating the RollWorks Sales Insights section, from the Page Layouts editor navigate to VisualForce Pages and find the RollWorks Sales Insights component. Drag and drop the RollWorks Sales Insights Visualforce page into your newly created section.

Click the Properties icon on the top right and adjust the Height (in pixels) of the component to 375 pixels. This will ensure the entire component can load without requiring scrolling within the component.
Click Save, and you're all set! You've successfully added RollWorks Sales Insights to your Account pages for sales.
Step 6. Authorize Salesforce
After your Sales Administrator completes the prior step and configures your Account Page Layouts you will need to take one last step to authenticate Sales Insights in Salesforce.
Log in to Salesforce.
Navigate to an Account record and scroll to the RollWorks Sales Insights component.
Click Connect to RollWorks.

Enter your RollWorks platform login credentials.
Click Authorize.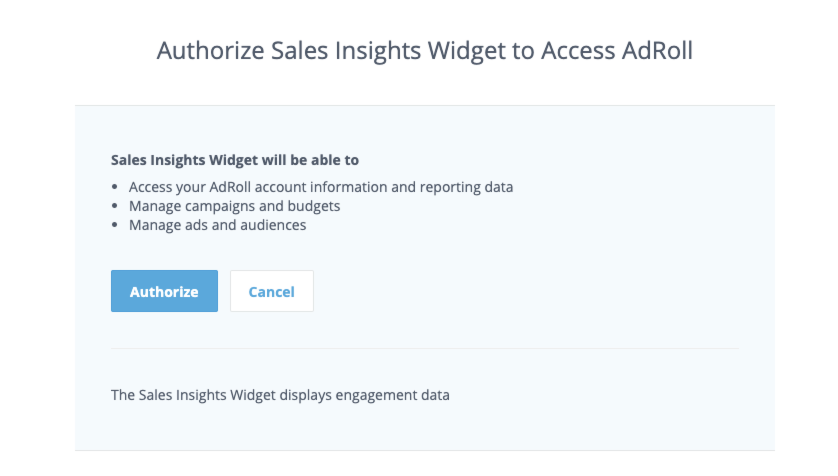 You're all set! Now all sales users will be able to view the RollWorks Sales Insights account page component on your Salesforce Account page.
Create Reports in Salesforce 
Visit this article to learn more about how to create reports in Salesforce for your sales team using Sales Insights Spike data.
FAQ
Can I grant access to a Salesforce user to view Spike data directly in Salesforce without using a seat?
Viewing the RollWorks Sales Insights Salesforce widget, as displayed below requires a Sales Insights seat assigned to the Salesforce user.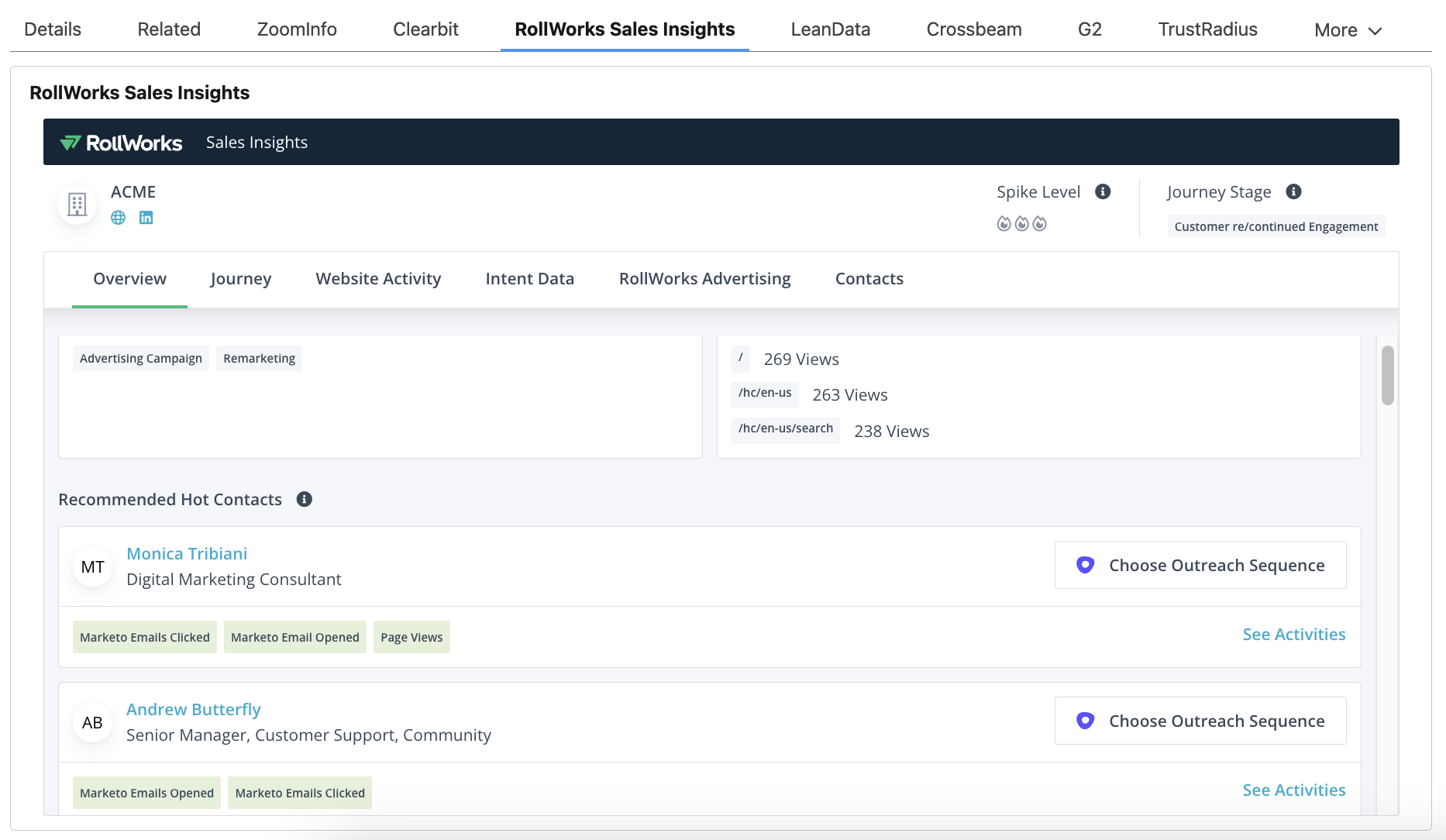 Salesforce users that are granted the permissions set RollWorks Admin are able to create Salesforce native reports using Sales Insights Account Spike data fields without a Sales Insights seat assigned to the Salesforce user.