The account card is a feature that offers you a centralized view of all the activities associated with a specific account. You can deep dive into all the insights available for one specific account.
There are two ways to access the Account Card to deep dive into a specific account activity:
| Who | How to access |
| --- | --- |
| For Marketers | Click anywhere in the RollWorks platform where you can see an Account Name displayed. |
| For Sales reps | Click on any Account record in Salesforce or Company record HubSpot and open the Sales Insights widget. |
The account card is divided into different tabs for easy access to specific insights.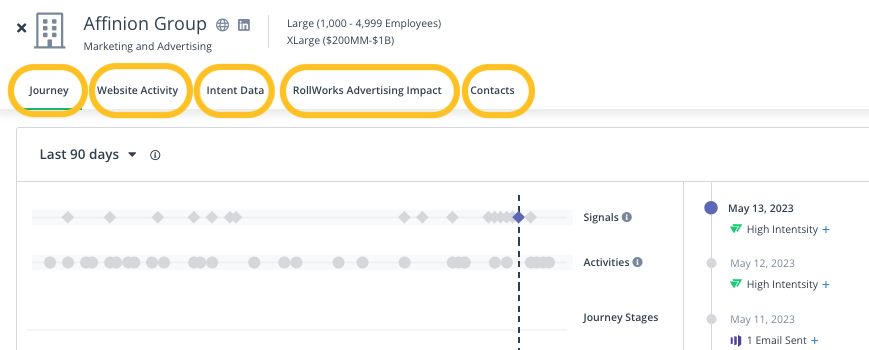 Journey Tab
The Journey tab pulls timestamped events from Salesforce, HubSpot, Marketo, and G2, combining those events with data offered through RollWorks like Keyword Intent, Bombora Company Surge Intent, Website Activity (page views, etc), Ad activity (impressions, clicks, etc), Account Spikes, and Journey Stage. Click here to view a full list of activities tracked under the Journey Event Timeline and the main benefits for sales reps.
The Journey tab includes two main features:
Event Timeline. View activity data like SDR emails sent and opened, meetings booked, opportunities opened/progressed, and deals closed from Salesforce, Marketo, and Hubspot alongside RollWorks Web and Ad engagement data in a single timeline to see a complete picture of ABM program events.

Journey Stage Visualization. View an account's stage progression or regression next to account engagement and activity to understand what activities are more efficient at driving accounts through the buying journey. Journey Stages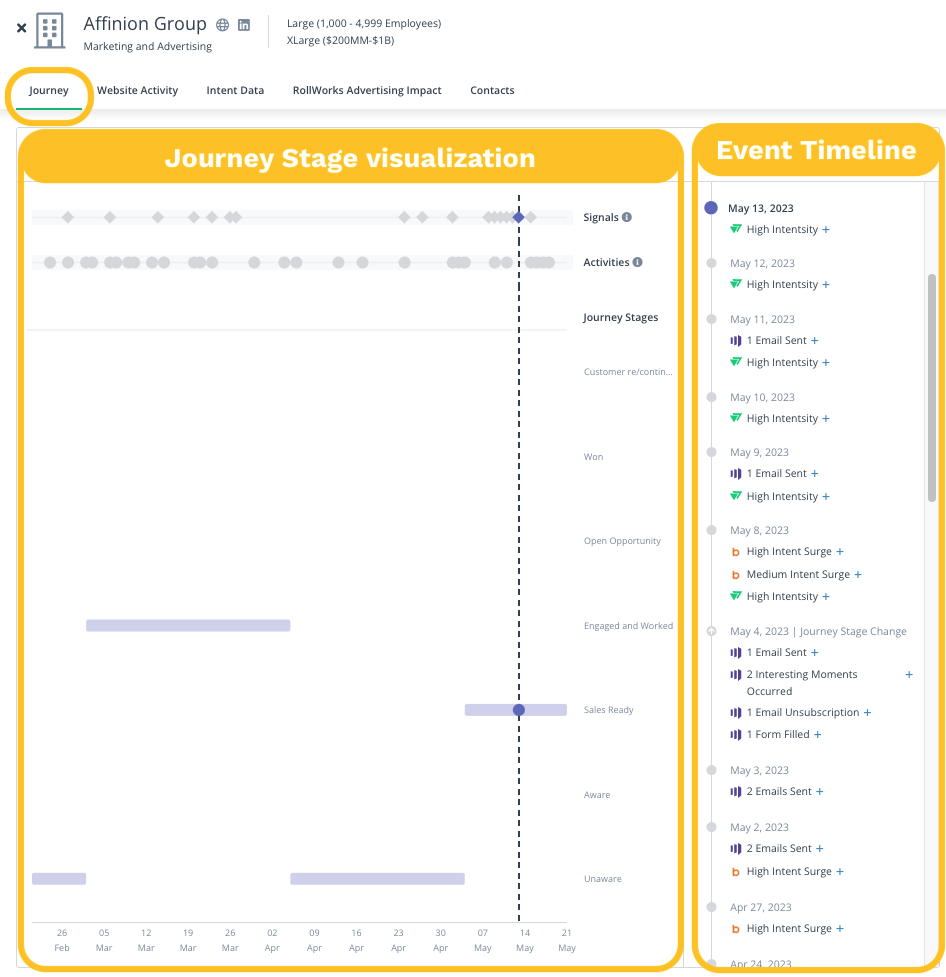 Website Activity Tab
Under the Website Activity Tab, you can see how many Unique Visitors and how many Page Views your website received from a specific account.
We may not display 100% of page views/unique for an Account
When tracking page views with the Pixel we may not be able to match 100% of cookies to a specific account:
When we can't match the cookies to an account -> we will not show visitors/page views under the Account's Website Activity.

When we successfully match a cookie to an account -> we will show the visitor/page views under the Account's Website Activity.
You can see a list of URLs visited by an account which can help you identify which part of your website, product features, or content is an account consuming and when that happened.
Keep in mind that we can only track URLs where the Pixel is firing, so any traffic from pages where the Pixel is not installed will not be tracked under the Website Activity Tab. For example, if your help center does not have the Pixel installed, we will not track that traffic.
In the screenshot below we can see the company our website had 9 unique visitors and 20 total page views from the account Vandelay. We can also see which URLs were visited and the most recent visit. This information is useful for Sales reps to customize their outreach.
Intent Data Tab
The Intent Data Tab allows you to preview if an account is surging with intent for two different intent signals Bombora Company Surge Intent and RollWorks Keyword Intent. Keep in mind that intent signals are only detected for the intent topics and intent keywords that you are actively monitoring.
When looking at the Intent Data Tab within the Account Card you will see a list of the Intent Signals (topic the account is surging on), the Signal Type (source RollWorks or Bombora), Intent Level (the intent intensity compared to a baseline), and the Last Intent Day the account surged with this intent signal.
This information at the account level is useful for Sales reps when using the Sales Insights widget and looking at an account to customize their outreach and messaging.
In the example below the account Vandelay is surging on different intent topics, including some competitors, this can give an indication to the sales rep that the account is further down the buying process and also can help them prepare for the next conversation or outreach to talk about competitive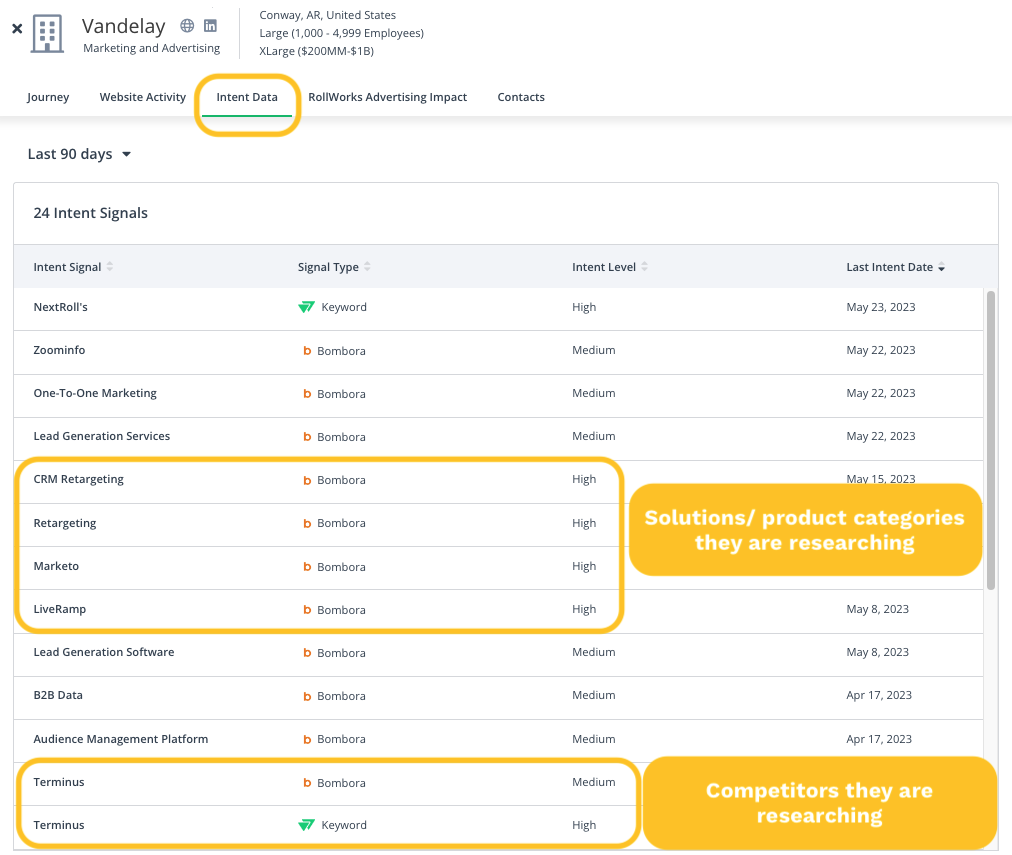 If you want to view intent signals for all accounts and not only for a specific account navigate to Insights > Intent Data:
If you would like to edit the intent topics and keywords you are monitoring:
For Bombora intent topics, click Company Surge > Edit Topics or go here.
For RollWorks keywords, click Add Keywords or go here.
RollWorks Advertising Impact Tab
The RollWorks Advertising Impact Tab allows you to see how the particular account was impacted by specific RollWorks campaigns and ads. The data is divided into two sections:
Campaign - here you can find out what campaigns had the highest impact on a particular account and see if your new closed-won customers were influenced by the campaigns you are running.
Ads - here you are able to see what ads were viewed and clicked by a specific company. That way, you are able to define which ads were getting the biggest attention from customers and made them interact with them.
Each section provides you with advertising metrics such as Impressions, Clicks, CTC, CTR, and Spend all in one place for a specific account. In the screenshot below you can see that Web RT - High Intent Campaign targeted Vandelay with 6 impressions, but they haven't clicked on any ad they have seen resulting in 0 clicks.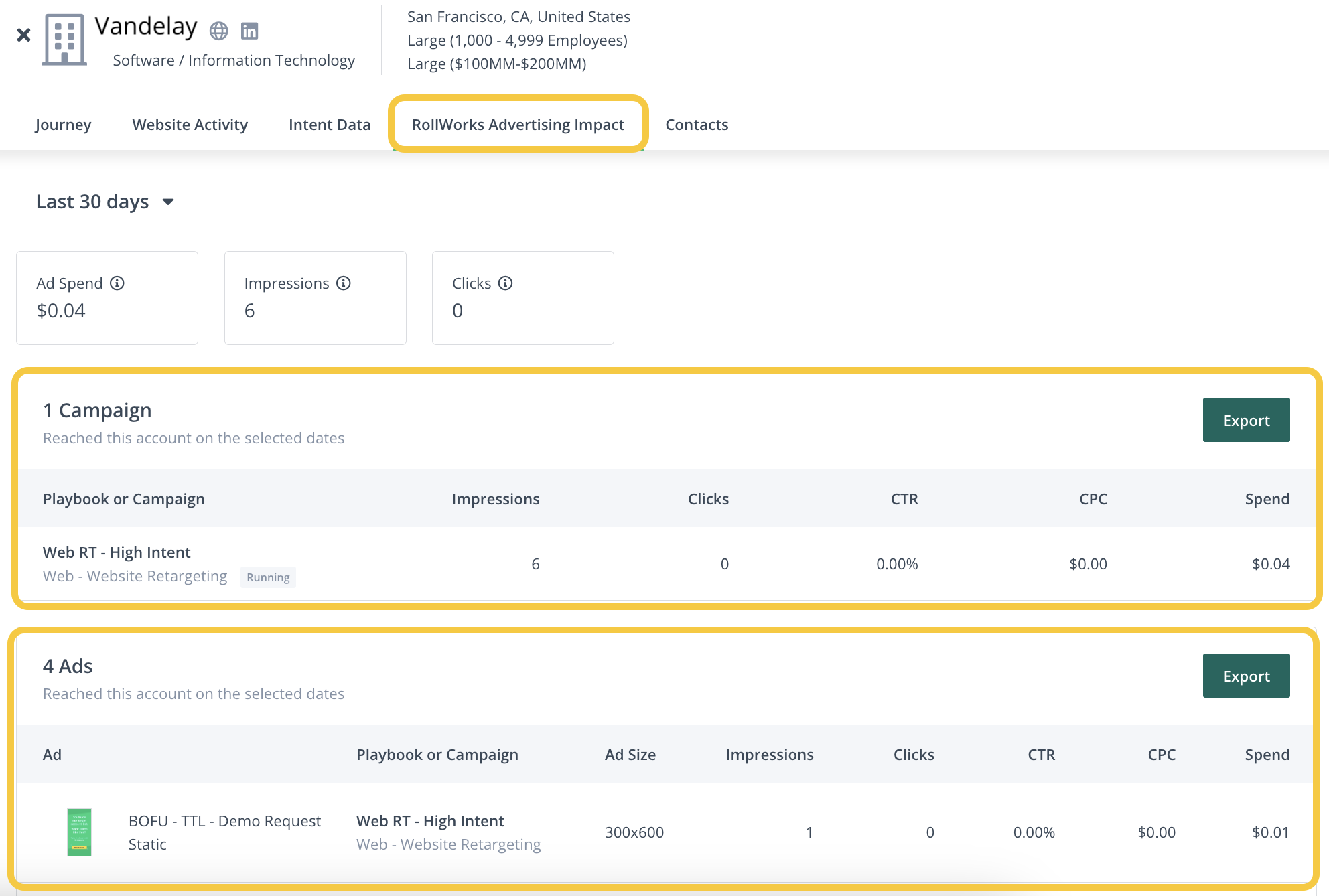 Contacts Tab
The Contacts tab includes a list of contacts that matched the account domain and that already exist in your CRM including their Job Titles. From there, sales reps can click on a specific contact to see a timeline of their activities across RollWorks, Salesforce, HubSpot, and Marketo data points.
These are the types of activities you can find:
| Source | Timeline activities |
| --- | --- |
| RollWorks | Page Views and Ad Clicks |
| Salesforce | Email Sent, Call, Meeting, Note, Task, Event, Cadence |
| HubSpot | Email Sent, Email Reply, Call, Meeting, Conversation Session, Task, Note |
| Marketo | Email Sent, Email Open, Click Link, Interesting Moment, Form Fill, Unsubscribe |
This centralized view is useful to personalize their outreach and messaging.
Read this guide for Sales Reps to learn how to use the Contacts Tab, including step-by-step instructions, best practices, and use cases.