What is an Intent Targeting Playbook?
The Intent Targeting Playbook offers customers a pre-packaged way to efficiently activate upon 3rd Party Intent data signals by serving ads across the web to those accounts surging with intent (as defined by the intent topics selected in your Account Intent dashboard).
3rd Party Intent data surfaces accounts that are researching topics related to an industry, category, or product dynamically and is based on content consumption across the B2B Web (primarily 3rd party sites).
Key Benefits of RollWorks' Intent Targeting Playbooks:
Uncover & engage accounts in early buying cycles

Quickly activate more targeted and effective account engagement

Help optimize your budget for improved ABM program ROI

Drive better marketing and sales alignment
Intent Targeting Playbooks differ from Account Targeting Playbooks as they are not intended to target every single account on your Target Account List, but only the ones that are showing your desired level of intent for the designated time period.
How do Intent Targeting Playbooks work?
After setting up the RollWorks Pixel on your site, our platform is able to capture the traffic and their behaviors on your website. To launch an Intent Targeting Playbook you will:
Start by selecting an Account List to target. Only accounts surging with Intent from your Account List will dynamically be targeted.

Then, you will select the Target Persona criteria (

Job Function and/or Seniority

) for whom you specifically want to reach within those accounts surging with intent.

Next, select the Ads that you would like to utilize for engaging these users. There are 2 parts to every Playbook: 1) Unaware 2) Aware. You'll be able to choose Ads for each campaign in the setup flow based on their behavior with your website.

RollWorks will update the account intent surge data every week as new intent data is synced into RollWorks.
Who is eligible to access Intent Targeting Playbooks?
The Intent Targeting Playbook is available to customers on any of our paid subscription packages: Starter, Standard, Professional, or Ultimate.
Starter package gives you access to one Intent Targeting Playbook. Standard, Professional and Ultimate packages give you unlimited Intent Targeting Playbooks.
To find out what subscription package you have, log in to the RollWorks platform and visit the Plan & Usage page under Settings.
How do I launch an Intent Targeting Playbook?
Before your start:
To use the Intent Targeting Playbook, you must first complete the following steps in the RollWorks Platform:
Now you are ready to create your new Intent Targeting Playbook.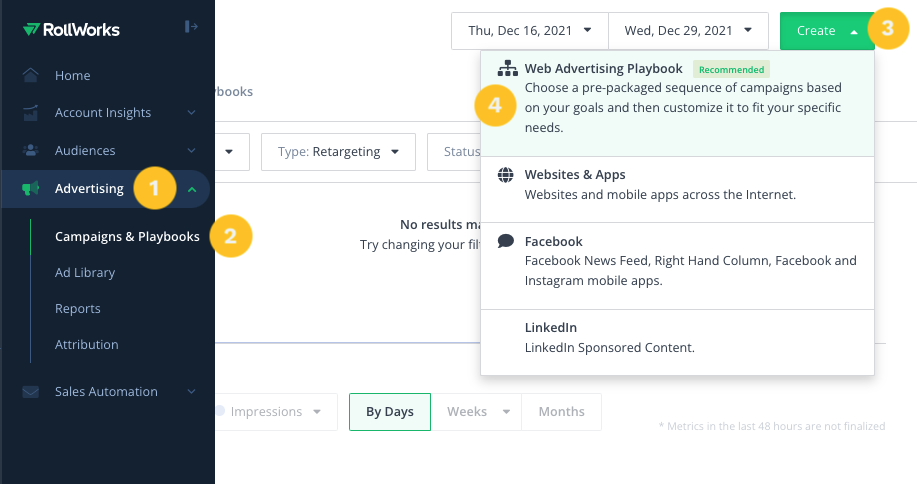 Select 'Intent Targeting' and 'Get Started'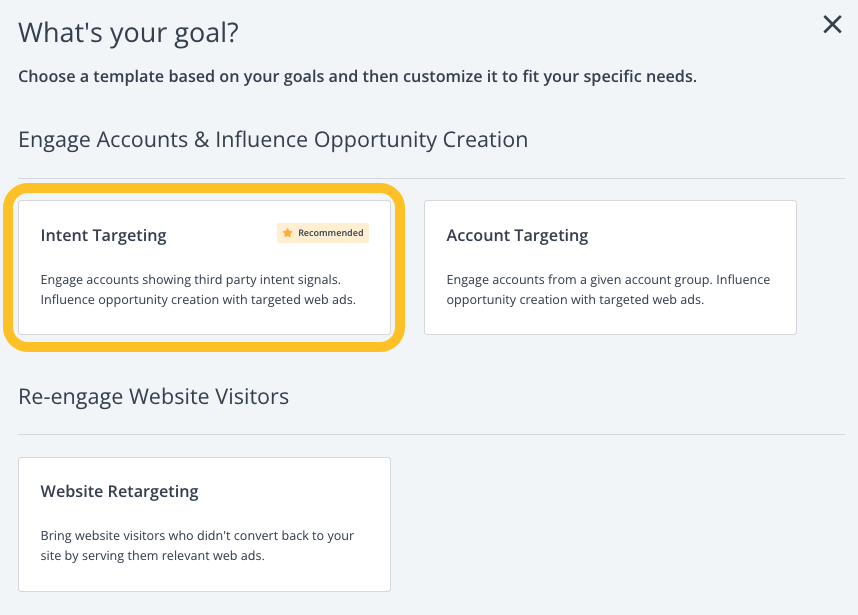 Step 1: Select your Audience: Account Lists, Intent & Buyer Persona
📝 If you have a RollWorks Starter Package: Your Intent Targeting Playbook will target your full Target Account List. You will not be able to select an Account Group. You can upgrade your package to unlock this feature.
Customize your Intent Filters

to specify the accounts you will target:

Select 'Intent Level':

'Medium to Very High'

'High to Very High'

'Very High Only'

Select a subset of Intent Topics that will be used in this Playbook

Select Intent Signal Recency

:

'Last 7 days'
'Last 30 days'
'Last 90 days'
📝 If you have a Starter Package -
Intent Filtering for Starter Subscription Package is limited to the following default settings and cannot be customized:
Intent Level =

'Medium to Very High'

Intent Topics

: All existing Intent Topics will be used

Intent Signal Recency

: 'Last 90 days'
Select

General Exclusions

-

Decide if the customers you defined previously in

General Exclusions

should be targeted or not in this Playbook. We will automatically exclude your competitors and coworkers if you have them set up within your

General Exclusion Settings

.

Layer

Buyer Persona

- Select one or more attributes to define the people that you want to target.

'Country'
'Job Function'
'Seniority'
Step 2: Select Creatives for Each Campaign
Select Ads for both parts of the Playbook by clicking 'Set Up'. You will select which Ads you want to use in 1. Unaware and 2. Aware.


Tip! See this Ad Creative Best Practice guide to learn how to select creative content that matches your customers stage in the marketing funnel.
Step 3: Select Budget & Schedule
Continue to set up your budget and schedule for this Playbook. While you enter the details below you will see the estimated Reach Forecast on the right side.
Select

'Budget Type'

:

'Ongoing'

: Select for campaigns that will run indefinitely.

'Fixed Dates'

: Select if you want to run this playbook during a specific date range.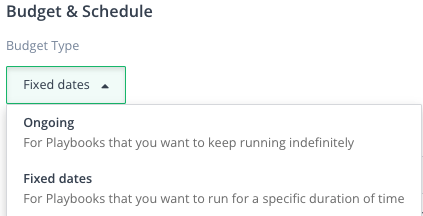 For '

Ongoing'

budget:

Select a '

Start Date'

between '

Immediately'

or

'Future Date'

Enter your

'Monthly Budget'

, RollWorks will aim to spend this amount monthly.

For '

Fixed Dates'

budget:

Select an

'End Date'

Enter your

'Total Budget',

this is the total spend

for the duration of the playbook.

Select

'Day Parting'

Show Ads 24/7

- Your Playbook will run 24/7 without interruption.

Pause on Weekends

- Your Playbook will run 24/7 on weekdays and pause on weekends.

Custom Day Parting - Your Playbook will run on specific days and hours

Step 4: Review and Launch
Review that all the configurations in your playbook are correct: Audience, Campaigns and Budget.

Add a 'Playbook Name' to easily identify your Playbook in the RollWorks platform and reports
Click 'Launch'

Intent Targeting Playbook Best Practices, Considerations, and Use Cases
An Intent Targeting Playbook is one way you can activate an Account-Based strategy with limited resources, as well as reach users earlier on in their buying process based on 3rd party research they are consuming.

If your budget is not sufficient, limit it to only targeting the highest surging accounts and/or accounts surging more recently.

If your audience size is too small, try broadening your Intent Filtering, Buyer Persona and/or include additional accounts in your Target Account List.

If you want to use different messaging for specific Intent Topics, use a new Intent Targeting Playbook for each creative and topic alignment.

Intent Targeting Playbook use cases:

Prospecting

: Prioritize accounts for top of funnel digital advertising and/or prioritize accounts for Sales outreach

Content Personalization

: Customize messaging for intent-topic-based sub-segments

Retention

: Identify at-risk customers

Learn more about Intent

here.
Intent Targeting Playbook FAQ
How can I find how many intent topics I have available and select them?
To find out how many Intent topics are available under your RollWorks subscription package, log in to your RollWorks account and go to 'Account Insights' >' 3rd Party Intent' > 'Edit Topics' to view your topics and how many do you have available.
What types of creatives are supported in Playbooks?
Playbooks support all Web Image Ads, Web Video Ads, Web HTML5 Ads, and Native Ads.
Can I target multiple Target Account Lists within a single Playbook?
No, you can only target one Target Account List and one Account Group within a single Playbook.
Can I make changes to a Playbook once it is live?
Yes, the following actions are available after launch: Edit, Pause, Clone, and Delete.
Why is my Account List greyed out during the Intent Playbook setup?
If you are using 3rd Party Intent Data as an input to create your Account List, you will not be able to launch an Intent Playbook targeting this Account List. Instead, try launching an Account Targeting Playbook.
Can I run Intent Playbooks at the same time as Account Targeting Playbooks?
Yes, you can run Intent Playbooks and Account Targeting Playbooks simultaneously. When the same Account list is targeted in an Intent Playbook and an Account Targeting Playbooks, the Accounts will only be targeted within the Intent Playbook until the account stops surging with Intent.
Note: Due to the time it takes for RollWorks's infrastructure to update many systems it is still possible to serve some impressions to an account in both Playbooks as the audiences get updated to be targeted or excluded as the account surges in intent.
What is the list of Intent Topics available?
An up-to-date list of the Intent Topics in the Bombora taxonomy can be found here.