What are Account Targeting Playbooks
The Account Targeting Playbook offers customers a pre-packaged way to serve web ads to buyer personas within a group of accounts:
Start by selecting an Account Group within an Account List to target. 
Then, select the Persona criteria (

Job Function, Seniority, and/or Intent Topics

) for whom you specifically want to reach within your Account List.  

Your Account Targeting Playbook includes 2 distinct campaigns: 1) Unaware and 2) Aware. You will s

elect the Web Ads that you would like to use to engage your target audience for each of these two campaigns. 
Key Benefits of RollWorks' Account Targeting Playbooks:
Easier Campaign setup: Intuitive user experience that clearly guides a user through the campaign launch process making this playbook self-serve.

Goal-oriented campaigns: Best-practice advertising setups applied, with automated exclusions and real-time budget recommendation based on audience size.
Who can access
The Account Targeting Playbook is available to customers on any of our paid subscription packages: Starter, Standard, Professional, or Ultimate.
My RollWorks Package
Can I launch Account Targeting Playbook?

❌  No

✅ 

Yes, you can launch 3 Account Targeting Playbooks

Standard
Professional
Ultimate

✅  Yes, you can launch an unlimited amount of Playbooks
To find your current subscription, log in to RollWorks and navigate to Settings > Billing > Plans & Usage.
Launch an Account Targeting Playbook
Before your start:
To use the Account Targeting Playbook, you must first complete the following steps in the RollWorks Platform:
Now you are ready to create your new Account Targeting Playbook: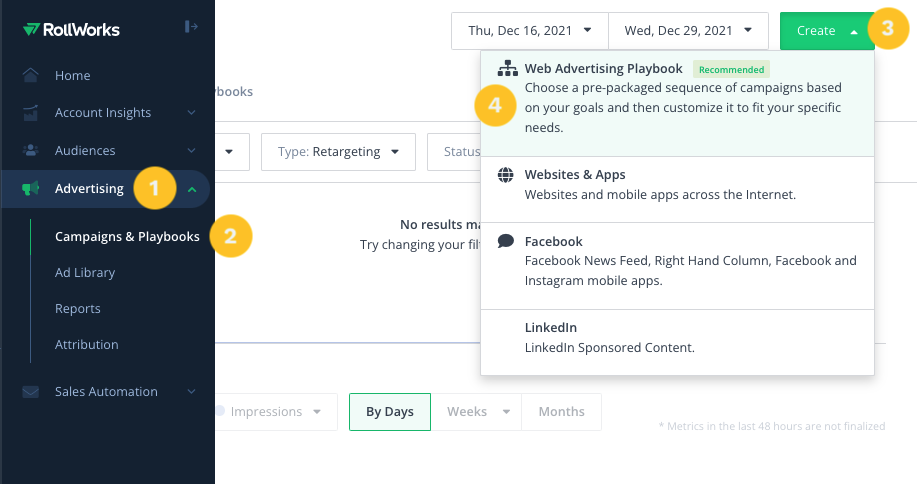 Select 'Account Targeting' and 'Get Started'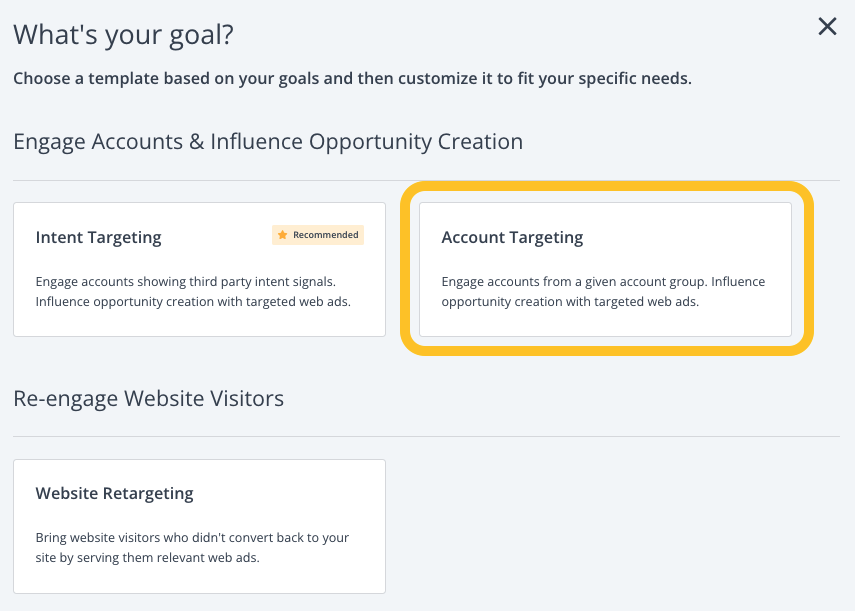 Step 1: Select your Audience: Accounts and Buyer Personas
Which Accounts and Account Groups do you want to target?

Select the Account List and the Account Group from the drop-down menu.

Check the box 'Exclude Current Customers' if you want to exclude your existing customers added under Settings >

General Exclusions

.

Click 'Next'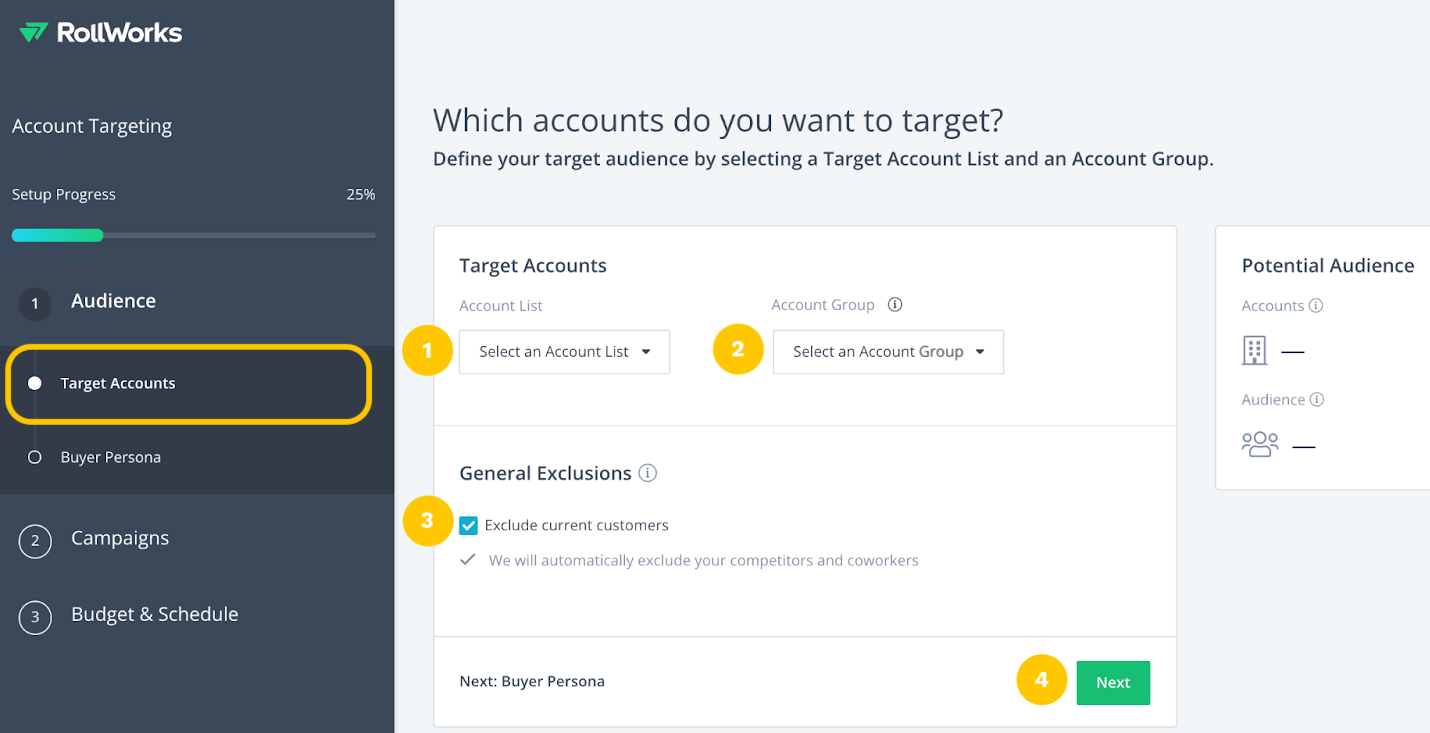 Which people within these do you want to target? To complete your Audience you need to define the criteria for your Playbook audience attributes or Buyer Persona:
Select 'Geography'

 to target specific countries.

Selecting specific countries will be factored into the Potential Audience estimate for this Playbook, as well as a filter in targeting once the Playbook is running.

Select 'Job Function' to target specific

person's role within an organization.  

Select 'Intent Topics' to define what are the specific t

opics that a person has expressed interest in by browsing content in related topics across the internet.

Select 'Seniority' to define a person's rank within an organization.
When selecting the Buyer Persona attributes above ensure that the user-level attributes are not too narrow causing the audience size to be too small ( less than 2,000 cookies), as this may cause delivery issues for the playbook. To learn more about how to define Personas using Intent data visit this help center article.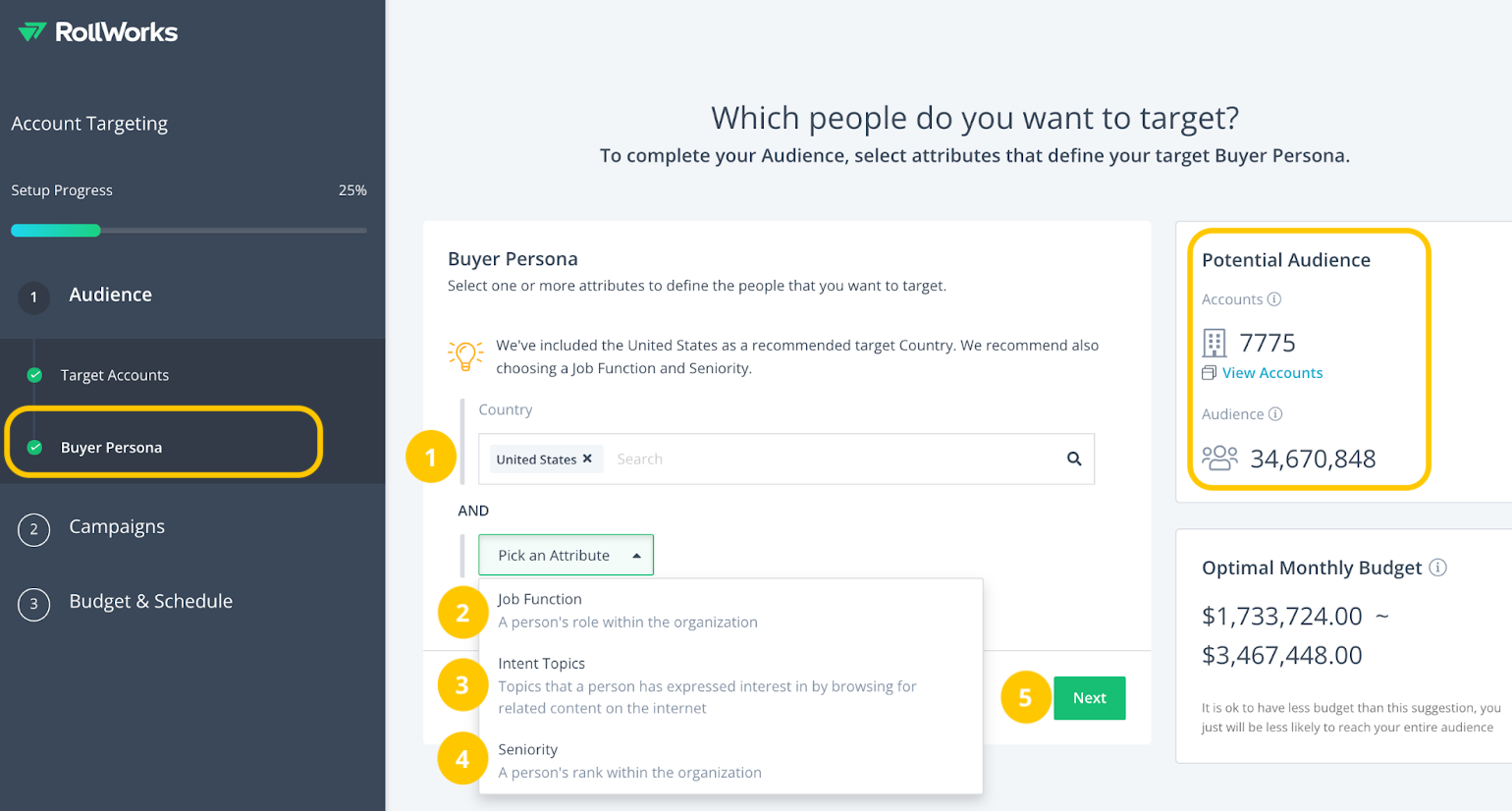 Step 2: Select Creatives for Each Campaign
Continue to set up the two Campaigns in your Playbook as follows:
Add Ads to each Campaign. We suggest that you use a different set of Ads for each one, customized to the different customer stages. Learn more Ad best practices here.

Under 

'Form Submission' for the 'Aware Campaign' select the form submission Conversions Audiences that indicate that your audience is considering your product. You will choose between:
 'Use Every Form Submission'

 

to include all existing and future Conversion Audiences that you add to RollWorks

'Use Specific Forms' to include only specific Conversion Audiences
UNAWARE
AWARE

Drive New Website Visitors

- Target Audience:

Account List &

Account Group

Buyer Persona defined in Step1

Unaware (0 pages viewed)

- Select Ads

- Goal: +1 Pages Viewed

Re-Engage Website Visitors

- Target Audience:

Account List & Account Group

Buyer Persona defined in Step1

Aware (+1 pages viewed)

- Select Ads

- Goal: Select Form submission

Step 3: Select Budget & Schedule
Continue to set up your budget and schedule for this Playbook. While you enter the details below you will see the estimated Reach Forecast on the right side.
Select

'Budget Type'

:

'Ongoing'

: Select for campaigns that will run indefinitely.

'Fixed Dates'

: Select if you want to run this playbook during a specific date range.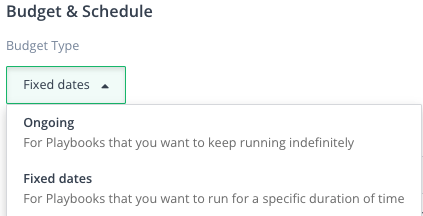 For '

Ongoing'

budget:

Select a '

Start Date'

between '

Immediately'

or

'Future Date'

Enter your

'Monthly Budget'

, RollWorks will aim to spend this amount monthly.

For '

Fixed Dates'

budget:

Select an

'End Date'

Enter your

'Total Budget',

this is the total spend

for the duration of the playbook.

Select

'Day Parting'

Show Ads 24/7

- Your Playbook will run 24/7 without interruption.

Pause on Weekends

- Your Playbook will run 24/7 on weekdays and pause on weekends.

Custom Day Parting - Your Playbook will run on specific days and hours

Step 4: Review and Launch
Review that all the configurations in your playbook are correct: Audience, Campaigns and Budget.

Add a 'Playbook Name' to easily identify your Playbook in the RollWorks platform and reports
Click 'Launch'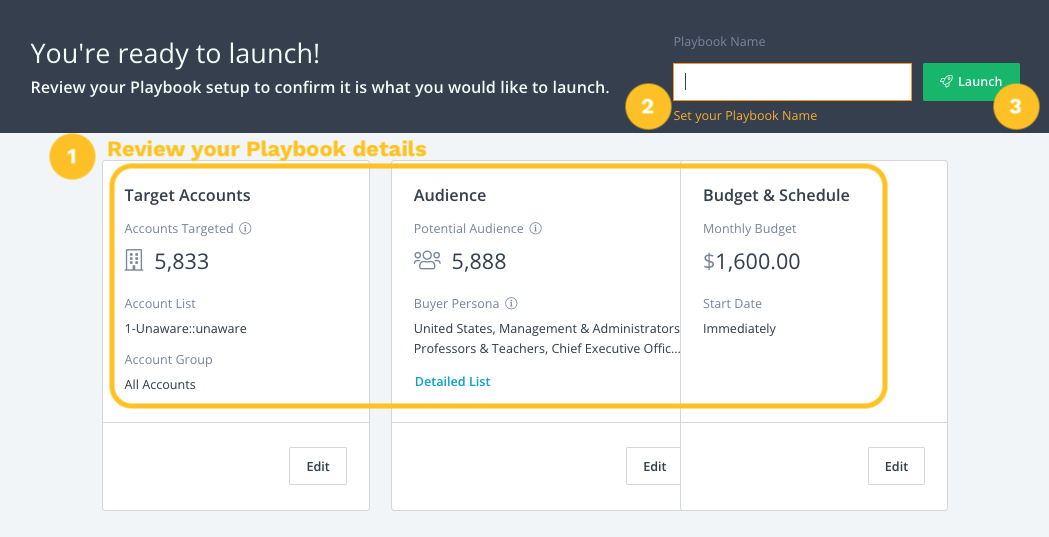 FAQ
What types of creatives are supported in Playbooks?
Playbooks support all Web Image Ads, Web Video Ads, Web HTML5 Ads, and Native Ads.
Can I make changes to a Playbook once it is live?
Yes, the following actions are available after launch: Edit, Pause, Clone, and Delete.
What user-level Buyer Persona attributes can I use to define the audience I want to target?
There are three Persona Attributes at the user-level to define the audience you want to target:
Job Function

Intent Topics

Seniority
For more information about how to use these Persona attributes to build your audience please visit this Personas Guide. 
How is 'Currently Targeting' calculated for Playbooks?
Currently targeting refers to all the cookies that go into bidding. It refers to the potential audience. Whether a cookie sees or not an ad will depend on how the bid goes and things such as the budget being enough etc.
You can find Currently Targeting by navigating to any Playbook Summary page.
Navigate to

Advertising > Campaigns & Playbooks.

Clicking the

Playbooks

tab.

Click the

Playbook Name

for which you want to see the data.