What is Sales Insights
Sales Insights is a RollWorks feature that helps SDRs, Sales Reps and Sales Managers better prioritize accounts for outreach by using data science to uncover signals that an account is spiking with engagement with your properties. Accounts spiking with our data science model are x2 more likely to become opportunities.
Watch this 4-minute video to understand what problems Sales Insights can solve for your sales team.
Sales teams that use Sales Insights are able to use marketing insights that traditionally are not available to them and turn them into sales action to:
Drive more efficient sales outreach, using data science to eliminate the guesswork and integrate directly into existing sales team workflows in Salesforce or HubSpot.

Drive more meetings with the right contacts and open more opportunities with your target accounts.

Personalize sales outreach with a better understanding of both account and contact-level engagement and a 360-degree centralized view of the account journey through Journey Events.
Who can access
Sales Insights is available to customers with any paid RollWorks subscription, the number of seats for available to your sales reps depends on your package. Contact your Account Manager to purchase additional Sales Insights seats.
| RollWorks package | Sales Insights Seats included |
| --- | --- |
| Free | 0 |
| Starter | 5 |
| Standard | 10 |
| Professional | 15 |
| Ultimate | 20 |
The following table indicates which Sales Insights features require a user seat assigned: 
| Sales Insights Feature | Requires a Sales Insights Seat? |
| --- | --- |
| Receive Account Spike email alerts | Yes |
| Visualize Account Spike insights and Contact engagement details directly in the Salesforce widget or the HubSpot widget. | Yes |
| Use and create CRM reports directly in Salesforce or in HubSpot using Account Spike data fields. | No |
Account Spike data science model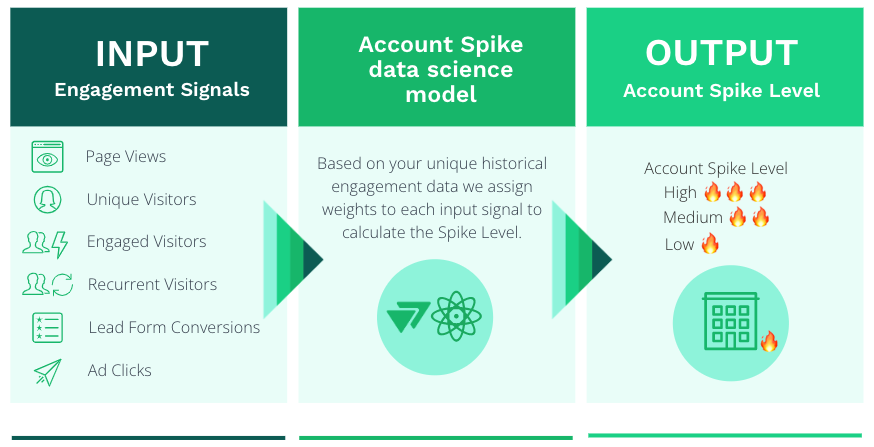 The underlying technology that powers Sales Insights is an Account Spike data science model that analyzes a variety of account engagement signals for all accounts engaging with your website and ads. Then, it compares the daily activity of an account to a previous 3-day account engagement baseline to determine which accounts are spiking in activity above the baseline. Weekends are excluded from this model. 
Below is the list of engagement signal inputs used by the Account Spike data science model to generate a Spike Level for an account:
| Engagement Signal Input | Definition |
| --- | --- |
| Page Views | Count of website page views from visitors that belong to the Spiking Account. |
| Unique Visitors | Count of unique site visitors within the Spiking Account who visit 1 page on your website. Multiple unique visitors mean that multiple unique cookies in the same account are engaging with your website. |
| Engaged Visitors | Count of unique site visitors who engaged with at least 2 pages of your website. |
| Recurring Visitors | The same unique visitor has engaged on pages of your website for multiple days in a row. |
| Lead Form Conversions | Completion of lead-form conversions from the account on your website. |
| Ad Clicks | Count of clicks on ads served through RollWorks. |
The Account Spike data science model learns and adapts based on your website's levels of account engagement and assigns a Spike Level to an account based on machine learning. Based on historical engagement data our model assigns a different weighting to each engagement signal input so that the Spike Levels are dynamic and responsive to the volume of your site traffic to ensure that when accounts are flagged as 🔥🔥🔥 High, 🔥🔥 Medium, or 🔥 Low for spike activity, it is based on your own organic website engagement.
Once Account Spike is calculated Sales Insights will:
Map spiking accounts and engaged visitors to your CRM Account and Contact records.

De-anonymize contact-level engagement details for existing CRM contacts.

Disclaimer: we can only legally deanonymize website visitors only if they

already exist in your CRM

as contacts or leads.
Sales Insights Features for Sales Teams
These are the Sales Insights features your sales team will have available:
Spiking Account Daily Email Alerts
Send daily email alerts are sent to Sales Reps when their assigned accounts are spiking and to Sales Managers when unassigned accounts are spiking. Alers include deanonymized contacts at Spiking accounts if the contact already exists in your CRM. Learn more here.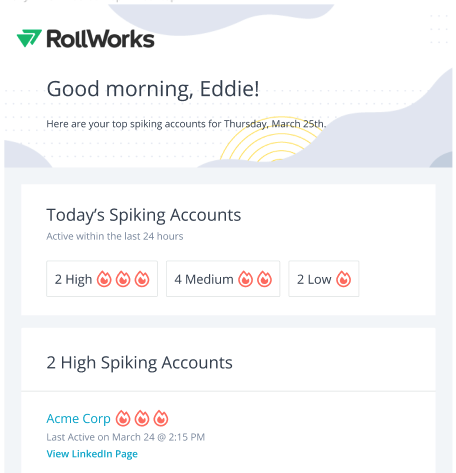 Account Spike Reports in your CRM
Account Spike reports are a great way to show your sales team a consolidated list of all accounts spiking in one centralized view. Your CRM admin can create an edit account spike reports and group them by sales rep or sales team to meet your sales team's needs.
Jump to one of the guides below to learn how to create account spike reports in your CRM:
Sales Insights CRM Widget
The Sales Insights widget is a window into the RollWorks platform for your sales team directly in your CRM, without the need to log in to RollWorks.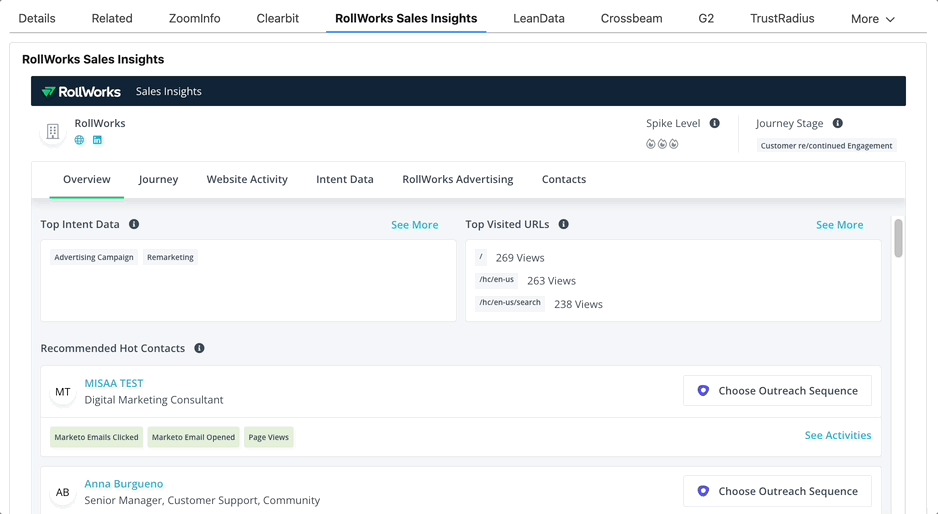 The Sales Insights widget gives sellers access to view account-specific insights through an easy-to-navigate widget including:
Account identification includes company firmographic attributes sourced by the RollWorks database: Industry, HQ location, Company Size, and Revenue, as well as the highest Spike Level in the last 7 days and the account Journey Stage.
Account Overview includes the most relevant Bombora Intent Topics and RollWorks Keyword Intent in the last 30 days, URLs visited by this account, and Reccomended Hot Contacts that are recommended by RollWorks based on their activity during the last 30 days.
The Journey Tab includes a centralized timeline view of all Journey Events across multiple systems for this account as well as the progression of this account through Journey Stages.
The Website Activity Tab includes page views and unique visitors tracked by RollWorks the Pixel and a list of the URLs visited by this account, and different time frames to filter.
The Intent Data Tab includes a detailed list of any Bombora Intent Topic and RollWorks Intent Keyword the account is surging on indicating the intent signal source (Bombora or RollWorks), the intensity, and different time frames to filter.
The RollWorks Advertising Tab includes a list of active campaigns, playbooks, and ad creatives for this specific account.
The Contacts Tab includes a list of all your CRM contacts that match the account domain and quick access to the Contact Timeline where you can see the detailed activities for each contact including page views, ad clicks, Salesforce, Hubspot, and Marketo activities. From here your sellers can easily launch an Outreach sequence for a contact.
Jump to one of the guides below to learn how to find and use the account spike data we push to your CRM:
Enable Sales Insights for your Sales Team
To enable your sales team to use Sales Insights you must connect RollWorks with of one the following supported CRMs and complete the additional Sales Insights configuration steps.
CRM
CRM editions supported
Steps to configure and use
Salesforce

Any API-enabled Salesforce edition such as Enterprise Edition, Unlimited Edition, Developer Edition, or Performance Edition.

Click here to view the latest list of API-enabled Salesforce editions.

HubSpot   

Free, Starter, Professional, and Enterprise HubSpot product subscriptions.

Click here to find your HubSpot subscription.