What is Sales Insights?
Sales Insights helps Sales Reps and Sales Managers better prioritize accounts for outreach by using data science to uncover signals of account engagement and provide account and contact insights directly to your sales org, right within Salesforce.
Sales Insights is part of the RollWorks Identification solution, aiming to:
Turn marketing led activity into sales action by highlighting the engagement efforts from marketing programs to trigger sales outreach
Drive more efficient sales outreach, using data science to eliminate the guesswork and integrate directly into existing sales team workflows in Salesforce
Personalize sales outreach with better understanding of account and contact-level engagement activity
Drive more meetings with the right contacts and more opportunities opened with your target accounts
Who is Eligible to Access?
Sales Insights is an add-on product available to customers on any of the 4 RollWorks packages - Starter, Standard, Professional, and Ultimate. More information on RollWorks packages and pricing is available at rollworks.com/pricing. If you are an existing customer and wish to add this feature, please contact your Account Manager or info@rollworks.com.
Feature Overview
The Sales Insights product is comprised of a few key features:
Account Spike Data - The underlying data-science model that flags spiking accounts for daily sales prioritization
Premium Salesforce App - Visualization of the Account Spike data in Salesforce via Salesforce reports & dashboards as well as a page layout component that lives on the Account record
Account Alerts - Email notifications to sales and sales managers on Account Spike data for sales assigned and unassigned spiking accounts
These features together represent the Sales Insights product. Now we'll go a bit deeper into how each feature works, and how Sales Reps and Sales Managers can derive value from each feature.
Account Spike Data
This is the feature that powers the Sales Insights product. The Account Spike data-science model analyzes a variety of account engagement signals like site page views, account unique visitors, ad engagement, and lead conversion data for all accounts engaging with your website, every day. It then compares the daily site activity to an account level engagement baseline to flag accounts "spiking" in activity.
Engagement Signal Definitions:
Page View - Account level site visit. Someone from that account was engaging on pages of your website where the RollWorks pixel is placed.
Unique Visitor - Count of unique users at the Spiking Account who are engaging. Multiple UV's means that multiple unique cookies at the corresponding account are engaging on pages of the website where the RollWorks pixel is placed.
Unique Engaged Visitor - A RollWorks Engaged Visit = 2+ pages viewed. Unique Engaged Visitor is the count of site visitors who engaged with at least 2 pages where the RollWorks pixel is placed.
Clicks - Clicks on a digital ad from a RollWorks campaign
Conversion - Lead-form conversion from the account on a page where the RollWorks pixel is placed
Recurring Visitor - The same unique visitor has engaged on pages of your website for multiple days in a row
The Account Spike model learns and adapts based on your site's levels of account engagement. This ensures that when accounts are flagged as Low vs. Medium vs. High spike activity, it is compared to your organic website engagement and most relevant to the sales reps consuming the data.
Once daily Account Spike is calculated, through our Salesforce integration we can map these Spiking Accounts and their engaged unique visitors to actual Account and Contact records in your integrated CRM, powering the next feature of our Sales Insights product, the Premium Salesforce App.
Premium Salesforce App
New Account Spike data is generated and pushed to Salesforce every morning so that your sales team always has a fresh view into their top engaging accounts. Through our existing RollWorks ABM Salesforce App, we can visualize this data through native Salesforce reports and dashboards and our Account Page Component.
Account Spike Salesforce Reporting
Once you have setup the Sales Insights product and assigned Sales Rep and Sales Manager seats, the Account Spike data will begin pushing into Salesforce for accounts assigned to those users. You can get started viewing Account Spike data in Salesforce reports by navigating to:
Salesforce Reports
Search for the RollWorks Custom Reports folder.
Click the Account Spike Report (Template) Salesforce report. This may be called the Engagement Spike Report (Template) for customers who installed our Salesforce app before January of 2020.
View your Account Spike data grouped by Sales Rep. This template serves as the starting point to begin sharing Account Spike data with your sales team.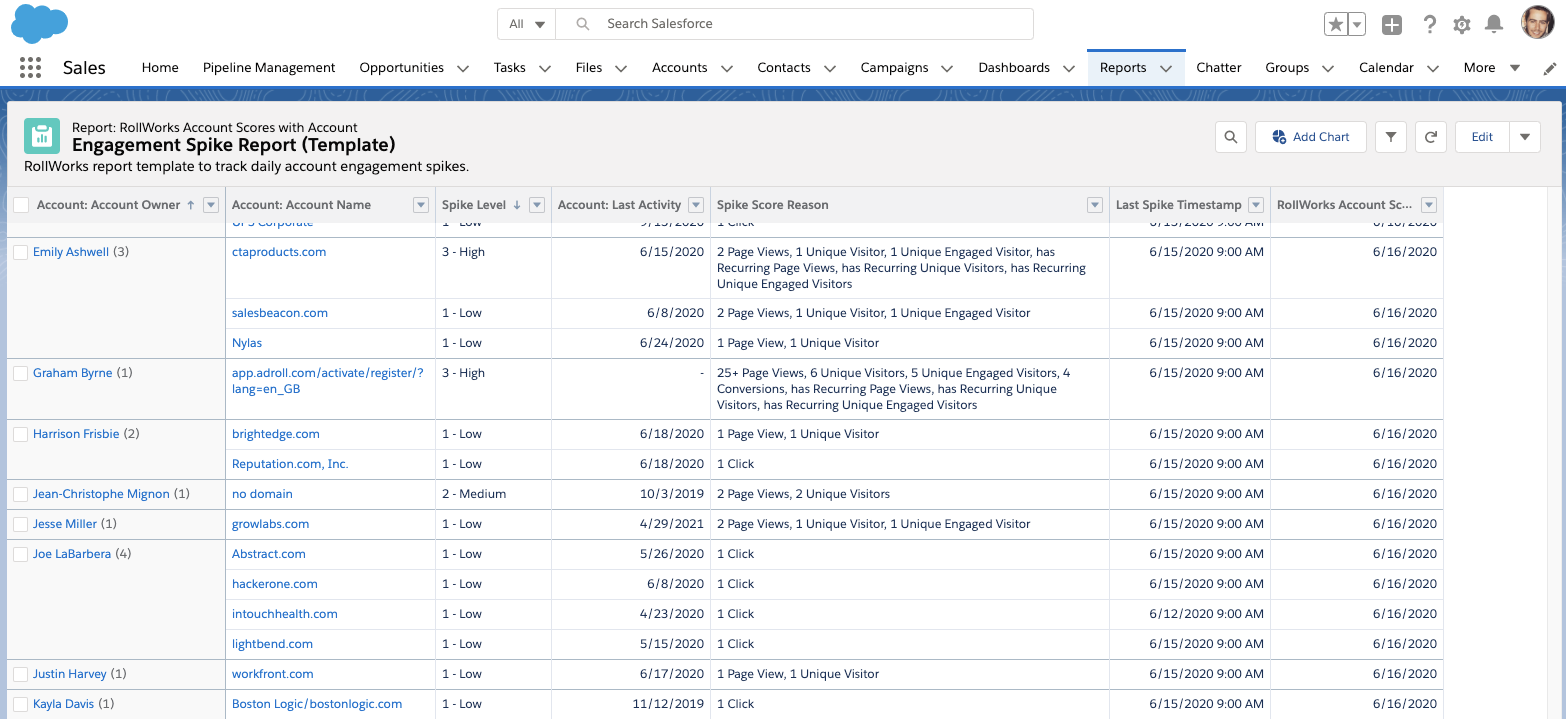 Next, you'll want to Edit the report and add your own fields and filters to make the reports curated for the sales teams using them. For example, you may want to Save As the report to create a few versions that will breakout spiking accounts by:
Sales Unassigned Accounts - update filter to set Account Owner equal to your unassigned account Salesforce alias
SDR/BDR Assigned Accounts - add or edit your filters to only show accounts specific to your SDR/BDR team
Sales Account Executive owned Accounts - add or edit your filters to only show accounts specific to your account executive sales reps
You can then further slice and dice this data by region, product line, or business unit. Because we push this data to a custom object in your Salesforce org, it is fully customizable to edit these reports to meet your team structure and business objectives. You can find more details on the exact Salesforce object and fields we sync our data to in the section below!
Salesforce Fields and Definitions
Account Spike data is generated within RollWorks daily and pushed to the Salesforce ABM App custom object RollWorks Account Score. Within this custom object, there are a few key Account Spike fields that can be utilized in account page layout, reports, and dashboards.
Account Spike Salesforce Fields:
Spike Raw Score - The output of the data science model looking at various inputs of brand engagement. This score is between 0-n

and is an admin only field, meaning only a user with RollWorks Admin access has access to this field.
Spike Level - Based on the Engagement Raw Score, we use machine learning to establish Account Spike thresholds of Low, Medium, and High Account spikes. These thresholds are dynamic and responsive to the volume of organic site traffic for your site. This is the main field that should be utilized by Sales in prioritizing accounts spiking in engagement.
Spike Score Reason - Used to justify the Engagement Level, this field shows marketing and sales what that account did in order to be spiking in engagement.
RollWorks Account Score: Last Modified Date - Shows the last time the Engagement Data was updated. Engagement data is calculated off of the previous day's engagement data, meaning Last Modified Date of today would be based on that accounts engagement yesterday.
Last Spike Timestamp - Shows the last time this account spiked in engagement.
Salesforce Account Page Component
Once you have Account Spike reports and dashboards configured for your sales team in Salesforce, the important next questions that often come from sales teams are to tell them:
Who was engaging that led to the Account Spike event?
What pages were they viewing? What content were they consuming?
The answers to those questions are critical to arming sales reps with the information they need to prioritize outreach to that spiking account, and those questions are answered via our Salesforce Account Page Layout Component.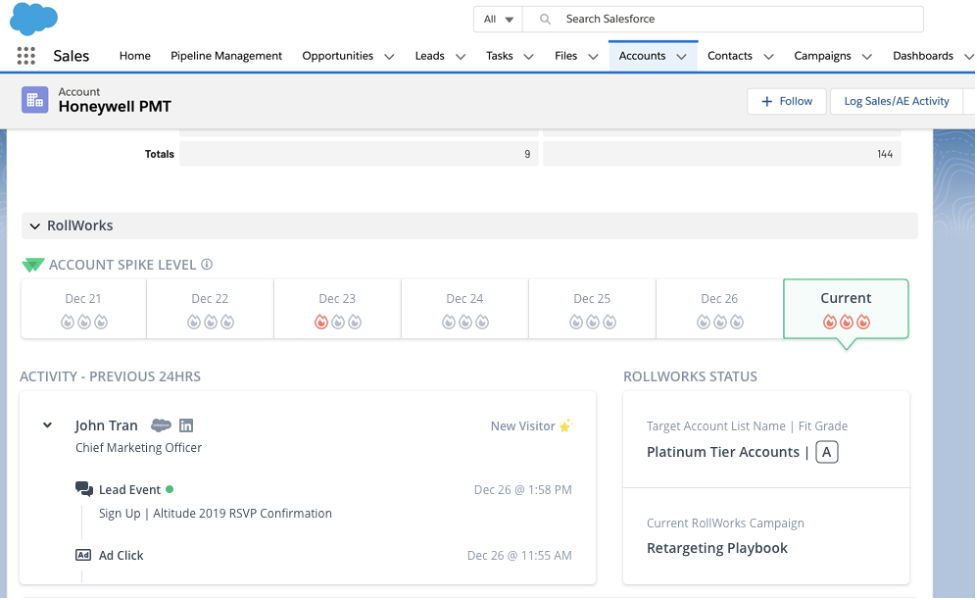 Once added to the page layout by your Salesforce Admin, sales users will be able to interact with the Sales Insights Account Component to see a trailing 7 day window of spike activity, a user-level view of the engaged contacts and what actions they took, as well as key additional RollWorks ABM program insights like what Target Account List they are on, their Account Fit Grade, and whether or not the account is currently active in any RollWorks campaigns.
Account Alert Notifications
Account Alerts allow you to take the Sales Insights experience outside of the Salesforce CRM, and send daily email summaries of Account Spike activity directly to Sales Reps for their owned accounts and Sales Managers for spiking unassigned accounts.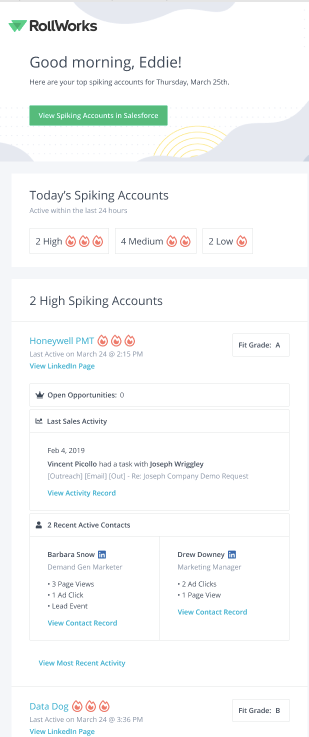 Whether on their desktop or mobile device, Sales Insights Account Alerts help sales user kickstart their daily account prioritization with spiking account and contact insights data.
If you have any questions or want to hear more about RollWorks Sales Insights, reach out to your dedicated RollWorks Account Manager or email us at info@rollworks.com.