What is the HubSpot Integration?
The HubSpot Integration for RollWorks connects your HubSpot account to the RollWorks platform to power your Account-Based strategy. With this integration you will be able to:
Create Account Lists and Account Groups using HubSpot data: combine RollWorks company data and Account Intent with your HubSpot CRM data to create dynamic lists and groups.
Bring over email lists from HubSpot to RollWorks:

Dynamically sync HubSpot email lists directly from your CRM to RollWorks.

Run advertising campaigns and cross-channel orchestration using HubSpot data:

Use fit, intent, and engagement signals from RollWorks combined with your CRM data to engage these audiences with ads and cross-channel orchestration.  

Use HubSpot data to inform your ABM measurement: Utilize HubSpot data to define Account Stages and view Journey Events in the RollWorks platforms. Leverage this same data in understanding the Account's Journey.
View RollWorks performance data in HubSpot: Get RollWorks account-level data and advertising metrics in HubSpot. Learn more in this Help Center HubSpot reporting Guide.
Note: At this time with the RollWorks + HubSpot integration you will not be able to see contact-level ad performance metrics. Only account-level performance metrics are available.
Who is eligible to access the HubSpot Integration?
You must have a HubSpot Marketing Hub package including Free, Starter, Professional, and Enterprise.
The HubSpot integration is available to all RollWorks including, Free, Starter, Standard, Professional, or Ultimate packages.
To find your current subscription package, log in to RollWorks and navigate to Settings > Billing > Plans & Usage.
How do I connect my HubSpot and RollWorks accounts?
In the RollWorks Platform navigate to

'Settings' > 'Integrations' > 'HubSpot'

Click

'Connect with HubSpot', this will prompt you to log in to your HubSpot account

Select the HubSpot account that you are looking to connect and click

'Choose Account'

Once integrated go back to

'Settings' > 'Integrations' > 'HubSpot'

and mark the checkbox below

'HubSpot Data Sync Settings'

and click

'Save'
How can I sync dynamic contact lists from HubSpot to RollWorks?
Before you start, is important to know that a contact list must contain a minimum of 100 emails for you to run a campaign in RollWorks.
To sync over contact lists from HubSpot, you must first ensure that your HubSpot account is connected to the RollWorks Platform. Once connected, follow these steps to sync over your contact lists:
Sign in to HubSpot and go to 'Contacts'. Here you can search existing lists or create new lists that you would like to bring over to RollWorks to target them or to suppress them from a Campaign
Next, within the Rollworks Platform, navigate to 'Settings' > 'Integrations' > 'HubSpot'

 and click on the HubSpot card

Click the button labeled 'Import Lists' to view all available HubSpot Contact Lists
Select the contact list(s) that you wish to import from HubSpot into RollWorks and click 'Done'

​
After completing the steps above you have successfully synced your selected HubSpot Contacts Lists over to RollWorks.
Now that you have synced over your contact lists from HubSpot to RollWorks, you can engage or suppress this audience in your advertising campaigns. 
How do I find my imported contact lists from HubSpot in the RollWorks platform?
Sign in to RollWorks and go to 'Identify' > 'Ad Audiences' > 'Connected Audiences'
Your imported contact lists in RollWorks will be listed under 'Synced Audiences' and will automatically be named ending with 'HubSpot' so that you can easily identify them.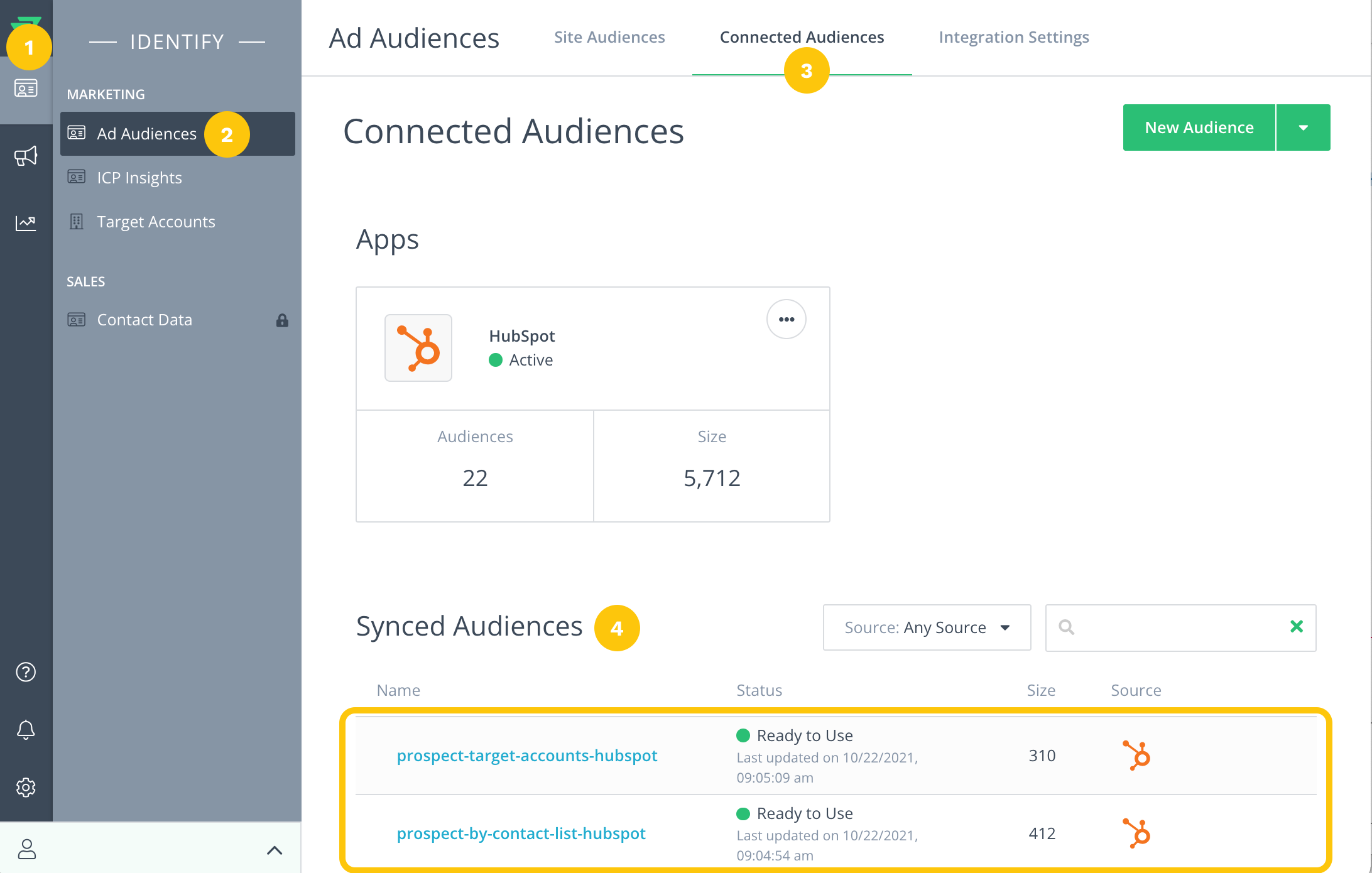 When will my HubSpot contact lists be available in RollWorks? 
The data sync between RollWorks and HubSpot is scheduled daily at 9:00 am (UTC), any new lists created in HubSpot will be available in RollWorks after this daily sync.
Additionally, please note that once your lists are synced to RollWorks successfully, you need to allow up to 72 hours for RollWorks to complete the cookie matching process before that list will be available to use in your campaigns.
You will know your contact list is ready to run campaigns when the status in your RollWorks account changes from 'Waiting for Matches' to 'Ready to Use'.
You can learn more about the RollWorks process to ingest CRM email lists in this Help Center article.
What is the minimum amount of emails required to run a CRM-based contact targeting campaign?
Your contact list must contain a minimum of 100 emails for you to run a campaign in RollWorks. 
How do I create Account Lists and Account Groups using HubSpot properties?
Creating account lists and groups using HubSpot properties is done in the Account List Builder in the RollWorks Platform. ​​For more information about how to use the RollWorks Account List Builder to create Account Lists and Account Groups please refer to this Help Center article.
What type of programs can I launch using Hubspot data?
Launch a Contact Targeting Campaign: Reach known contacts from HubSpot email lists with digital advertising from RollWorks. Drive awareness and nurture contacts with targeted messaging across channels - email & digital ads

Launch an Intent Playbook: reach unknown contacts, at HubSpot target accounts, layering on Intent signals, and prioritize these in-market accounts for advertising.

Launch a LinkedIn Account Targeting Campaign (requires LinkedIn add-on): reach unknown contacts, at HubSpot target accounts, with digital advertising. Drive awareness and nurture buyers with targeted messaging.

Use Account Scoring to prioritize and augment your Account Lists: This feature uses a predictive machine learning model to score account lists for firmographic fit. Prioritize best-fit accounts for sales and marketing outreach.