RollWorks Sales Insights uses data science to uncover signals of an account's engagement with your website and ads. With these insights, your sales team can prioritize accounts for sales outreach and personalize messaging based on engagement activity. Learn more about the data science model that detects Account Spikes in this article.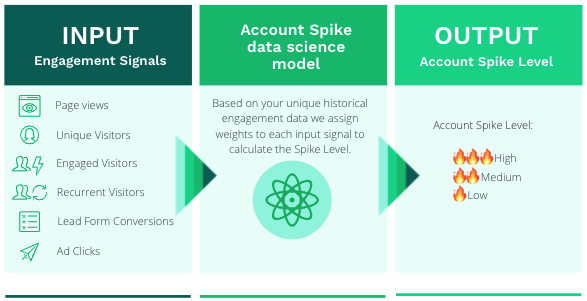 New Account Spike data is generated by our data science model and pushed to your CRM daily so that your sales team always has a fresh view of their top spiking accounts.
CRMs supported
The following CRMs are supported by RollWorks Sales Insights:
Account Spike data available
Sales Insights will generate the following data points as an output of the Account Spike data science model, which will be pushed to your CRM's Account/Company records on a daily basis. Spike data will not be pushed to your CRM Contact or Lead records.
Account Spike data

Definition
 Available in Salesforce

Available in HubSpot

Spike Level

✍️  'Spike Level' is the primary data point that should be utilized by your Sales team to prioritize accounts spiking in engagement. We use machine learning to establish Account Spike thresholds as Low, Medium, or High. These Spike Levels are dynamic and responsive to the volume of organic site traffic for your site to ensure that when accounts are flagged as 🔥🔥🔥 High, 🔥🔥 Medium, or🔥 Low for spike activity, it is compared to your own organic website engagement.
✅
✅

Last Spike Timestamp

✍️ You should always use 'Last Spike Timestamp' in combination with Spike Level to prioritize Accounts with recent spikes.

Shows the last time an account spiked in engagement.

This is the time the last Spike in engagement was detected for the Account.

✅
✅

Spike Raw Score

The output of the data science model looking at various inputs of account engagement. 

This score is a number between 0-100 that is used to calculate Spike Level and is only visible to CRM

Admins.

As a Sales Insights user, you will most likely not use this data, instead, you will use 'Spike Level'.

✅

❌

Spike Score Reason 

This field refers to the engagement actions that occurred leading to the account spiking. 

For example # of ad clicks, # of unique visitors, # of lead events.

✅

❌

Last Modified date

Shows the last time Spike engagement data was pushed to your CRM.

✅

❌

Last Spike has Matched Contacts 

This is a true/false boolean field that indicates if we were able to match the engagement Spike for this Account to any of your existing CRM contacts at the moment the Spike happened.

Learn more about how we match your CRM contacts to the visitors driving the Account Spike.

✅

✅
CRM Account page widgets
You can visualize Account Spike data directly in your CRM Company/Account records, including user-level details about the anonymous and known contacts associated with an account spike: 
Account Spike reports in your CRM
You can use Account Spike data to build reports directly in your CRM: