What are Native Web Ads
Native Web Ads appear as a part of the design of the web page they're on. Rather than standing out as an Ad, Native Ads tend to have an editorial look and feel, with a softer selling approach. For example, they can appear as recommended content on news sites. We recommend supplementing Image Web Ads with Native Web Ads. Click here to see some examples of Native Web Ads.
Native Web Ad diagram: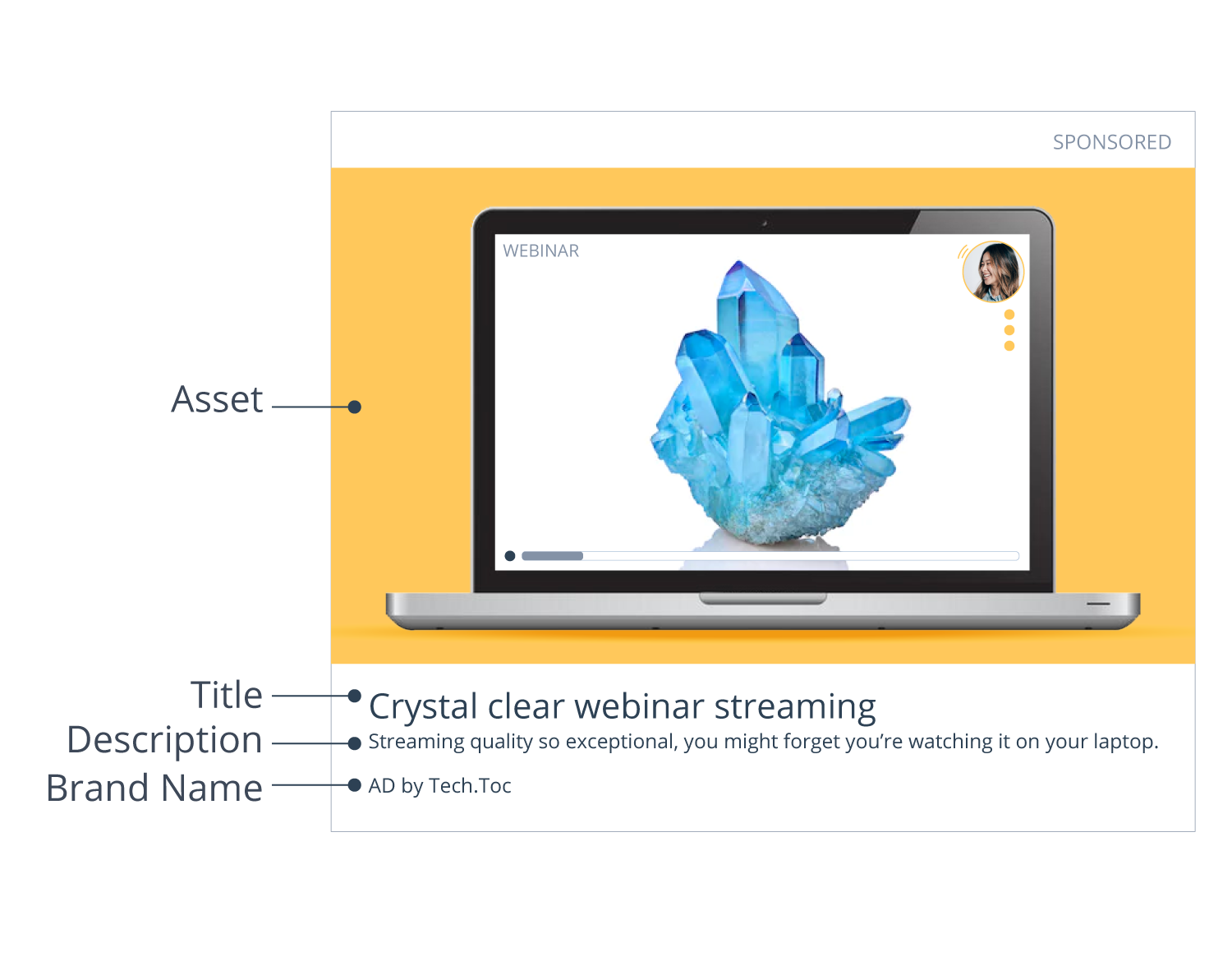 What sizes are supported for Native Ads
| Placement | Size |
| --- | --- |
| Desktop | 600 x 600 |
| Desktop | 600 x 315 |
| Desktop | 600 x 500 |
Mobile ad sizes
Please know that the possibility of showing a certain ad size on mobile depends on the publisher. Some publishers may allow certain sizes on mobile and others don't. The most common mobile ad sizes are 300x50, 320x50, and 300x250.
Native Web Ads Specifications
Field
Ad Copy Specs

Supported File Types

JPG

PNG

GIF - up to 30 seconds, 15-20 fps, no looping

File Size

Destination URL 

Limited to 1024 characters

Do not use redirecting URLs

The Destination URL cannot lead directly to a payment processor, such as PayPal

The Destination URL cannot lead directly to a video, such as a video on a site like Dailymotion

Includes your UTM Parameters

Title

Description

Limited to 1024 characters

Brand Name

Up to 50 characters recommended, including spaces

Limited to 900 characters
Create Native Web Ads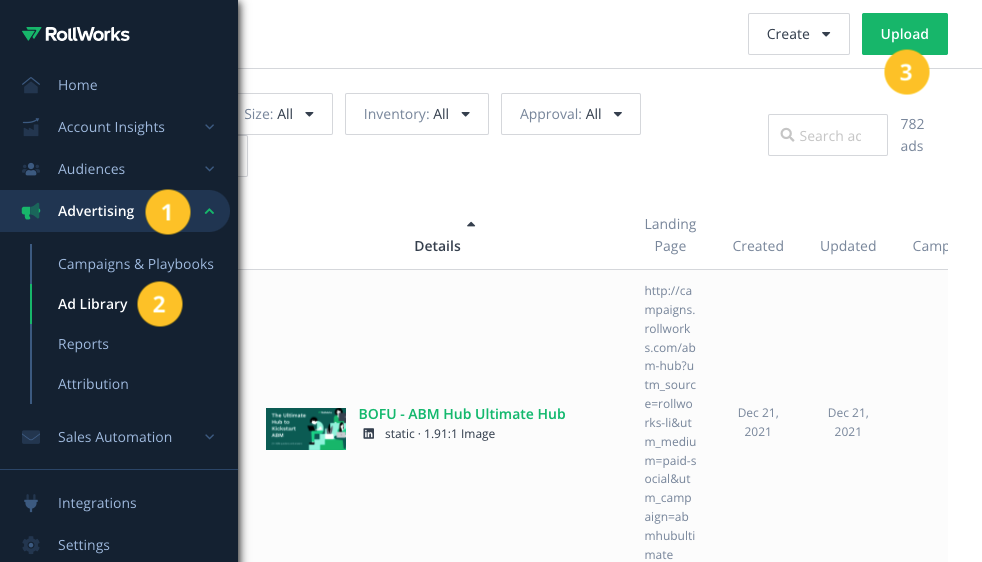 Click Browse or drag and drop your Native Ad file. These are the supported Native Ad sizes. 

Enter the Ad fields in the table below and c

lick

Create.

Once your Ads are approved, you can use them for your Facebook and Instagram campaigns in RollWorks.
Ad Details to input
Definition

Name (required)

Use a naming convention. We recommend giving the same name to all Ads with the same messaging without including Ad type and Ad size. All RollWorks reporting can be filtered by Ad size regardless of the name. If you want to be able to report on an Ad message as a whole, keeping them the same will make this easier.

Title (required)

Use your title to grab your visitor's attention and summarize your ad's purpose.

Description (required)

Your description is a place to explain a little more about your ad's purpose, such as elaborating on your product or brand and values

Destination URL (required)

This is where someone lands after they click on your ad. Be sure to enter the entire URL  https://www.mycompany.com/page

Includes your UTM Parameters.

Brand Name (required)

The brand name that you want to display with your native ads.
  The ad preview is conceptual and will look different in the wild
The ad preview you will see when you upload ads are conceptual examples. Native Ads will serve differently depending on the device and website.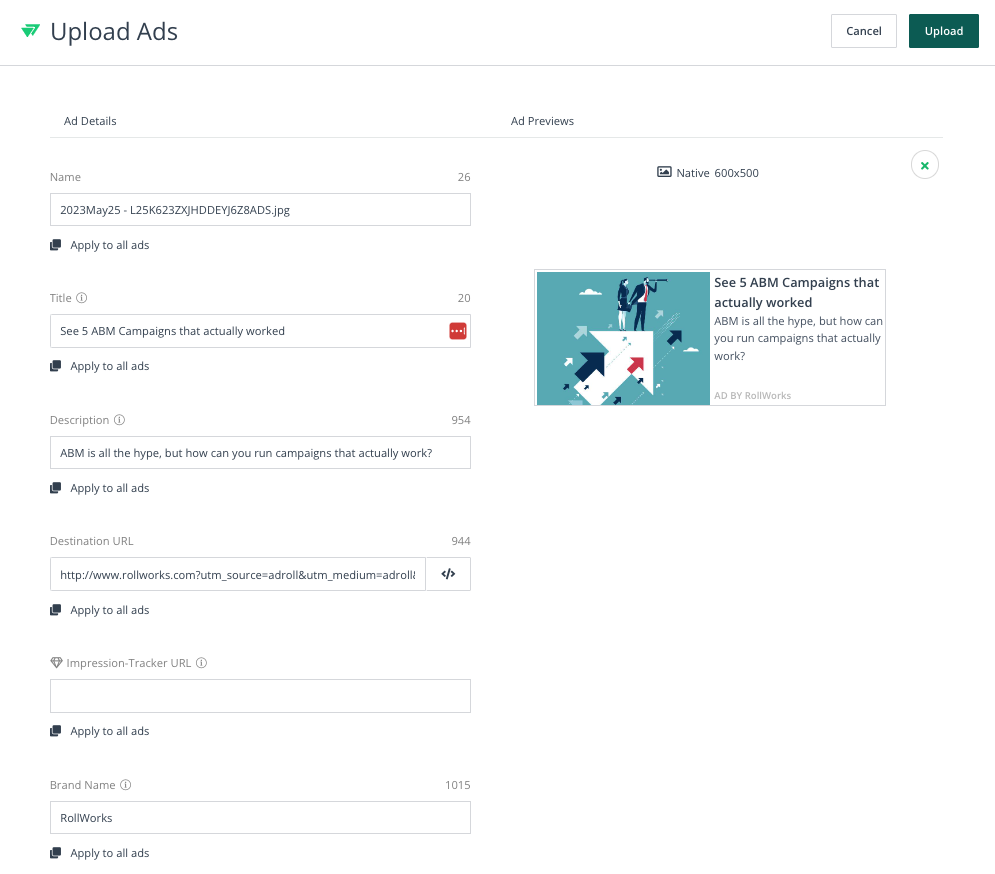 How do I troubleshoot my Native Web Ads
There are a few items that you can check if you are experiencing issues with your Native Image Web Ads:
The landing page must include a link to the homepage and/or site privacy policy.

The destination URL should not redirect to a different website or redirect to a video, for example, a video on a site like Dailymotion.

GIF Ads cannot loop endlessly or be longer than 30 seconds.

Review our

 

Advertising Policies Guidelines

 

to learn how you can make sure your ads and site are compliant.
Ensure that you are not using Third-party Ad tags since these are not supported.
If your Native Image Web Ads appear cropped or appear incorrectly on certain placements:
Native Ad images should not contain any text. Text can get cropped or not appear in certain placements, which won't deliver an effective ad experience.

Keep in mind that Publishers have editorial discretion for native ads on their websites. They can choose to resize your images or hide or truncate your descriptions to ensure consistency with their website.