What is Journey Stages?
RollWorks Journey Stages tracks the progression of target accounts along their buying journey and helps you plan and measure the impact of marketing and sales program investments.
Who is Eligible to Access Journey Stages?
Journey Stages base functionality is available at no additional cost to all RollWorks' Starter, Standard, Professional, and Ultimate package customers. Some features require integration with Salesforce and some are available only in higher packages e.g. stage additions, deletions & cloning.
To find your current subscription package, log in to RollWorks and navigate to Settings > Billing > Plans & Usage. If you do not have an active package you will not see 'Plans & Usage'.
Pre-requirements before you start using Journey Stages
Before beginning to use Journey Stages, there are a few required and a few optional onboarding steps:
Required
Optional but Recommended
Integrate your CRM with Rollworks, either Salesforce or HubSpot.
Once these onboarding steps are complete, you're ready to utilize Journey Stages.
Where do I find Journey Stages?
Login to RollWorks and go to 'Account Insights' > 'Journey Stages'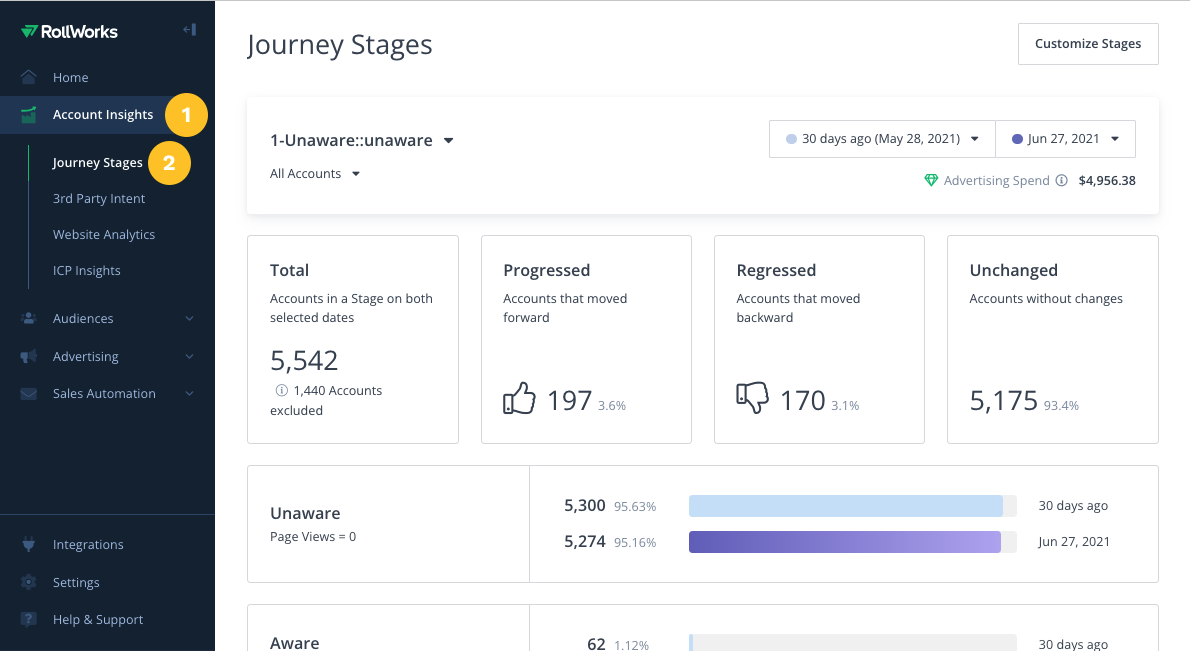 How do I customize Journey Stages?
After navigating to Journey Stages, you should customize your stages to match a funnel that would apply to your entire business by selecting "Customize Stages" and following the prompts.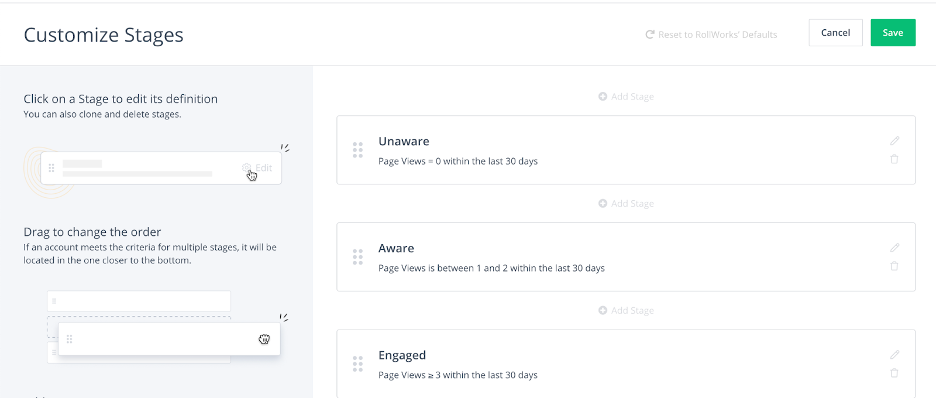 Once you've clicked Customize Stages you have several options to consider.
If you have a RollWorks Starter package then your main approach should be customizing your existing five default stages.

If you have a RollWorks Standard, Professional, or Ultimate package then the sky's the limit. Consult with your sales team to consider adding new stages or editing existing stages based on your sales cycle and your measurement needs.
Once you've customized your Journey Stages funnel, you're ready to pursue the main use cases of Journey Stages: measuring the impact of your account-based marketing efforts on your Target Account List.
Learn more about Journey Stages Best Practices here.
Get answers to Journey Stages' most frequently asked questions here.