What is the Intellimize integration
This integration allows you to connect the RollWorks and Intellimize platforms so you can identify the account-level firmographic profile of your site visitors in real-time to increase your ABM program conversions beyond using personalization tokens. This integration is powered by the RollWorks Site Traffic Revealer, enabling mutual RollWorks and Intellimize customers to use account data to create and optimize personalized website experiences with Intellimize.
The Intellimize integration provides you with the following features and benefits:
Dynamically personalize headlines, body copy, or images to key visitors that deliver more value.

Dynamically change logos, case studies, images, CTAs, and content in real-time for each industry, company, or persona to speak to their individual needs and to create the most meaningful customer experience and business results for all site visitors.

Identify site visitors (both known and unknown) using firmographic and RollWorks account-level identification in real-time to optimize their experience toward conversion goals, and analyze your conversion results by RollWorks audience segments.
With RollWorks and Intellimize you can:
Leverage the RollWorks Site Traffic Revealer and use firmographic (domain, company name, industry, company size, revenue) and account-level data (Journey Stage) to identify website visitors (both known and unknown) in real-time.

Engage site visitors with more personalized messaging and content- based on fit, intent, and engagement- at scale. Leveraging Intellimize's technology, personalization is scaled using intelligent machine learning to take into account changing audiences and their contextual differences in real-time and optimizing personalized variations toward conversion goals.

Ensure a consistent omnichannel experience. By using RollWorks-powered firmographic and account-level data to identify and engage accounts across channels - display ads, landing pages, and on-site chat- customers can ensure they are consistently and accurately targeting and engaging accounts with the right message. Creating a cohesive ad-to-website experience.
Who can access
The Intellimize integration requires:
Having a contract with Intellimize.

Having a RollWorks subscription package that includes the

Site Traffic Revealer

.

The Site Traffic Revealer is included for customers on any of our subscription packages.
To find your current subscription, log in to RollWorks and navigate to Settings > Billing > Plans & Usage.
How to connect
Before you start:
Step 1: Enable the Site Traffic Revealer in RollWorks
Login to RollWorks and navigate to 'Integrations' and click the 'Site Traffic Revealer' tile.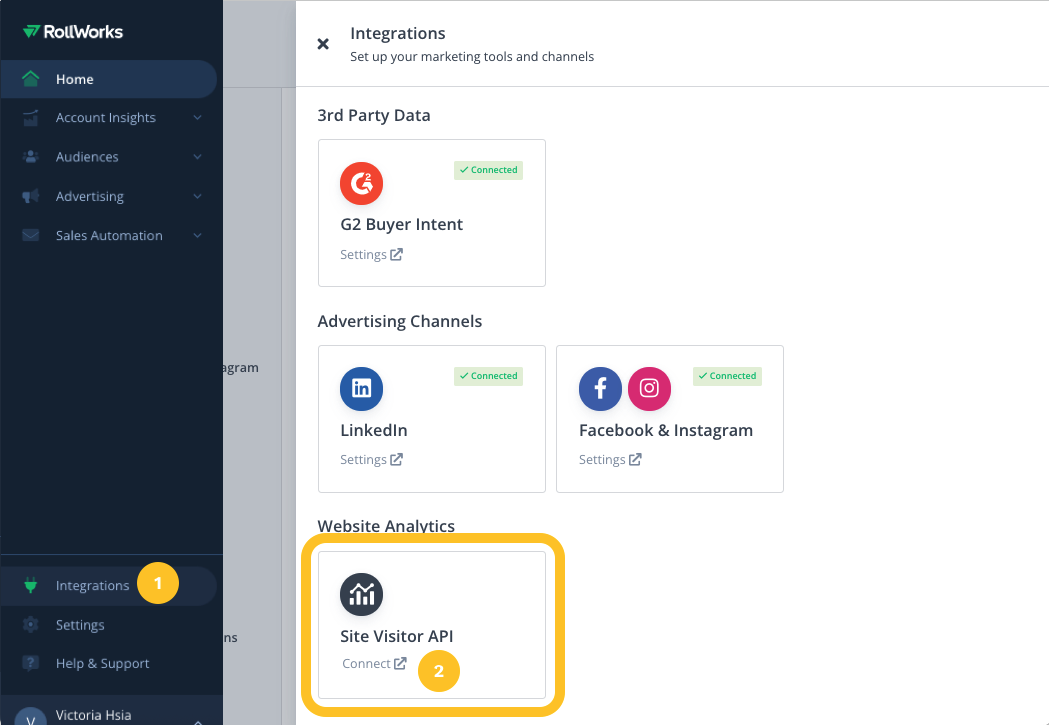 Enable the Site Traffic Revealer by clicking 'Enable'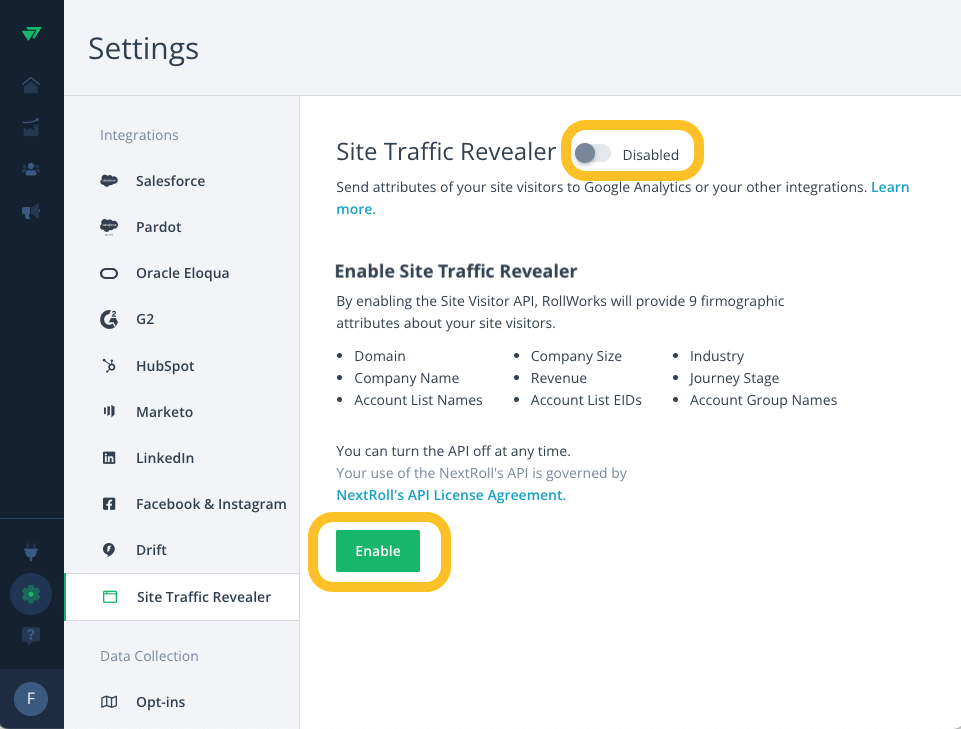 In the next screen, under 'Send Data to Google Analytics?' select one of the following options:
| | |
| --- | --- |
| 'Send with Google Tag Manager' | Select this option if you use Google Tag Manager to send RollWorks data both to Google Analytics and to Intellimize. |
| 'Do not send data to Google Analytics' | Select this option if you do not use Google Tag Manager and will send data directly to Intellimize from RollWorks.  |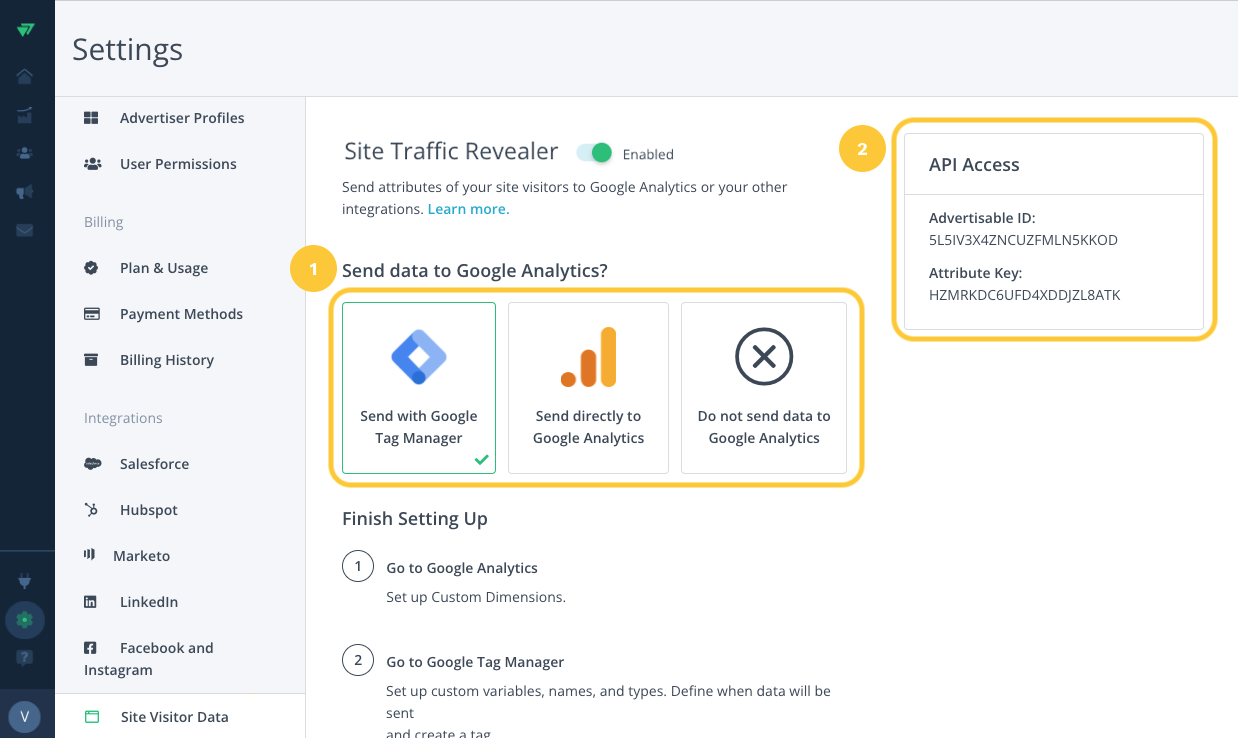 Step 2: Enable RollWorks integration with Intellimize
Follow the steps in this help article (Intellimize login required) to select the RollWorks attributes from your account that you'd like to make available in Intellimize.
Once set up, you'll find your enabled RollWorks data throughout the Intellimize experience. The data can be used to enhance your reporting and targeting capabilities, as well as by machine learning.
Reporting:

View any experience results against any subset of your RollWorks Audiences (e.g. by industry, company, buying stage).  Find the RollWorks attributes under the

Filters

button on any experience report.

Targeting:

Create new personalization experiences against any subset of your RollWorks Audiences to include or exclude specific audiences or optional attributes.  RollWorks attributes are available whenever you go to create a new audience.

Machine learning:

Intellimize machine learning is always on, to constantly learn and improve. It will continuously optimize for conversions, using your RollWorks Audiences to understand what works best for each attribute and audience segment. Adjusting to market and audience behavioral changes in real-time, delivering better conversion results and business return on your ABM initiatives.
Data Available
The RollWorks Site Traffic Revealer facilitates the push of the following RollWorks attributes to Intellimize:
Account firmographic attributes

Account identification attributes

Domain

Company Name

Company Industry

Company Size
Company Revenue

Journey Stage (default & custom)
Click here to learn more about the data attributes available through the Site Traffic Revealer.