Who can access
Depending on your RollWorks subscription package, you may see fewer options in the RollWorks navigation sidebar. For example, if you don't have a paid RollWorks package active, you will not see 'Playbooks' or 'Account Lists' as part of your RollWorks account navigation.
To find your current subscription, log in to RollWorks and navigate to Settings > Billing > Plans & Usage.
Navigating the RollWorks UI
The table below will help you find your way around your RollWorks account. Depending on your RollWorks package, you may see fewer options in your own RollWorks account. The features flagged with a lock icon 🔐 in this article are only available to customers with a RollWorks subscription.
Account Insights
UI Sections
Help Center Sections

Insights 🔐

Hot Accounts & Contacts

🔐

 Quick access to

digestible information about in-market Accounts demonstrating intent and engagement and Contacts that are engaged.

Journey Stages

🔐

  Track the progression of the accounts in your Account Lists along their buying journey.

Intent Data

🔐

Select Bombora Company Surge Intent Topics and RollWorks Intent Keywords you want to monitor and use to prioritize and engage your target accounts.
Website Analytics

🔐

Quick access to the type of companies that visit your website most frequently: Which accounts, pages viewed, top industries, and size of accounts.
ICP Insights

🔐

Quick access to the 

firmographic

and technographic composition of your existing customers and those in your pipeline.
Audiences
UI Sections
Help Center Sections

Account Lists

🔐

Lists of companies that you would like to target because they match your ICP, are engaging with your site, or are demonstrating intent.

Contact Lists

Enhanced Contact Lists

🔐 Combine your own CRM contacts with data filters offered by RollWorks and maintain the list dynamically synced.

Imported Contact Lists. Bring over pre-existing lists from your CRM/MAP.

Website Audiences

groupings of your website visitors that you define to segment and organize to understand your website visitor behavior and target them with advertising. Advanced Attribute audiences are only available for Professional & Ultimate customers.
Advertising
UI Sections
Help Center Sections

Campaigns

Advertising strategy to reach your audience by serving an ad message across web and social with a specific end goal in mind.

Contact Targeting,

Web Retargeting,

Lookalike Targeting,

LinkedIn Account Targeting, and

Facebook/Instagram.

Playbooks

🔐

 Easy to use p

re-packaged sequence of campaigns to deliver ads to your target audiences based on different goals.

Account Targeting Playbooks,

Intent Playbooks, and

Website Retargeting Playbooks.

Ad Library

🔐

Upload the different creative formats that will be used in your advertising campaigns and playbooks.

Reports

🔐

 M

easure the impact of your Account-Based strategy across multiple advertising and influenced revenue performance metrics.
Sales Automation
| UI Sections | Help Center Sections |
| --- | --- |
| | |
Integrations
| UI Sections | Help Center Sections |
| --- | --- |
| | |
Settings
| UI Sections | Help Center Sections |
| --- | --- |
| | |
Help & Support
| UI Sections | Help Center Sections |
| --- | --- |
| | Email and Chat with our customer support team 10am-6pmEST |
FAQ
How do I keep the navigation sidebar open?
If you're using a wide enough browser window, you will have the option of keeping the navigation bar open or collapsing it for more space.
Click the icon in the upper right corner of the navigation to toggle between collapsed and expanded modes.

If the icon does not appear, that means your browser or device window is not wide enough. The navigation will always be in collapsed mode for small window sizes.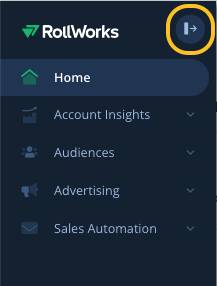 Will the URLs that I've saved/bookmarked to access my favorite RollWorks account sections work?
The new RollWorks UI navigation is compatible with all existing URLs. That means that any links you've saved will continue to work.
2022 UI Navigation Changes
In January 2022, we introduced a new UI navigation to make it easier for you to get around the RollWorks platform and quickly find what you are looking for. We have made design changes to the UI navigation as well as renamed and reorganized some sections. No functionality has changed with the new UI navigation - only how you access that functionality.