What is the Uberflip Integration
This integration allows you to connect the RollWorks and Uberflip platforms so that you can identify the account-level or firmographic profile of your site visitors in real-time. Powered by the RollWorks Site Traffic Revealer, mutual RollWorks and Uberflip customers can use RollWorks' account data to create personalized Uberflip Streams.
The Uberflip Integration provides you with the following features and benefits:
Dynamically filter an Uberflip Stream to only show content that matches RollWorks account attributes on the current site visitor.

Automatically populate the visitor's organization logo on the Uberflip Stream that uses the Banner and Logo template.

Automatically insert values from the visitor's RollWorks data into variables placed in Hub text. For example titles, descriptions, body text, CTAs, etc.

Who can access
The Uberflip integration requires:
Having a contract with Uberflip.

Having a paid RollWorks subscription package.
To find your current subscription, log in to RollWorks and navigate to Settings > Billing > Plans & Usage.
How to connect
Before you start:
Step 1: Enable the Site Traffic Revealer in RollWorks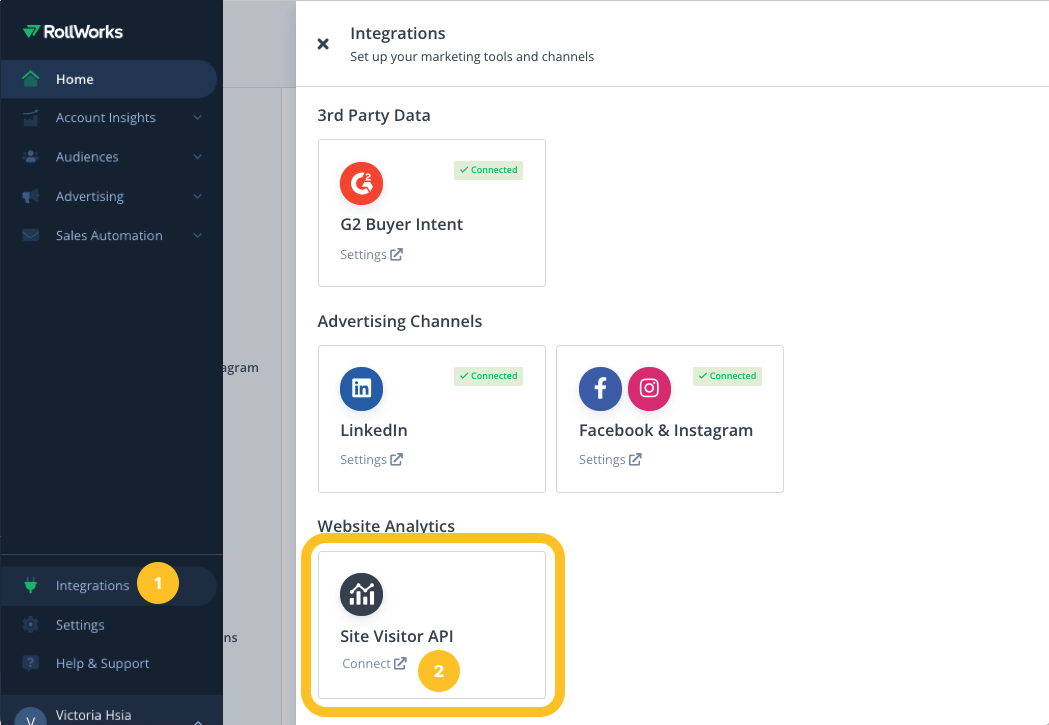 Enable the Site Traffic Revealer by clicking 'Enable'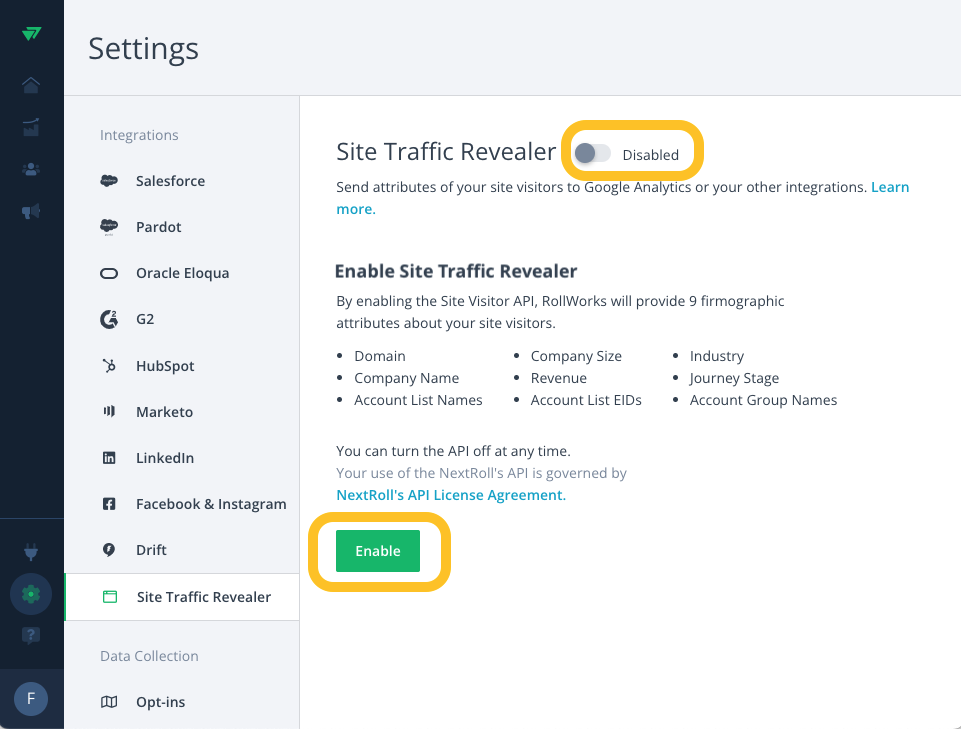 On the next screen, under 'Send Data to Google Analytics?'

 select one of the following options:
| | |
| --- | --- |
| 'Send with Google Tag Manager' | Select this option if you use Google Tag Manager to send RollWorks data both to Google Analytics and to Uberflip. |
| 'Do not send data to Google Analytics' | Select this option if you do not use Google Tag Manager and will send data directly to Uberflip from RollWorks.  |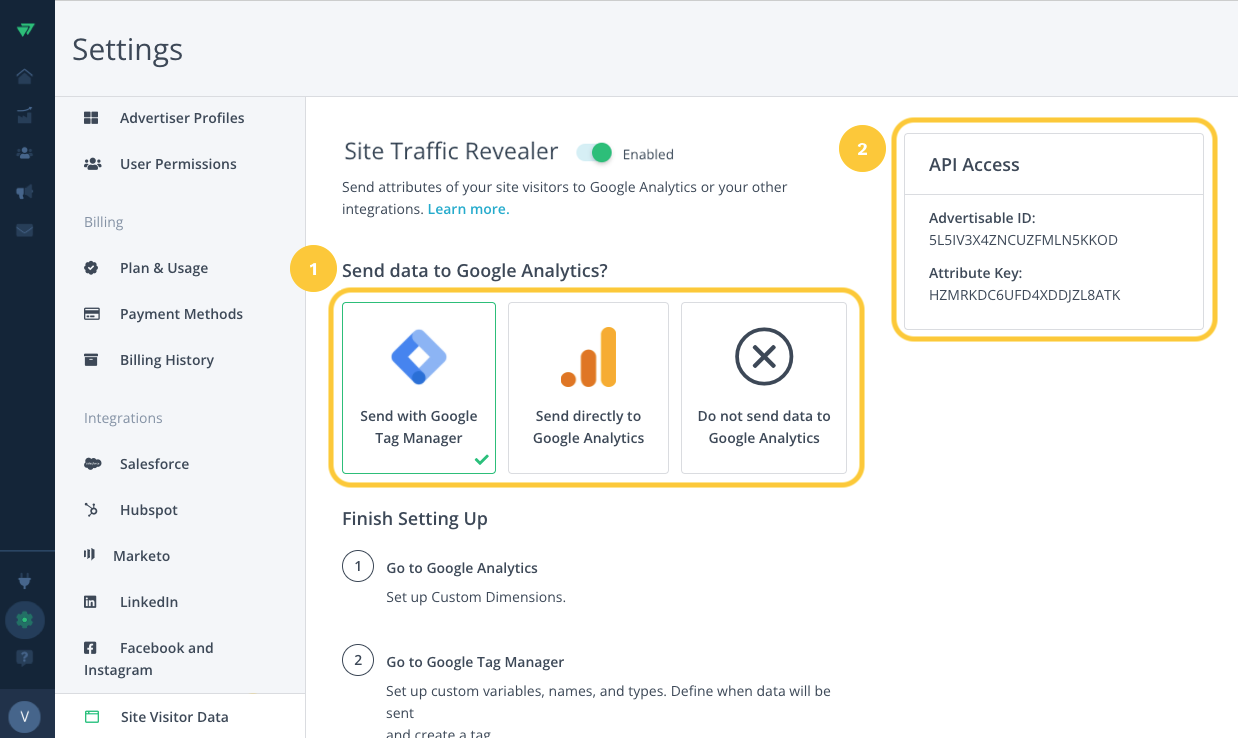 Step 2: Enable the Integration in Uberflip
Go to the 'Hubs'

 

menu to select the Hub where you want to enable the setting.
Click on 'Hub Options' > 'Advanced'
Under the section 'Content Experience', check the box next to 'Include Item tags for Custom Code'

The change will be saved automatically and will take effect immediately.
Step 3: Configure the Integration Settings in Uberflip
Follow this Uberflip configuration guide to configure the integration settings. These settings control the app's functionality, and how it is applied to your Uberflip Hubs and Streams.
You can configure settings for this Integration at the:

Account Level
Hub Level
Stream Level
Data Available
At a high level the RollWorks Site Traffic Revealer facilitates the push of the following RollWorks data to Uberflip:
Account firmographic attributes
Account identification attributes

Domain

Company Name
Company Industry
Company Size
Company Revenue

Account List

Account Group

Account List EID

Journey Stage
Click here to learn more about each of these data attributes available through the Site Traffic Revealer.
Uberflip Resources