What are Account Spike Salesforce reports
Once you've completed Sales Insights' initial setup for Salesforce by assigning your sales seats and placing the Sales Insights Account Component, you're now ready to build out Account Spike reports in Salesforce.
Because the end users are your sales reps and sales managers, as a best practice we recommend partnering with a member of your sales management team to build Account Spike reports so they are customized to your sales organization and meet the needs of your sales team.
Account Spike report templates in Salesforce
You don't need to be an expert in Salesforce reporting to build out your Account Spike reports for your sales team. RollWorks makes it easy by providing you with a template report to get you started.
Login to Salesforce and click the tab called 'Reports'
Search for the folder called 'RollWorks Custom Reports'.

Click the Account Spike Report (Template). Please note that this template may be also called Engagement Spike Report (Template) if you completed the Salesforce integration with RollWorks before 2020.
Our out-of-the-box Account Spike Report template will open, which will show all spiking accounts for the past 7 days grouped by Account Owner and including the columns: Spike Level, Spike Score Reason, and Last Spike Timestamp. Learn more about the definitions of these Account Spike data attributes in this help center article.

Customize the Account Spike report in Salesforce
Now that you have your template ready, it's time to customize your reports to make sure there are separate views for your sales-owned spiking accounts and unassigned spiking accounts. First, let's build the Account Spike report for sales managers that provides a view into the daily spiking accounts that are not already assigned to sales reps.
Unassigned Spiking Accounts Report
Before building your Unassigned Spiking Accounts report for sales managers, first, you need to find the Salesforce alias for unassigned accounts. This will be the same Salesforce user alias that you used in Sales Insights Setup to Connect your Unassigned Spiking Account Alias.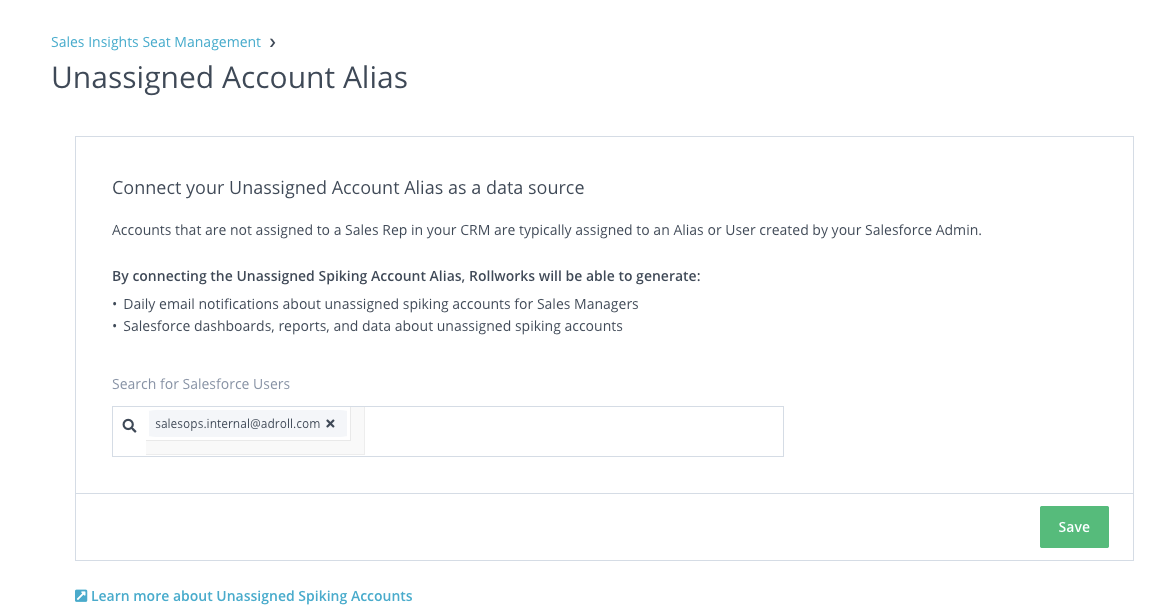 Once you have your unassigned account alias ready, to start building your Unassigned Spiking Account report for sales managers, click edit from your Account Spike template. From the Salesforce report editor click the Filters tab and add a new filter for the Account: Account Owner field. From here, ensure the operator is set to equals and add in the unassigned account alias mentioned above.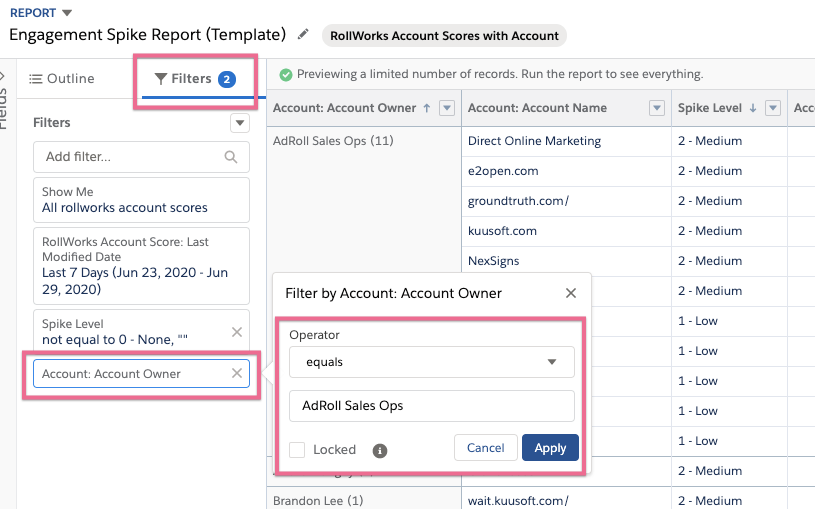 Click the Apply button to add the filter and run the report to see your Unassigned Spiking Accounts report for sales managers in action. From here, make sure to Save As this report and name it accordingly.
Sales Assigned Spiking Accounts Report
After creating a version of your Account Spike report for sales managers, we'll want to configure a version for your sales teams.
As sales users can only action accounts they are assigned to, the first step here will be filtering out the unassigned spiking accounts. To do this, navigate back to our Account Spike template, click edit, navigate again to the Filters tab, and add the field Account: Account Owner. This time, instead of filtering for unassigned spiking accounts, change the operator to not equal to and add the unassigned account alias.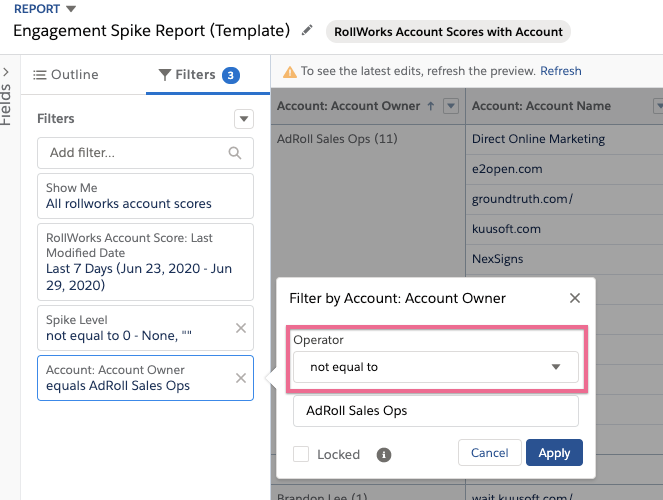 This way the resulting report will only include spiking accounts owned by your sales team.


From here, you may want to further customize and filter your reports based on the structure of your sales organization. For example, if you have a separate SDR/BDR team than your Account Executives, you may want to create 2 versions of your sales assigned spiking accounts reports accordingly for each team to view. To do this, navigate back into the report editor and add an additional filter to include the Salesforce field for your organization that separates sales reps by team.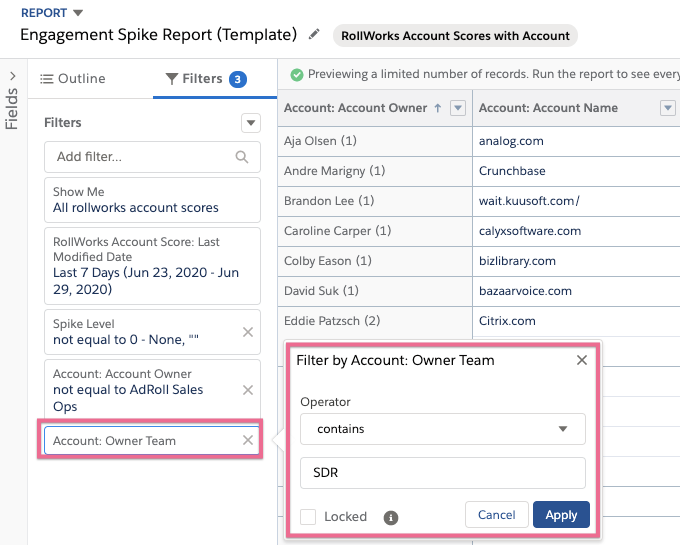 This is where it is important to work with your sales management counterpart to customize your reports. You may want to group Account Spike reports by team, region, or product which you can do so simply by adding and adjusting filters for the corresponding Salesforce fields.
Add additional Fields and Filters
When customizing Account Spike reports you may want to include a few additional standard fields on the Account Salesforce object to give sales additional insights into their spiking accounts:
Account: Last Activity - Standard account field that shows the date of last sales activity on the account. This field can help sales and sales managers identify accounts spiking in activity that have not been recently reached out to by sales.
Account: # Open Opportunities- Standard account field that shows the number of active opportunities on an account. For sales reps that do their own prospecting, this can be helpful for them to see earlier stage accounts that are spiking in activity but do not have any open opportunities.
Create Account Spike Salesforce reports from scratch
If you opt to not use the Account Spike template, you can still build custom Account Spike reports in Salesforce from scratch. The Account Spike data is pushed from RollWorks into Salesforce daily and is stored in the RollWorks Account Scores custom object. Because of this, when starting from scratch you will want to use the RollWorks Account Scores with Account report type so that you can include both Account Spike and standard account object fields and data.

From there, add the relevant standard and custom fields and filters you need to build the custom Account Spike report for your sales team.

At this point, your sales organization is ready to use the Sales Insights product and your new Account Spike Salesforce reports! You may choose to consolidate these reports into a single dashboard view (like the screenshot below), or add the account spike reports to existing sales team dashboards.

Or, you may decide to simply keep them as Salesforce reports! The beauty of having this in Salesforce is that you and your sales team have the ability to customize your Account Spike data as you need.