What is the Pixel
The NextRoll Pixel will help you understand how your visitors are engaging with your website. It is a JavaScript code snippet uniquely generated for your RollWorks account when you sign up. The NextRoll Pixel is placed in the header of your website. Whenever a user visits any page on your website, the Pixel captures their on-site behavior allowing RollWorks to generate insights and grow its advertising reach to your prospects. If you're interested in learning more, you can find additional information about the Pixel here.
In this article, you'll learn how to best set up the Pixel to safely collect your visitors' email addresses–an important piece of data that improves the intelligence you'll receive from RollWorks.
Benefit of using the Pixel for email collection
There's a distinct and valuable reason to use the Pixel for email capture, especially in combination with other methods you may have running, such as Marketo or HubSpot forms from other providers. This is because the Pixel improves upon coverage for submitted email addresses that these other methods can miss. Forms and pages across your website may change, while the Pixel dynamically adapts and captures addresses from new forms and pages without any additional development effort on your part.
Enable email address collection
Place the Pixel on your website.


You'll need access to the code of your website and this can be placed in the header or activated through Google Tag Manager.




Accept the NextRoll Terms of Service.


You'll review and accept the

NextRoll Terms of Service

the first time you log into RollWorks.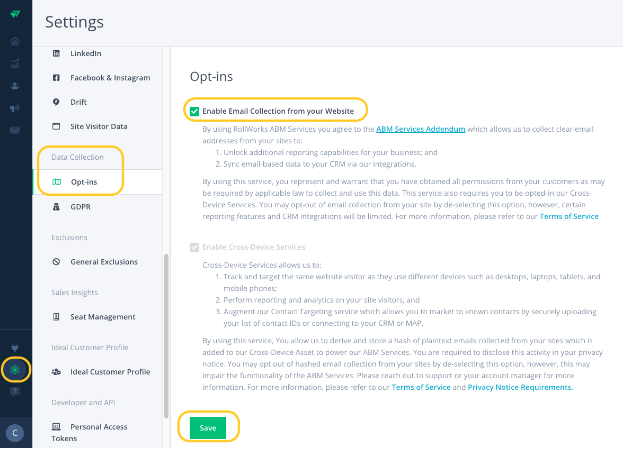 What if I Installed the pixel, but I'm not seeing all Emails captured?
If you've followed the steps outlined above, but RollWorks features that highlight collected emails (for example, the Granular Conversion Report or Sales Insights) don't show all expected contact information, it's probably because your forms do not have a "form submit event". This is a specific event that is fired when a form is submitted. NextRoll collects emails when the customer clicks a submit button. There are many different form configurations that exist. It is important that your team provides NextRoll with either a form submission event or addition of the below code to accurately collect site visitor emails so that you can receive all the benefits outlined above.
There are two ways to solve this, so you can still use the Pixel to collect email addresses that your site visitors submit and agree can be used for marketing purposes under Applicable Law.
Option 1
Work with your team or website platform provider to ensure that all forms on your site have a "form submit event".
Option 2
Add an additional Javascript snippet to your website, along with your Pixel.
Follow the below instructions to add this to your website:
Locate the header code for your site and find your NextRoll Pixel

Place the below Javascript under your NextRoll Pixel
<script type="text/javascript">
adroll.identify_email("visitor@emailaddress.com");
</script>
3. Ensure that your website is set up to replace the visitor@emailaddress.com in the above snippet with the website visitor's actual email address.
Here is an example of one way you can set this script up to replace visitors@emailaddress.com with the website visitor's actual address:
var visitorEmail = GetEmail();
// ...
adroll.identify_email(visitorEmail);
This example assumes that GetEmail(); is a real function you have that dynamically fills the visitorEmail variable with that visitor's email.