What are Facebook & Instagram Campaigns
Facebook has more than 2.89 billion monthly active users total, and 2.85 billion monthly active users on mobile. By running your Facebook and Instagram campaigns through the RollWorks platform, you can manage cross-channel campaigns all in one place, inclusive of audience segments, budgets, and optimizations. Any ads run on Facebook or Instagram will show up as 'Sponsored' posts on timelines that users can interact with, and you can see their responses by using Ad Permalinks. 
Using the RollWorks Platform, you can activate against the following campaign types on Facebook/Instagram:
Prospecting

Site Retargeting 

Contact Audience Targeting
RollWorks supports the following Ad types on Facebook and Instagram:
Single Image Ads

Video Ads (Outstream only)

Carousel Ads
Who can access
Facebook and Instagram Campaigns are available to any RollWorks customer with or without a subscription package, including: Free, Starter, Standard, Professional and Ultimate Packages.
If you have Media Credits as part of your subscription package, they can be used towards your Facebook & Instagram campaign spend. 
To find your current subscription, log in to RollWorks and navigate to Settings > Billing > Plans & Usage.
Launch a Facebook & Instagram Campaign
Prerequisites
Install the RollWorks Pixel on your website.
Connect your Facebook Business account to your RollWorks account. For more information on connecting your Facebook Business account to RollWorks, please refer to

this guide

. 

If you would like to also run on Instagram, you must connect your Instagram account to your Facebook Business page. Learn how to in this guide.
Once you have completed the steps above you can continue and launch a Facebook & Instagram Campaign in RollWorks: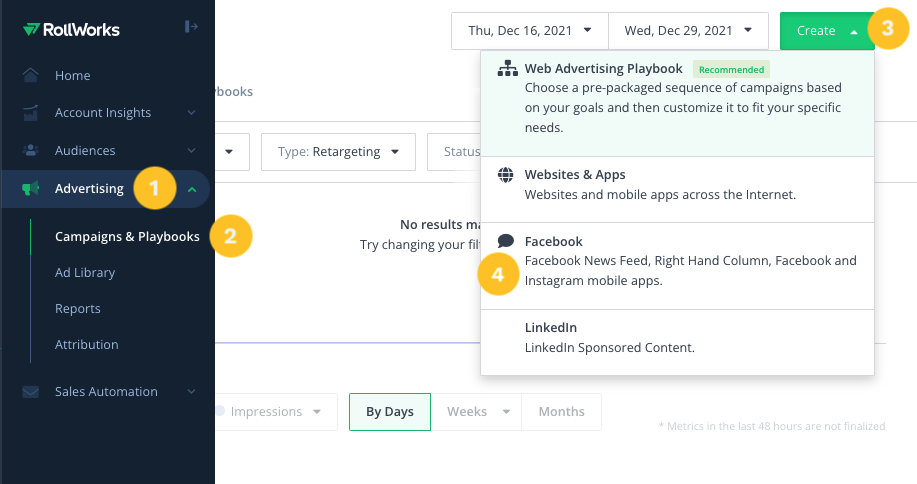 Add a 'Name to your Campaign'

Choose the type of campaign:

Choose 'Retargeting'

if you want to bring back visitors who left your website without converting.

Choose 'Lookalike'

to find new people who are similar to your website audience. You will be able to define the audience to build your lookalike audience based on a segment that you've made within RollWorks already.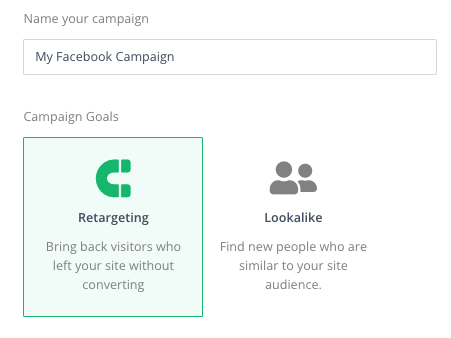 Select one of the options under 'Ad Types':

'Dynamic Ads from Product Feed' - this is the recommended option. 

Dynamic ads are only available when a product feed is connected.

'Static Ads & Video'

Tip: Facebook Campaigns do not support mixing static and dynamic ads.  Your Ad Type selected here cannot be changed after your campaign is launched.
Choose your daily

'Budget'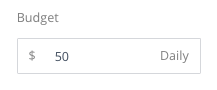 Select one of the options under

'Bid Strategy'

'Maximize clicks'

: We will optimize your bids to get you the most clicks

'Set your own performance target'

: Enter your desired target CPC or CPM and let RollWorks do the rest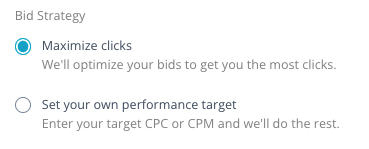 An AdGroup is created by default. If you wish to create additional AdGroups click '

Advanced options

' > '

Create Ad group

'.

Enter your desired name for the AdGroup that is created by default under

AdGroup Name
Start and End date and time

(UTC)

Select either a new audience or an existing audience

to target with display ads:

Click 'Add New'

Create a brand new audience

 

Click 'Choose Existing'

to select an existing audience that you have previously defined in the RollWorks platform.

If you are having trouble finding an existing audience that you have already you can search all your existing audiences by typing the audience name in the search bar. Alternatively, you can filter by Audience type like shown in the example below.

Include or exclude a location for your campaign

Define the "

age range

" based on the types of ads that you run. A defined age range may restrict audience size. We recommend that you do not adjust the date range, unless your content has age-specific restrictions, such as alcoholic beverages.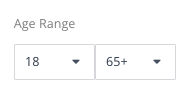 Select the 'Ad Placements' -

Select where you wish to show the ads based on the placements that we have.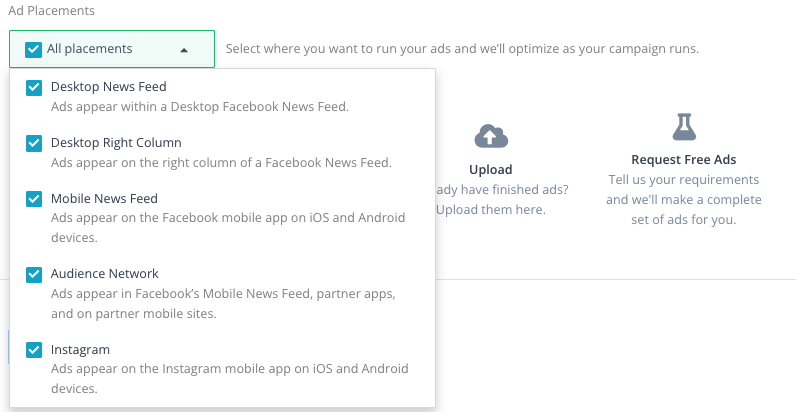 Select one of the options available to create your creative ads:

Choose:

Select this option if you want to use Ads that you have previously uploaded to your RollWorks Ad Library.

Create: Select this option if you want to design your ads using a built-in tool.
Upload: Select

if you have finished Ad creative assets ready to go to upload them.

Request free ads: Tell us your requirements and we will make one set of ads for you. Learn more about how to get ads created for you in this Help Center Article.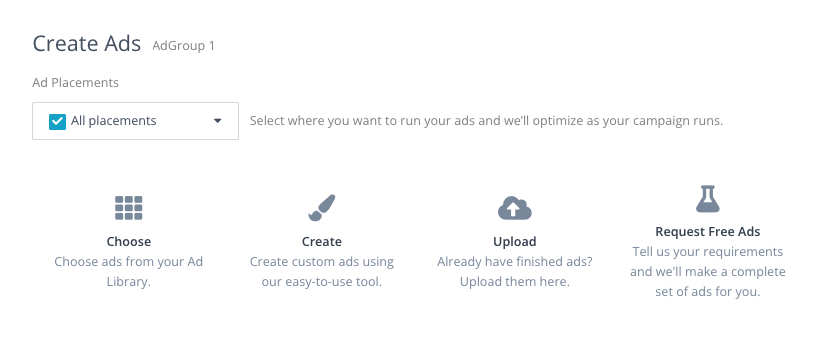 Click 'Launch' to finalize and run your Campaign.

If you do not have a payment method already added to your RollWorks account you will be asked to add it in this last step.
Ad Permalink
Facebook and Instagram Ads show up as 'Sponsored' posts on timelines and users can interact with those ads. You can see user reactions and responses to your ads by using Ad Permalinks. View the ad as a post to check responses and reactions. 
To find the Ad Permalink for your Facebook and Instagram Ads follow the steps below:
Login to RollWorks and navigate to 'Campaigns'
Click on the Campaign Name
Click 'Columns' > 'Customize Columns'
Select 'Ad Permalink' and click 'Done'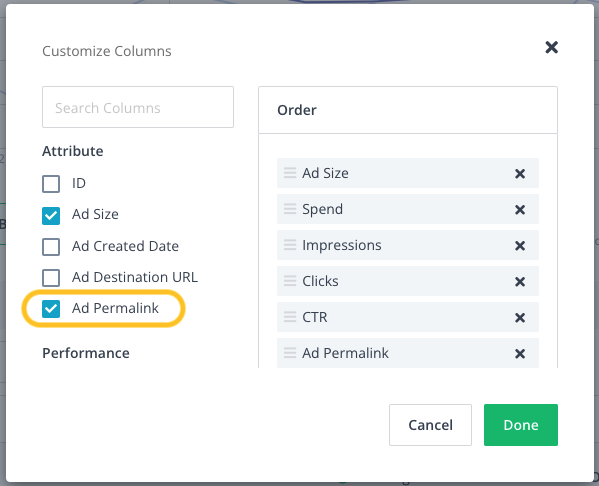 Troubleshooting
The most common reason for Facebook and Instagram campaign spend issues is due to the Ad creatives, Facebook will reject Ads if your creative is not compliant with their non-discrimination policy. You must ensure that your Ad creative is inclusive and not specific to any gender, race, age group, etc.
The second most common reason for spending issues is due to audience size: 

Check the audience size - is there a sufficient amount of cookies to target?

While a high percentage of text on an ad will no longer dramatically reduce potential audience size, it's still a best practice for performance to minimize text on a Facebook ad when possible.
FAQ
Can I use my media credits for Facebook & LinkedIn Campaigns?
If you have Media Credits as part of your subscription package, they can be used towards your Facebook/Instagram campaign spend. To find out if you have Media Credits available login to RollWorks and navigate to Settings > Billing > Plans & Usage.