What is the Facebook and Instagram Integration?
To display ads on Facebook or Instagram, first, you need to set up your Facebook Integration with RollWorks by connecting your business page to your RollWorks account so that you can serve ads both on Facebook and Instagram directly from RollWorks.
If in addition to displaying ads on Instagram you want to have the ability to manage and respond to comments on your Instagram Ads you will need to take an additional step and Connect your Instagram Account.
Once your Facebook business page is connected to your RollWorks account, a Facebook pixel from RollWorks will be placed on your website.
Before you start
You must be the Admin of your Facebook Business Manager account or the Page Owner.
We need 'Advertiser' access to post Facebook ads on your behalf and pull the data we need to report on campaign performance. For more information on managing page roles and the differences in access levels, visit this Facebook's Help Center article.
After you confirm you have administrator access to connect your Facebook page to RollWorks you can continue by either going through the RollWorks menu Settings or by creating your first Facebook Campaign. Below we will walk you through both options.
How do I connect my Facebook account to RollWorks?
You can complete the setup of the Facebook Integration with RollWorks by:
Connect your Facebook account to RollWorks by going to Integrations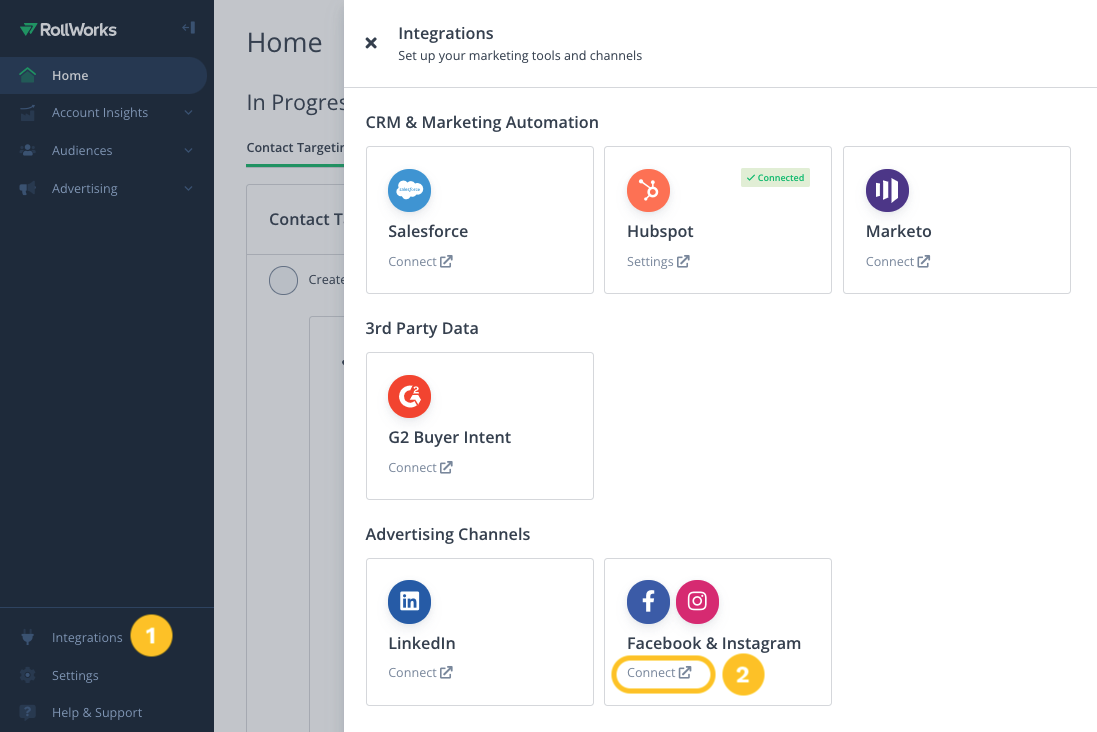 On the next page click 'Login in with Facebook' and follow the prompts to connect your account.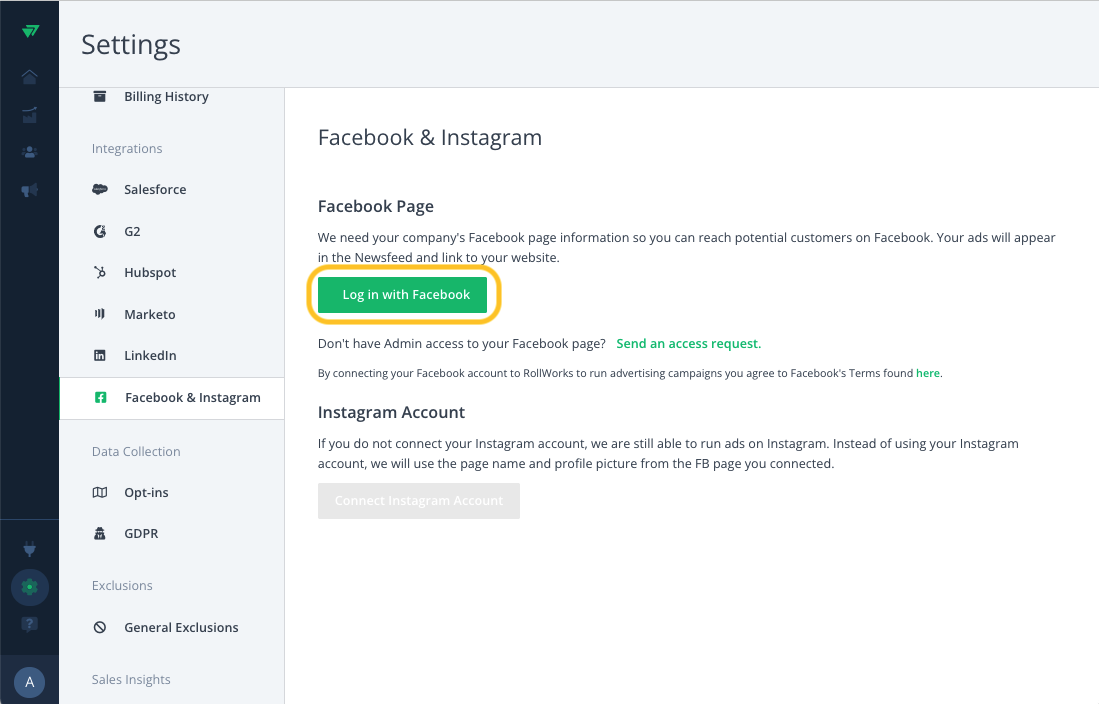 Connect your Facebook account by launching your first Campaign
Login to RollWorks and start creating a new Facebook campaign

Follow the prompt to 

connect to Facebook

If you have multiple pages connected to your Facebook account, select the page that you wish to connect to your RollWorks account

Click 'Select'

to finish connecting your page to Facebook

How do I connect my Instagram account to RollWorks?
Login to Facebook Business Manager https://business.facebook.com/
In the RollWorks Platform:

Click 'Connect Instagram Account'
Enter your Instagram account ID and click 'Confirm'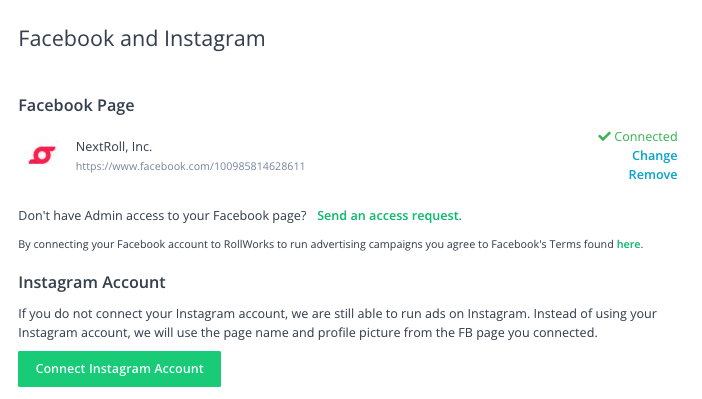 This step is optional but highly recommended. You can skip this step if your company does not have access to an Instagram account or if you do not have Admin access to the account. If you connect your Facebook account to RollWorks and you skip this step to connect your Instagram account to Rollworks:
You will still be able to display ads on Instagram.
Your ads on Instagram will not be linked to your Instagram page: instead, we will use

the page name and profile picture from the Facebook page you connected to serve ads on Instagram.

You will not be able to comment or manage comments on your Instagram Ads.
If you complete this additional step to connect your Instagram account to RollWorks:
You can manage comments on your Instagram ads.
Your Instagram will link directly to your Instagram page so that visitors can easily follow your account.
How do I connect my client's Facebook account to RollWorks if I am an agency?
If you are an agency and you manage your end client Facebook and Instagram campaigns you will need to follow these steps to connect a Facebook Business Page where you aren't the page admin.
Login to the client's RollWorks account
Click 'Send an access request' next to 'Don't have Admin access to your Facebook page?'
Enter your client Facebook URL https://www.facebook.com/client-site-name and click 'Connect my Page'
Send the link we provide to your client's Facebook administrator
Instruct them to go to the 'Page Roles' section of their Facebook Business manager and accept an outstanding partner request from RollWorks
Go back in RollWorks and click 'Connection Accepted'
How do I troubleshoot my Facebook Integration?
Make sure the URL submitted is linked to your Facebook Business Page. Specific Facebook event pages or personal Facebook pages will not work with this integration.
If you verify that the page you are trying to add is an eligible Facebook Business Page, but are still seeing an error, check for Country and Age restrictions on your Facebook business page. 
How do I disconnect my Facebook Page from RollWorks?
To remove your Facebook page from your RollWorks Account, navigate to 'Integrations' > Advertising Channels > 'Facebook & Instagram' and click 'Remove'.
How do I remove restrictions on my Facebook Business Page?
If you want to remove the restrictions on your Facebook page so that anyone can view it:
Log in to your Facebook Business Page
Navigate to Settings > General
Set Country and Age restrictions to 'Page is visible to everyone'