What is the Website Analytics feature
Website Analytics is a RollWorks feature that gives you an account-based view of your website activity within the RollWorks platform, including:
Top accounts visiting your website

Top website pages seen by your target accounts

Top industries visiting your website

The size of the companies that are visiting your website
Website Analytics gives your valuable information about the type of companies that visit your website most frequently so that you can use this information to:
Understand the firmographic details of the accounts most interested in your website.

Understand which pages of your website are getting the most attention from the accounts you care about.

Identify active segments of accounts to further engage them through your marketing and sales channels.

Make your Sales team aware of highly active accounts looking at key areas on your website.
Who can access
Website Analytics is available to all RollWorks customers with a subscription package including Starter, Standard, Professional, or Ultimate.
To find your current subscription, log in to RollWorks and navigate to Settings > Billing > Plans & Usage.
Use the Website Analytics feature
Before you start, you must have the following:
Follow the Steps below to view and filter Website Analytics data: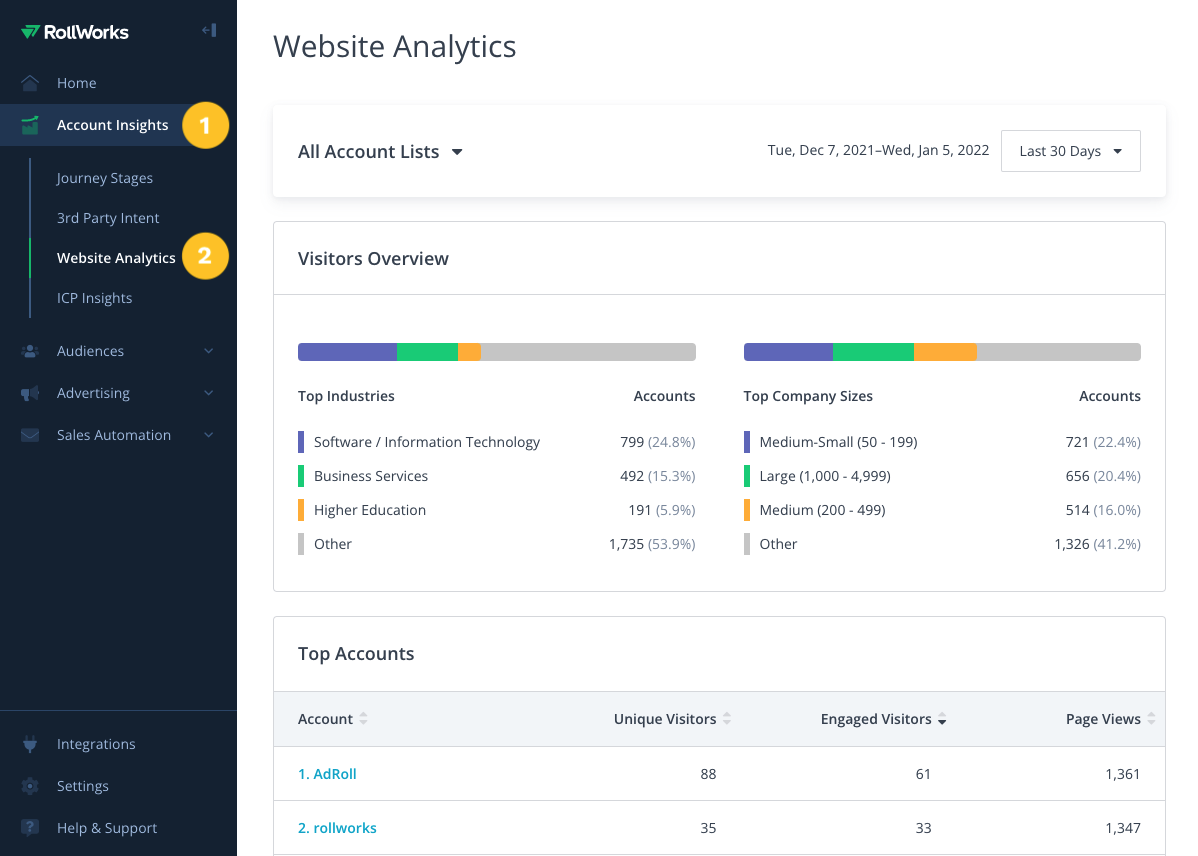 Adjust the filters to your preference:

All Account Lists: adjust this

to view results for specific Account Lists or Account Group

Date Interval: adjust this to view results for a specific time frame.

Scroll down to the 'Visitors Overview' to view the firmographic details of your website visitors based on the filters you applied in the previous step.
Scroll down to the 'Top Accounts' section to view your top 10 accounts based on the selected metric in the column sorting options.

Sort your Top 10 Accounts by 'Account', 'Unique Visitors', 'Engaged Visitors' and 'Page Views'.
Scroll down to the 'Top Visited Pages' section to view the top 10 visited pages from your website based on the selected metric in the column sorting options.

Sort your Top Visited Pages by 'Account', 'Unique Visitors', 'Engaged Visitors', and 'Page Views'.

 
Website Analytics vs Google Analytics
Website Analytics in RollWorks gives you an accounts-based view of your website data, something that isn't available out of the box in Google Analytics. That's one fewer application you will need to look at during your day.
Additionally, RollWorks allows you to define your Account lists by leveraging fit, intent, and engagement data from sources such as Bombora, G2, ads, CRM activities, and more. You can use the RollWorks Website Analytics feature to understand your website traffic for the accounts that really matter to you, saving you time by filtering out the rest of your website traffic that is not linked to your RollWorks Accounts and Account Groups. 
FAQ
Why does RollWorks only surface the top 10 accounts on an account list?
RollWorks Analytics is meant to be an at-a-glance view of your site activity. As such, we've chosen to prioritize surfacing your top accounts. If you're looking for more, don't hesitate to let us know in the RollWorks Community so that we can prioritize future enhancements.
Do Website Analytics results exclude the accounts I added to my 'General Exclusions'?
Not at this time. However, you can filter the results down to an individual account list to get a more tailored view of the accounts you are interested in.