What is the HubSpot Integration
The HubSpot Integration for RollWorks connects your HubSpot account to the RollWorks platform to power your account-based strategy. The HubSpot integration is bi-directional and allows you to push data from RollWorks to HubSpot Company records and vice-versa. To find other articles related to our HubSpot Integration:
At this time with the RollWorks + HubSpot Integration, you will not be able to see contact-level RollWorks ad performance metrics in HubSpot. Only Account-level RollWorks performance metrics are available in HubSpot.
Click here to see the list of RollWorks Ad performance metrics available in HubSpot.
Who can access
To connect your HubSpot account to your RollWorks account you must have:
A HubSpot Marketing Hub package including Free, Starter, Professional, and Enterprise.

A RollWorks account including Free, Starter, Standard, Professional, and Ultimate.
Depending on your RollWorks Subscription you may have limited access to some RollWorks features:
To find your current subscription, log in to RollWorks and navigate to Settings > Billing > Plans & Usage.
Connecting HubSpot to RollWorks
Click Connect with HubSpot and you will be prompted to log in to your HubSpot account. Enter your HubSpot credentials and log in.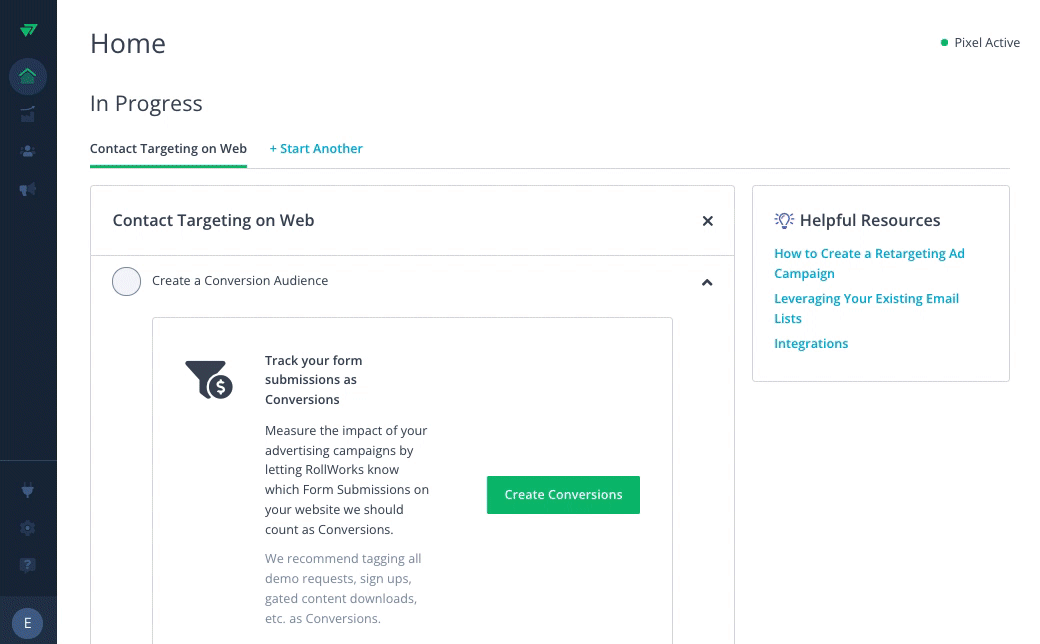 If you have multiple HubSpot accounts, select the one you are looking to connect to RollWorks and click

Choose Account.
In the next screen, click Connect App and you will be taken back RollWorks automatically.

In the next screen, mark the checkbox 

Gain Access to powerful...

and click

Save.
Click Done.
Success! You have connected your HubSpot and RollWorks accounts.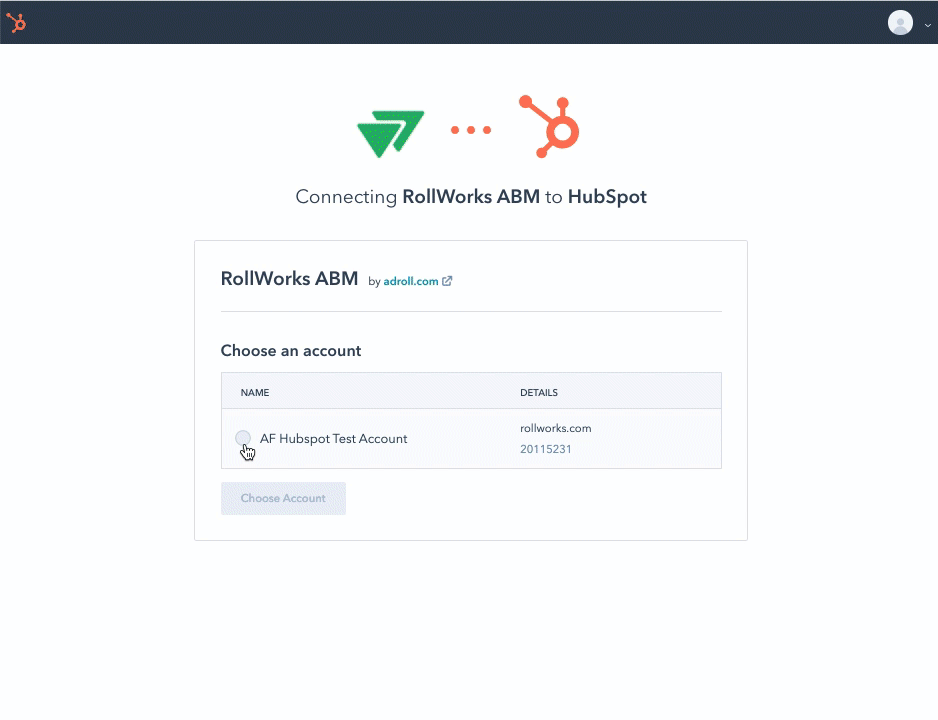 Import existing HubSpot Contact Lists
To learn more about how to import your existing contact lists from HubSpot into RollWorks visit this Help Center article.
Create Hubspot-based Enhanced Contact Lists in RollWorks
With this option, you will be able to join your HubSpot Contact, Deal, and Account properties with data offered through RollWorks like Journey Stages and Bombora Company Surge intent. These Enhanced Contact Lists will refresh automatically every 12 hours.
To learn more about how to create contact lists natively in RollWorks using your own HubSpot data visit this Help Center article.
Create Account Lists using HubSpot properties
Creating account lists and groups using HubSpot properties is done in the Account List Builder in the RollWorks Platform. ​​For more information about how to use the RollWorks Account List Builder to create Account Lists and Account Groups please refer to this Help Center article.
Data Sync
The data sync between RollWorks and HubSpot is scheduled daily at 9:00 am (UTC).
Troubleshooting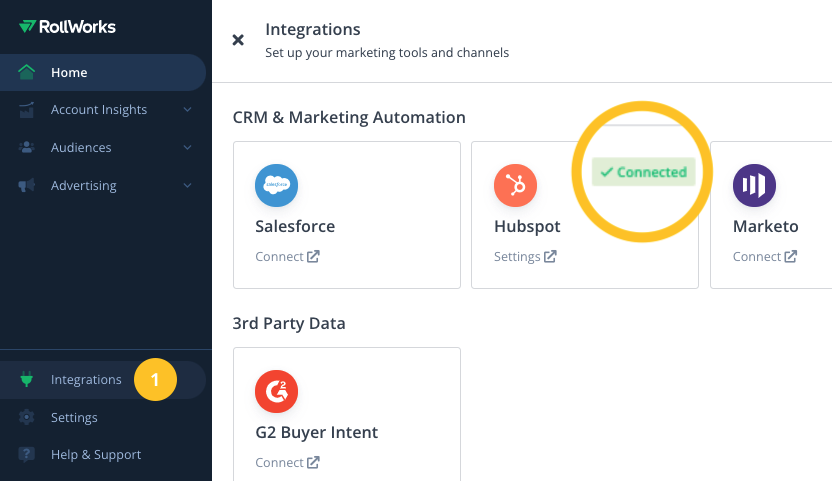 If the Hubspot Integration is not Connected, click Connect to complete the integration setup. Learn about it here.
If the HubSpot Integration is already Connected, confirm that you allow RollWorks to sync standard fields from HubSpot:
Log in to RollWorks and navigate to Integrations.
Click the HubSpot card.

Mark the checkbox labeled "

Gain Access to powerful..." under HubSpot Data Sync Settings.
Click Save.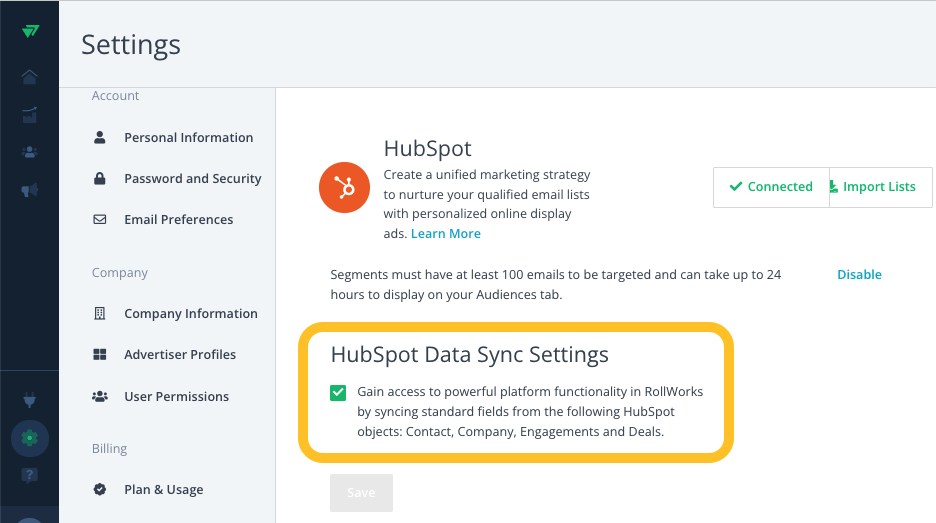 Troubleshooting: Grant RollWorks Account Login Access
In case all of the above is set correctly and you are still facing issues please contact RollWorks Customer Support Team. In some cases, you might be asked to grant RollWorks Account Login Access to HubSpot for further troubleshooting. Depending on the case a different type of access might be requested. To learn more about how to grant account login access to RollWorks visit this HubSpot article.
RollWorks Customer Support Team will provide you with the information on what type of access is needed and to what email address it needs to be granted.
Please make sure not to revoke the access until the query is resolved and you get the confirmation from RollWorks Customer Support Team that it is no longer required.