If you're building your own cookie consent banner or using a third-party banner, make sure you follow these best practices from both a technical and a compliance perspective.
Legal Note: We can't tell you exactly what to write or how to present it to your users. The following recommendations are ones that we consider to be appropriate to work with NextRoll. As there aren't clear regulations around consent banners, these guidelines may change over time to reflect updated best practices. This is not legal advice and you should check with your own internal teams and your lawyers for your overall cookie consent solution.
Visual Notice
Before you can start tracking users with NextRoll, you need to ask for consent for NextRoll, specifically. In order to do that, you need some type of visual element on your site. This element needs to be unavoidable. Make sure that it isn't hidden and that its size and colors prevent it from blending into the background.
Below is how we present the notice for sites using our NextRoll Cookie Consent Banner.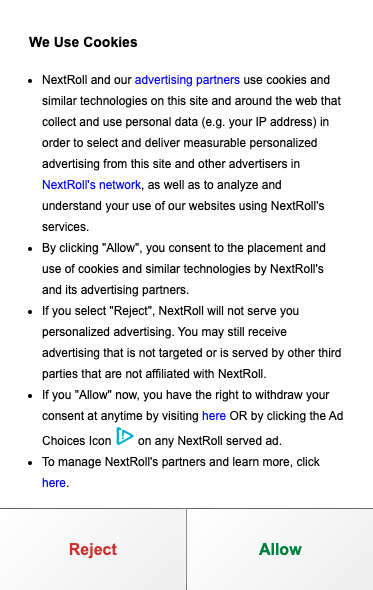 Notice Content
Ideally, the content should be clear enough for any user to understand their options, which services and vendors are going to be tracking them, and why.
Example: We and our partners use technology such as cookies on our site to personalize content and ads, provide social media features, and analyze our traffic. Click below to consent to the use of this technology across the web.
For NextRoll in particular:
Reference the words "advertising" or "ads", as well as "targeting" or "personalization". Those are the foundational elements we use user data for, so we want to make sure users are clearly aware of that.
Reference NextRoll and link to our Privacy Policy

(https://www.nextroll.com/privacy). This reference doesn't need to be on the first page of your notice, it can be on a second page you link to, but we want to make sure that your users can easily find out that we are collecting data from them as well as how to exercise their choices with us.
Sequencing
In order to make sure the user has had a chance to exercise consent, we need to guarantee that they are presented with the visual notice before any tracking occurs.
For that, we ask you to make sure that you're waiting for a user action (click on "Yes" or "Allow", navigate to another page, etc), before you deploy your NextRoll Pixel.
Time-bound
Consent should expire after 24 months. You will then have to regain consent from your visitor.
Quickstart Resources
Here's a checklist to help make sure your banner is compliant:
Easy to see: Not small, hidden, or hard to see.

Specific: State that cookies (technology) are being used for the purpose of advertising.

Named: "NextRoll" must be listed somewhere in the banner (doesn't have to be on the first page).

Real choice: The accept and decline buttons must be similarly sized and located.

Easy to change: Visitors must be able to easily change their consent settings.

Sequenced: Consent must be collected prior to collecting data.

Time-bound: Consent should not last longer than 24 months.