What is dayparting
Dayparting is a campaign level setting that gives you control over when your ads serve. You can use dayparting to select specific days of the week that you want your ads to serve (or not to serve), or specific times of day.
Dayparting affects the campaign as a whole and cannot be applied to specific AdGroups only.
How do I set up dayparting?
To schedule dayparting, edit your campaign and within the Campaign Settings and click Advanced Options to expose the dayparting settings.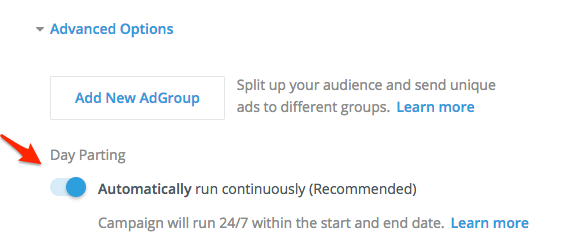 When is this useful?
Dayparting is useful when you know that your ads will have a greater impact on certain days of the week or times of the day.
For example, you've noticed more customers are booking demos for Monday and Tuesday than the middle - end of the week. You've also noticed that your business picks up in the afternoon, but mornings are slow or maybe you've noticed that the end of quarter is especially busy but the beginning of the quarter is always a slow start.
Use dayparting to boost business
1. Focus your efforts on when people are looking. Start a campaign that offers "One month free" during peak times on Monday and Tuesday. You know that people are looking at your product offering, so offer a promotion when you know that people are looking to ensure that they can trial your product.
2. Grow traffic when business is slow. Your sales team is slow at in the mornings. Start a campaign that offers a virtual coffee meeting for demos in the morning.
3. Break into the beginning of the quarter. You're plenty busy at the end of every quarter, but start of the quarter needs a little help. Start a campaign that promotes special pricing for deals closed in the beginning of the quarter.