What are Attribute Audiences
This audience type allows you to create audiences based on:
Your existing Account Lists & Account Groups

RollWorks Company Attributes: firmographic account-level attributes, such as domain, Company size, revenue, etc.

Buyer Persona Attributes: these

are user-level attributes you can use to build your audience that RollWorks offers you through our partnership with Bombora Audience Solutions.
Attribute Audiences created RollWorks can be used to:
Launch an Account Targeting Campaign. This is a type of advanced campaign only available to Professional & Ultimate customers, that provides more audience granularity than Account Targeting Playbooks.

Exclude Attribute audiences from a Website Retargeting Campaign.
Below is the detailed list of all available filters for Attribute Audiences.
| RollWorks Company Attributes | |
| --- | --- |
| | Bombora Intent Categories |
Download the list of attributes from Bombora Audience Solutions
An up-to-date list of the Bombora Attributes Taxonomy can be downloaded here. This was last received from Bombora on 9-12-2023.
When to use Attribute Audiences
You will create Attribute Audiences in combination with an Account Targeting Campaign only if  Account Targeting Playbooks do not offer enough audience flexibility for your use case. 
The most common scenarios to use Attribute Audiences within an Account Targeting Campaign instead of using an Account Targeting Playbook are:
You want to include very specific audiences in your advertising.

You want to exclude very specific audiences from your advertising.
This type of audience inclusion/exclusion flexibility is not possible with Playbooks, which are a pre-packaged set of campaigns very easy to use. Playbooks greatly simplify the process to launch and maintaining your account-based advertising programs.
In the example below we are excluding an Attribute Audience based on an existing Account List from a Website Retargeting Campaign:
Who can access
Attribute Audiences and Account Targeting Campaigns are only available for Professional and Ultimate customers as follows:
RollWorks Package
Access

Free

Not available.

Starter

Standard

Not available. Instead, you will use Account Targeting Playbooks.

Professional

Ultimate

Available. Used in combination with Account Targeting Campaigns to target/exclude them.
Create Attribute Audiences
Watch this video to learn how to create Attribute Audiences with the purpose to launch an Account Targeting Campaign or follow the steps provided below.
Login to RollWorks

 

and navigate to

 

Audiences > Website Audiences

 

and select

 

Create Website Audience.

Click Pick an attribute to select either the Account List attribute or Domain attribute to get an audience size estimation.


For the Account List you will be asked to select an Account List and an Account Group that you would like to include in the audience.


For the Domain you will be asked to provide a CSV. file with the list of domains you would like to include in the audience.

Expected audience size
Before creating the audience make sure to check your Expected Audience Size. If you select the attributes that will not populate your Attribute Audience will not be effective.
Expected Audience Size
When you create an Attribute Audience in the RollWorks platform you will be able to see the Expected Audience Size based on the attributes you select immediately.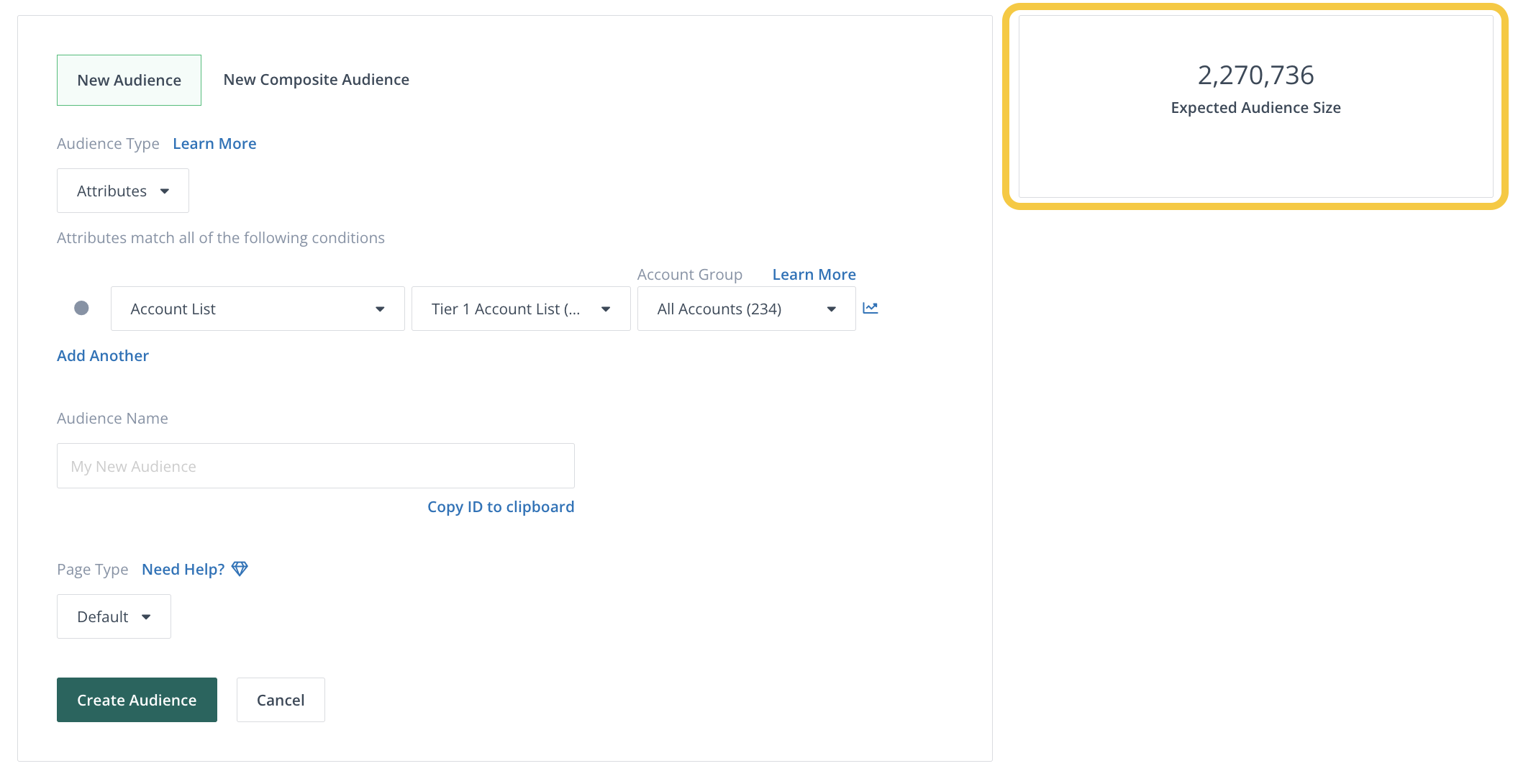 These attributes are not based on your website activity, but solely on RollWorks and Bombora Audience Solutions data, so you will be able to see audience estimates even if you don't have the Pixel installed on your website yet.