Beta
RollWorks Workflows is a feature in Beta for a limited number of customers. If you are integrated with HubSpot, Salesforce, or Marketo and you would like to participate, please contact your Account Manager or Customer Success Manager.
What are RollWorks Workflows
Watch this 5-minute demo of RollWorks Workflows and the three most common use cases.
RollWorks Workflows is a feature that allows you to automate your go-to-market (GTM) strategy leveraging data and insights from RollWorks across your connected systems with a built-in orchestration tool that brings your GTM tech stack together.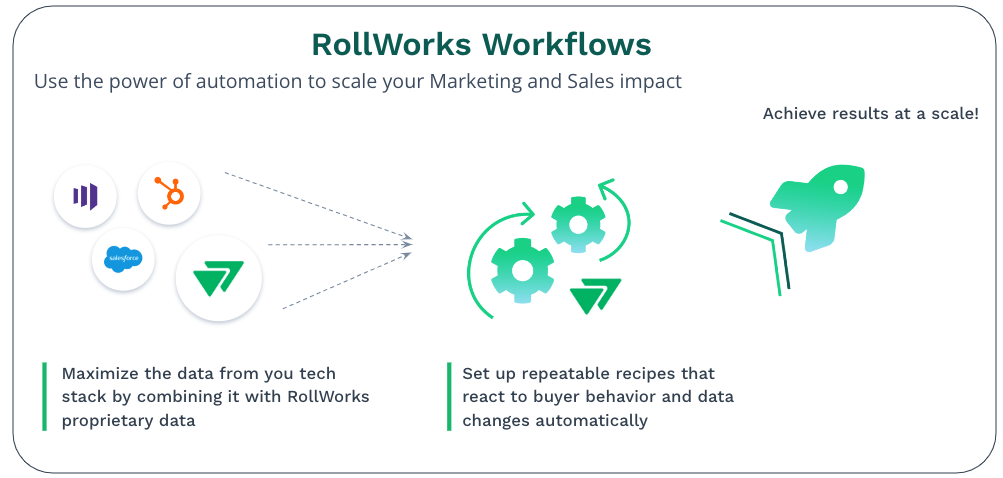 Personalize and coordinate engagement across channels
Leverage RollWorks signals for more targeted, personalized, and coordinated marketing and sales outreach across channels beyond advertising. Launch email campaigns with HubSpot or Marketo directly, or trigger engagement in other channels via updates to CRM with the Workflows orchestration tool.
Put data right where you need it
Every team's tech stack is different - that's why Workflows provides you the flexibility to work the way you want to work. Automatically update a contact or lead record in Salesforce, or add contacts or leads to Salesforce campaigns.
Alert your Sellers and internal teams about hot contacts
Utilize RollWorks' deanonymization capabilities for engaging contacts on your website or with your ads to share these Hot Contacts with your sales team in an automated way by connecting into your CRM or Marketing Automation system.
More detailed guidance can be found in the RollWorks' Workflows Template Library article.
A RollWorks Workflow is an automated sequence of steps defined in RollWorks that takes action on contacts across external platforms. You can use this orchestration tool to configure workflows based on two elements:
A Trigger:

a set of criteria that defines the conditions when a workflow executes

.

An Action:

Operations that can be performed on the contacts that enter a workflow

.

Who can access
RollWorks Workflows is available to customers with any paid subscription: Starter, Standard, Professional, and Ultimate.
To trigger...
You will need

Workflows in Hubspot

A HubSpot plan that supports Workflows (Professional or higher), and HubSpot integrated with RollWorks

Marketo Actions

Marketo Integrated with RollWorks - needed to define your action.

Salesforce or HubSpot Integrated with RollWorks - needed to define your Contact List trigger.

Salesforce Actions

Salesforce integrated with RollWorks - needed to define your action.
To find your current subscription, log in to RollWorks and navigate to Settings > Billing > Plans & Usage.
Triggers available
RollWorks Workflows can be triggered using RollWorks Enhanced Contact Lists.
When a contact in your CRM meets the criteria to be added to an Enhanced Contact List, this event can be used as your trigger to fire a workflow. Enhanced Contact Lists allow you to join account-level and contact-level data from a variety of sources to create dynamic contact lists.
With Enhanced Contact Lists you can use the following data as filters to determine your trigger criteria: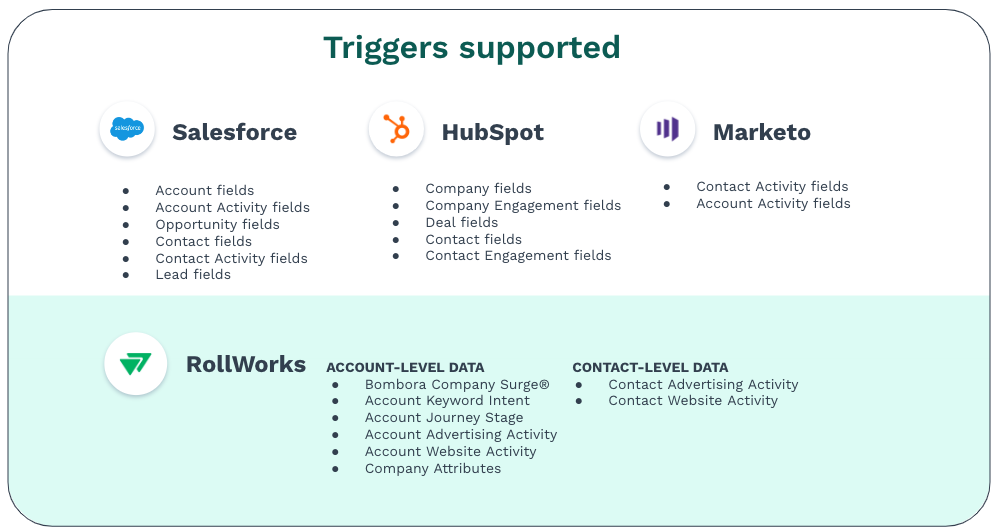 Salesforce:
HubSpot:
Marketo:
Marketo Contact and Account Activity
RollWorks:
Contact Website Activity 

Contact Advertising Activity

Account Website Activity

Account Advertising Activity 

Company Attributes (domain, name, industry, size, revenue)
Click here to see all the available filters that RollWorks offers you to create Enhanced Contact Lists that can be used as your Workflow trigger.
Actions available
When a RollWorks Workflow is triggered, you will be able to action contacts in the following actions:

Salesforce. Click here to learn how to configure RollWorks Workflows using the Add Contact/Lead to a Campaign or Update Contact/Lead Record actions.

HubSpot.

Click here to learn how to configure RollWorks Workflows using HubSpot Workflows as your action.

Marketo.

Click here to learn how to configure RollWorks Workflows using the Add Contact to a List or Add Contact to a Smart Campaign actions.
RollWorks Workflows FAQ
Where can I find the most common Workflow use cases implemented by other customers?
Read our RollWorks' Workflows Template Library article to find different Workflow templates implemented by other RollWorks customers.
Can my teammates access Workflows?
Workflows are shared between all RollWorks users in your instance - there are no "private" workflows.
Click here to learn how to add and manage your RollWorks users.
How quickly will contacts be processed by workflows?
Workflows run every 6 hours and can process up to 5000 contacts per run.
Can the same contact qualify for the same workflow more than once?
Yes, RollWorks offers a customization in the Settings of launching a Workflow where you can configure whether a contact cannot re-enter the Workflow in the future or is eligible to re-enter the same Workflow within a specific number of days if a contact qualifies.

Can the same contact qualify for different workflows simultaneously?
Yes.
Can I use the same contact list as the trigger for multiple workflows?
Yes.
Is there a minimum amount of contacts required to trigger a workflow?
No. An Enhanced Contact List of any size can be used as your trigger for a workflow, regardless if it has 5 or 500 contacts.
How can I see which contacts have been enrolled in a workflow, and the logs of any actions applied to them?
You can see the last 30 days of these events by downloading the 30-day report.
From the Workflows list view, you can turn individual workflows on or off, as well as edit or delete individual workflows:
If you hover over the View Log link under the Total Enrolled column, you can see how many contacts were enrolled in the workflow since its creation. You can also download a CSV file that contains a detailed log of all contacts that qualified for the trigger criteria over the last 30 days, whether the contacts successfully enrolled in the workflow or not, as well as any relevant error messages by clicking the Download 30-day Report link.
This report can be useful for troubleshooting purposes in conjunction with audit log functionality in destination platforms.
How can I see the last time a contact was enrolled in any workflow?
This functionality is not available in the Alpha at this time, however, you may be able to see more information in the destination platform of your workflows (HubSpot and Marketo).