What is the Folloze Integration?
The RollWorks and Folloze partnership enables mutual customers to target the right accounts, provide highly-scalable, personalized experiences, and know precisely how, when, and why targets are engaging.
The combined solution solves many current ABM challenges, including poor engagement and generic experiences that cause prospects to lose interest. Organizations can precisely target, engage with deep personalization, and measure prospect engagement within their ideal customer profile (ICP).
The Folloze Integration provides you with the following features and benefits:
Create Folloze Boards to mirror your engagement strategy in RollWorks by buying persona, industry, awareness stage, and individual accounts

Increase organic and paid conversion rates by creating highly targeted and personalized online experiences at scale

Conduct full-funnel experimentation optimizing all digital assets with one solution
Who is eligible to access the Folloze Integration?
The Folloze integration requires:
Having a contract with Folloze.

Having a RollWorks account with any paid subscription package: Starter, Standard, Professional, or Ultimate.
To find your current subscription, log in to RollWorks and navigate to Settings > Billing > Plans & Usage.
How do I use the Folloze integration?
First, you will want to ensure that you have determined your Folloze content strategy based on attributes like industry, awareness stage, buying persona, a specific company, etc.
Create a Playbook in the RollWorks platform. To learn how to launch a Playbook, visit this guide. 
Edit the clickthrough URLs of your RollWorks ads to include &var=XXX 
The &var= input should align with the audience you are engaging in RollWorks Playbooks and with the desired content strategy.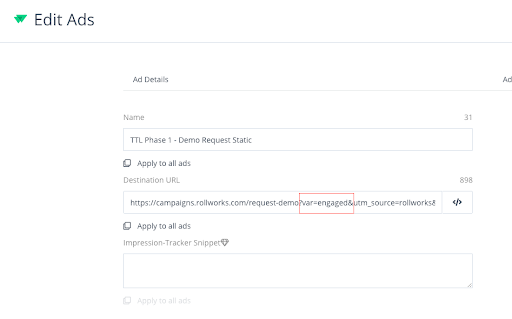 Login to Folloze and go to the Personalization Studio.

Use the URL var parameters to create content-based personalization.

See 'var' parameters to represent the stage of a deal, 'Intent' parameters, role, and other segmentation criteria.