What are Composite Website Audiences
After connecting your site to RollWorks by placing the RollWorks Pixel on your website, we will start capturing your visitor data to turn into website audiences. Composite audiences are any combination of the various Website Audiences types available in the RollWorks Platform. 
A Composite Audience is useful to identify people who match more than one customer trait. For example:
Good to know:
✍️ Composite Audiences use AND logic to identify visitors that match two or more conditions. When creating a Composite Audience you cannot use OR logic to combine multiple visitor conditions. If you wish to target visitors that match the criteria of two or more Audiences, you can create individual Audiences (not Composite), and in the Campaign, select all the audiences that you want to target to achieve the same result.
✍️ Keep in mind that your website visitors will be added to the Website Audiences you define as soon as the RollWorks Pixel loads. If a visitor leaves your website before the Pixel loads, the visitor will not be added to your Website Audience. The most common reasons why a visitor is not added to a Website Audience are:
Create Composite Website Audiences
Before you start creating a Composite Website Audience in RollWorks you will need to first build the individual Website Audiences that you want to combine. Once you have created your individual Website Audiences, follow the steps below to create a Composite Website Audience:
Login to RollWorks and navigate to 'Audiences' > 'Website Audiences'
Select 'Create Website Audience'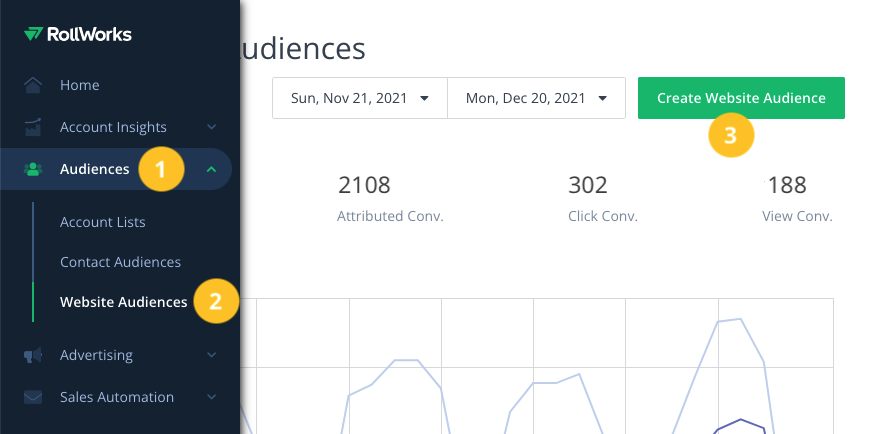 Select 'New Composite Audience'
Select the Audience Type and search for the specific Website Audience that you would like to combine under 'Audiences match all the following Conditions'
Click 'Add Condition' to add additional conditions using AND logic.
Enter your desired 'Audience Name'
Enter your desired Audience Duration (in days) under 'How long to keep a person in this audience'. If you aren't sure, learn more in our Audience Duration article.
Only if this audience is a Conversion Audience, check the box labeled 'This is a conversion audience'. If you aren't sure, learn more in our Conversion Audiences Guide.
Click 'Create Audience'