How to import your existing HubSpot Contact List
You can import HubSpot Contact Lists to RollWorks as Contact Audiences and target them with digital ads. Importing HubSpot Contact Lists to RollWorks is a two-step process:
Create your contact lists directly in HubSpot.

Import the contact lists to RollWorks.
Before you start
We recommend a minimum of 1000 unique email addresses
We strongly suggest that your contact lists synced from HubSpot have at least 1,000 unique email addresses for optimal performance. Even though you may be able to run a contact targeting campaign with 100 unique emails that match a cookie this audience is too small to yield optimal reach and ad performance. 🔎 Learn more about how Contact Audiences work here.
Step 1: Create a Contact List in HubSpot
You can skip this step if you already have existing HubSpot contact Lists that you want to bring over to RollWorks.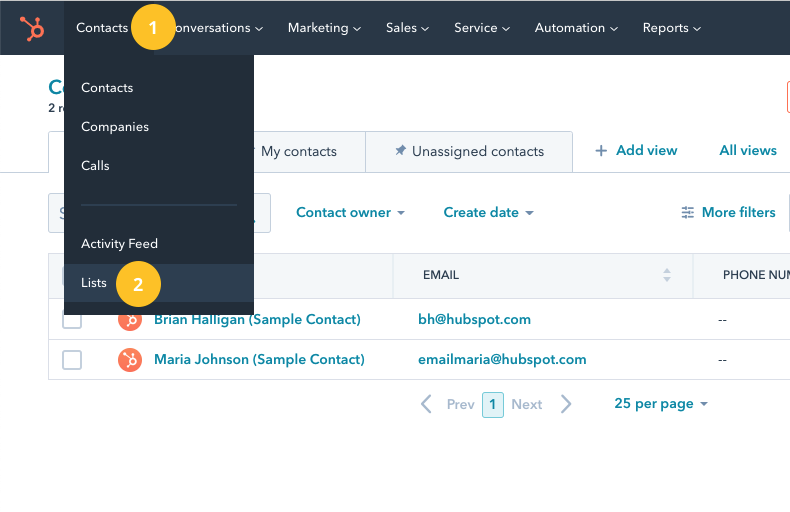 Click 'Create list' to build the list of contacts that you would like to bring over RollWorks. You can find step-by-step instructions about how to create Contact Lists in this HubSpot help center article.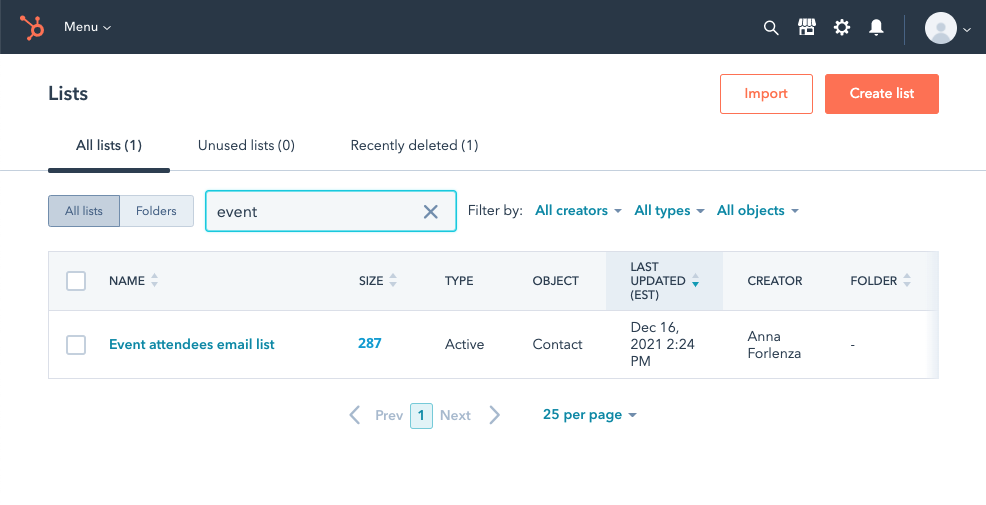 Step 2: Import Contact List to RollWorks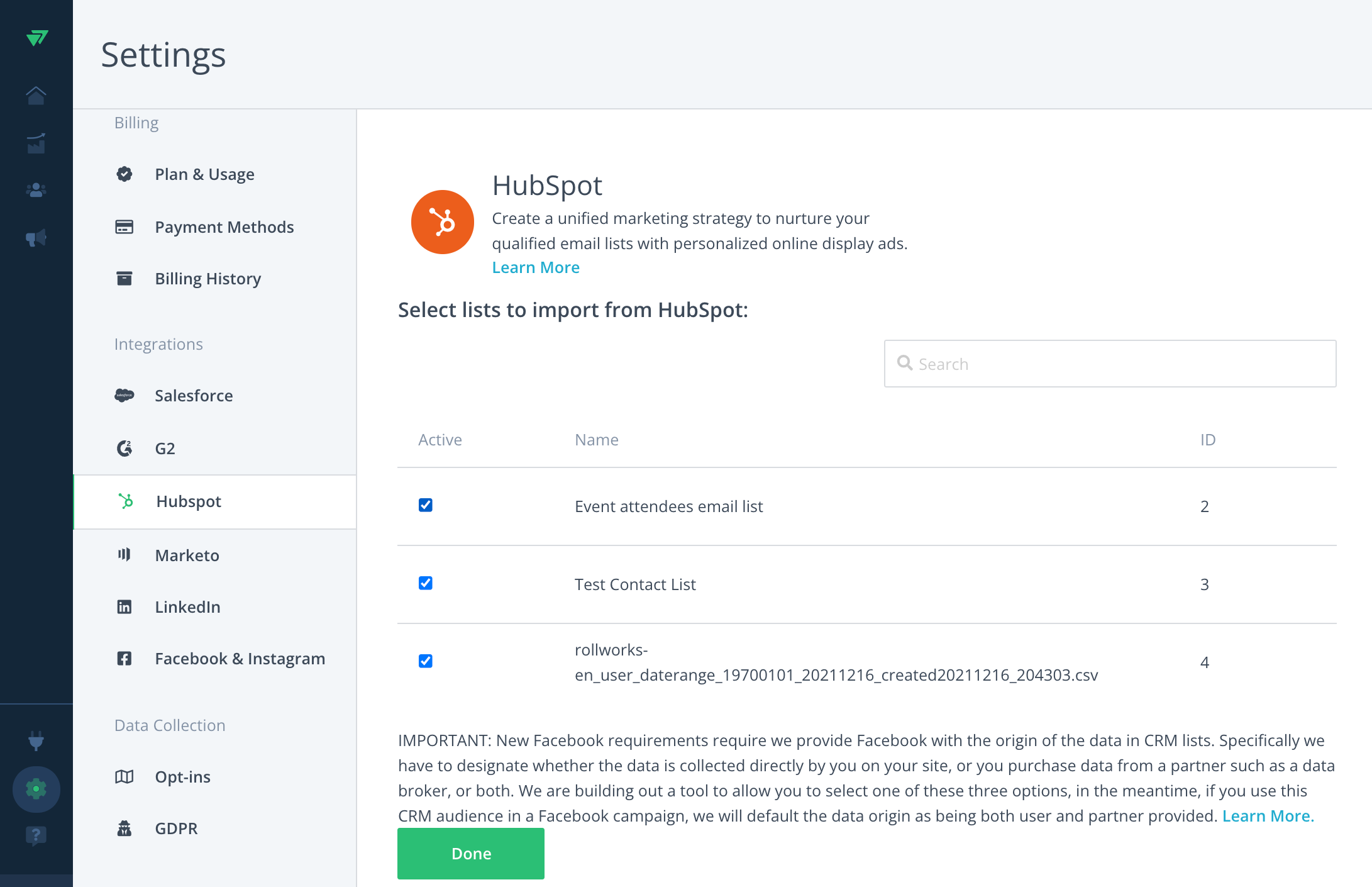 ​
After completing the steps above you have successfully synced your selected HubSpot Contacts Lists over to RollWorks. If the lists you import are dynamic Contact Lists in HubSpot they will update automatically in RollWorks.
Now that you have synced over your contact lists from HubSpot to RollWorks, you can engage or suppress this audience in your RollWorks Ad Campaigns.
Find HubSpot Contact Lists
Log in to RollWorks and go to 'Audiences' > 'Contact Audiences'
Your imported HubSpot Contact Lists will be listed under 'Synced Audiences' and will automatically be named ending with '-hubspot' so that you can easily identify them by their name.
You can use the 'Source' filter to find any Hubspot Contact List synced into RollWorks.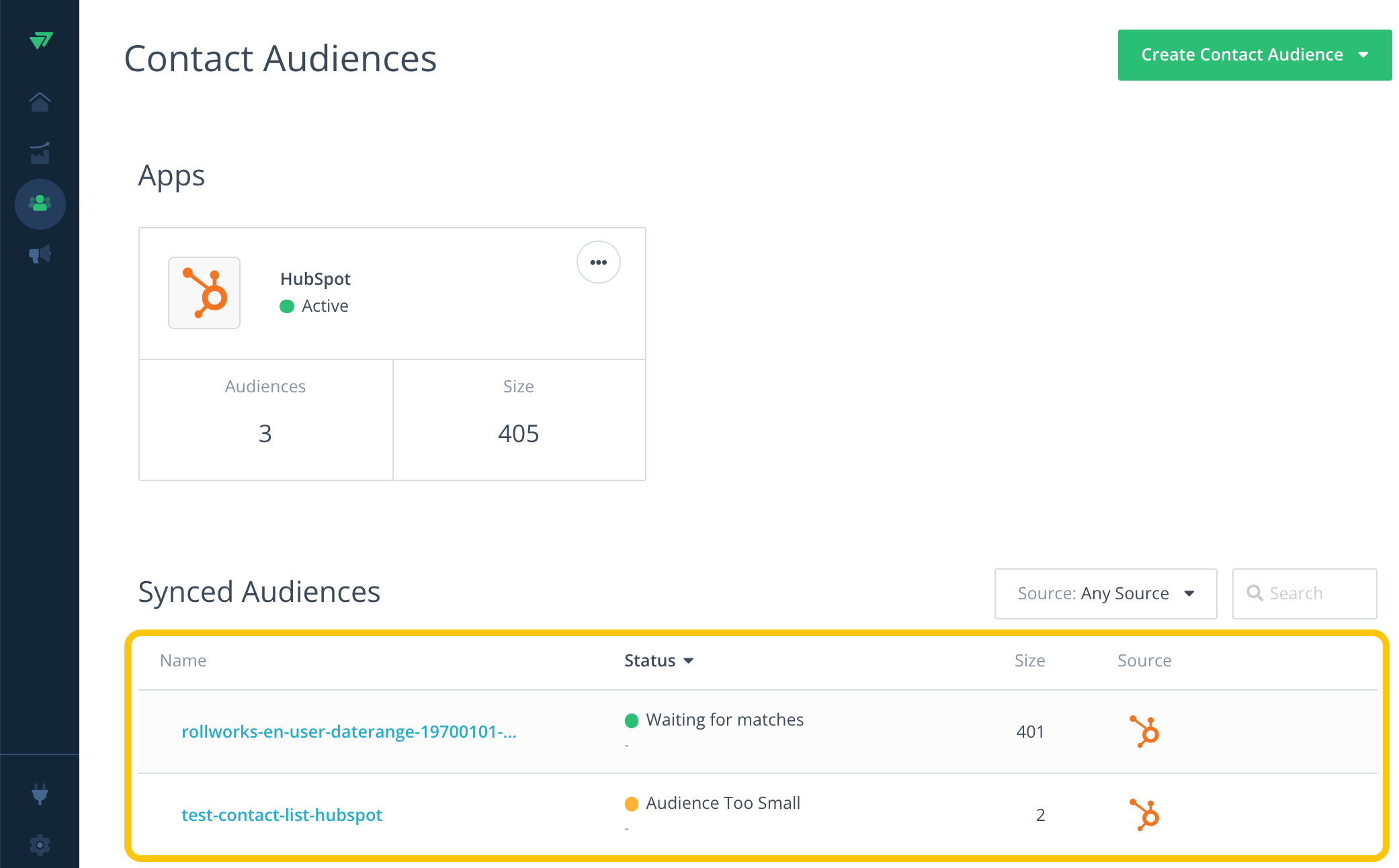 Data Sync
The data sync between RollWorks and HubSpot is scheduled daily at 9:00 am (UTC), any new lists created in HubSpot will appear as available to be imported to RollWorks after this daily sync.
After importing a list, RollWorks will complete the cookie matching process, which can take up to 72 hours. You cannot use imported Contact Lists in your Ad Campaigns until this cookie matching process is complete.
To confirm if a Contact List is ready to be used in Ad Campaigns login to RollWorks, navigate to 'Audiences' > 'Contact Audiences' and search your contact list name under 'Synced Audiences'.
| Synced Audience Status | Description |
| --- | --- |
| Waiting for matches | You have successfully imported this list and Rollworks is matching your contact email addresses to use browser cookies. This process can take up to 72 hours. |
| Ready to use | The cookie matching process has been completed and your Contact List is ready to be used in an Ad Campaign. |
| Audience too Small | The imported contact list has less than 100 email addresses and cannot be used in RollWorks Ad Campaigns |
| Audience no longer Syncing | RollWorks is unable to update your imported contact list from HubSpot, either because this list has been deleted from Hubspot or has changed. |

To learn more about the RollWorks process we use to ingest your CRM Contact Lists go to this Help Center article.
Troubleshooting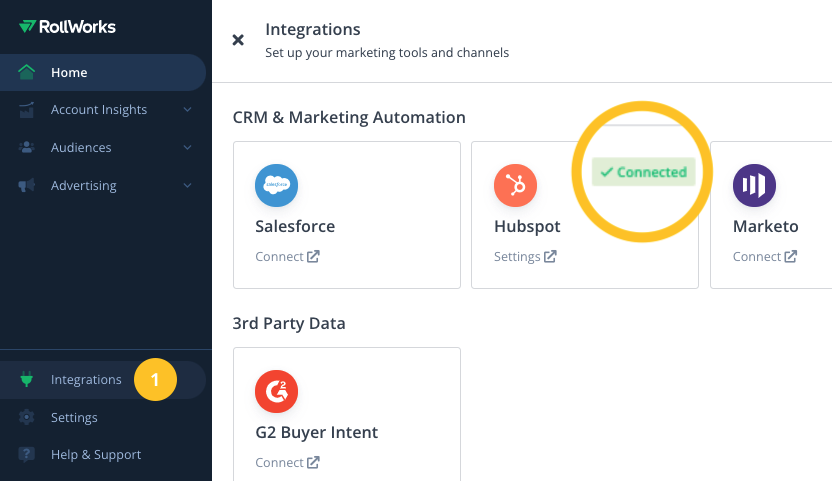 If the Hubspot Integration is not Connected, click 'Connect' to complete the integration setup. Learn about it here.
If the HubSpot Integration is already Connected, confirm that you allow RollWorks to sync standard fields from HubSpot:
Go to

'Integrations' and click the 'HubSpot' card
Mark the checkbox 'Gain Access to powerful...' under 'HubSpot Data Sync Settings'
Click 'Save'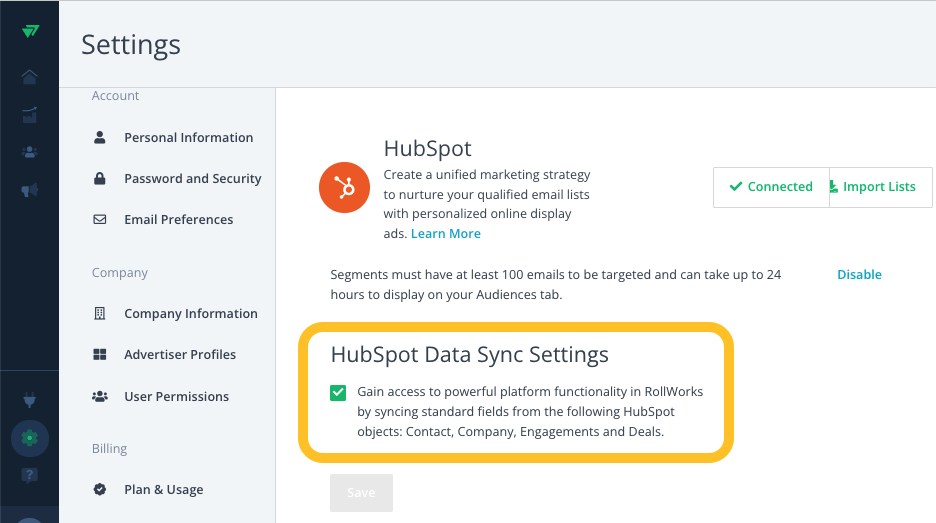 FAQ
Why is the contact list size in RollWorks different than the list size in HubSpot?
The contact list size surfaced in RollWorks is after email validation. It's possible a HubSpot Contact List has invalid emails (e.g., not a recognized email format) which RollWorks skips ingesting.
What is the minimum amount of emails required in a Contact List to run an Ad campaign?
Your contact list must contain a minimum of 100 emails for you to run a campaign in RollWorks.
How do I create Account Lists and Account Groups using HubSpot properties?
Creating account lists and groups using HubSpot properties is done in the Account List Builder in the RollWorks Platform. ​​For more information about how to use the RollWorks Account List Builder to create Account Lists and Account Groups please refer to this Help Center article.
Watch Video Lessons
In the video posted below, we'll go over the following topics:
🤔 What a Customer Relationship Management (CRM) and a MAP (Email Automation Platform) are
🔗 How to integrate them with the RollWorks platform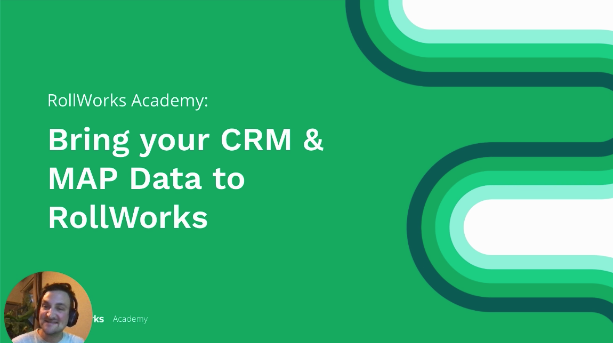 Need help accessing this video lesson? Email community@rollworks.com
In the video posted below, we'll go over the following topics: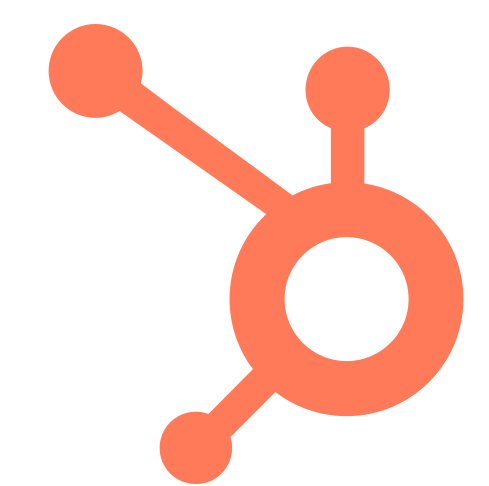 Overview of the HubSpot Integration
⚙️ Installation
🔁 Data Sync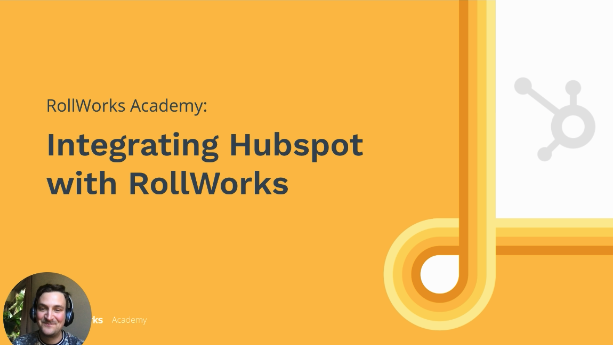 Need help accessing this video lesson? Email community@rollworks.com