What is Intent data
Watch this 5-minute video to learn what is intent data and how it differs from engagement data, the two most important dynamic signals you must use to power your ABM strategy.
  Definition of Intent Data
Intent is a dynamic signal that surfaces insights into which topics of interest are being researched and consumed online by users at a company. When users engage with content and research online, this may represent the Account is interested in the category or topic those materials are about.
Intent signals are dynamic and change over time which means you can use them to better understand your prospects, open opportunities, or existing customers, and to make decisions about how to move them through the conversion, retention, and expansion funnel.
Example 1
If users at the account DemoCorp are researching online for "Personalized Direct Mail" solutions and reading articles about ad personalization, this indicates that the account ACME is showing intent for personalized advertising and may be interested in purchasing a solution or product in this category. The topics that an account can show intent in could be related to an industry, category, product, a specific company, pain point, etc.
Intent enables you to uncover accounts early in their buying cycle. Even if a prospect hasn't visited your site, intent data allows you to analyze their behavior, understand what they're interested in, and assess if they're ready to buy or if they are very early in the buying cycle. 
Example 2
For example, if the account DemoCorp is searching for basic information about your industry or service, they might just be just starting to research a new tool or service. But if the intent data shows that they've recently been searching the specific names of your competitor, they may be further along in their buying process comparing different options.
Intent data also gives you the ability to discover new accounts that are demonstrating intent on the topics that better define your product or solution. This allows you to grow your Account Lists with new, high-value accounts.
Additionally, you can use intent data to prioritize your Account Lists segmenting them into Account Groups, so that you're putting marketing and sales efforts into the accounts that are most likely to generate opportunities and revenue.
Finally, intent data can help you improve your SDR outreach by showing your SDRs which specific intent topics an account is interested in by using the Sales Insights Widget in HubSpot or in Salesforce. SDRs can then use this information to craft personalized outreach that addresses the specific needs of each account. This personalized touch transforms cold calls and emails into warm conversations.
How to use Intent in ABM vs Engagement
Watch this 4-minute video to learn why intent is different from engagement signals and how to use intent in your ABM strategy.
Types of Intent data available in RollWorks
RollWorks offers multiple types of intent data that should be combined to help you to triangulate true intent to purchase. Some types of intent data we use at RollWorks are proprietary, while others are sourced from industry-leading third-party partners, and they should be combined for optimal results.
  At a minimum, you should configure the following intent sources
In the section below we have listed all intent data sources available in RollWorks as follows:
Account-level intent data

: aggregated signals that indicate an Account is surging with intent.

User-level intent data: granular signals that indicate an individual Contact is surging with intent.
Account-level intent data sources
User-level intent data
IntentMap™ is our own proprietary database of user profiles that is built by reading signals from over 1.2 billion digital profiles daily and is used to inform NextRoll's bidding algorithms that power our advertising campaigns. Learn more here.
How to use IntentMap data in RollWorks?
IntentMap™ signals are automatically used to inform the bidding algorithms that power RollWorks advertising. Click here to opt-in to use IntentMap™ data in your RollWorks settings.
Bombora Audience Solutions®

Audience Solutions® is a third-party intent data source that captures the buying signals of individual users and categorizes these signals in a predefined list of options called Intent Topics you can choose from. These user-level Intent Topics measure contact-level intent over a 30-day period.
⬇️ Click here to download the full list of user-level Bombora Audience Solutions® Intent Topics available to you.
How can I use Bombora Audience Solutions® Intent Topics in RollWorks?
This user-level intent signal can be used to target advertising toward unknown users who have shown intent for the topics selected. You can select these intent Topics as a Buyer Persona attribute when launching Account Targeting Playbooks. 🔎 Learn more here.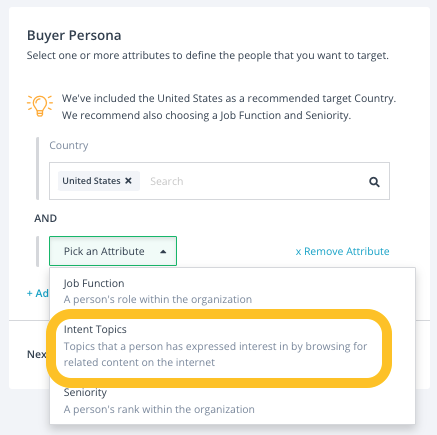 How many Bombora Audience Solutions® Intent Topics can I use?
You can select as many user-level Intent Topics as you would like as your Buyer Persona attributes when launching an Account Targeting Playbook.
Account-level Intent Sources Comparison
More intent that is better account data and multiple intent sources complement each other to triangulate true intent to purchase. The table below summarizes the different types of account-level intent available to you.
Account-level intent sources

 

Company Surge

®

RollWorks Keyword Intent
G2 buyer Intent
RollWorks Account News
What
Sorts accounts showing high account intent (surging) consuming specific topics across the web relative to a baseline.
RollWorks proprietary intent offering that provides accounts consuming specific keywords online.
Provides accounts researching specific pages on G2.com (reviews on category pages, customer profiles, comparison pages, etc).
RollWorks proprietary insights that surfaces important events and business news (financial news, or changes, etc).

How

Content consumption via 12k+ Intent Topics across the web combining co-op data from 5k B2B sites.
Content Consumption via any keyword semantic matching across the web.
Social proof via specific page views on G2.com.
Passive signal via 40K+ news sources across 30M+ accounts.

Limitations

5, 10, 15, or 25 Intent Topics based on your RollWorks package.
None: Unlimited keywords available to all customers.
Requires a G2 subscription.
None.
How to use account-level Intent sources
The table below compares the different RollWorks features supported by the different Account-level Intent sources available to you in RollWorks.
Account-level intent sources

How to use it

Company Surge® Intent Topics

RollWorks Keyword Intent

G2 buyer Intent

RollWorks Account News

Create Account Lists & Account Groups using the Account List Builder.

✅

✅

✅

✅

Sync and write intent data as custom fields to your CRM account records:

Salesforce Accounts.

HubSpot Companies.

❌

✅

❌

❌

Visualize intent signals in Journey Events within the RollWorks platform and directly in your CRM.

✅

✅

✅

✅

Customize  Journey Stages.

❌

❌

✅

❌

Define your audience in advertising Intent Targeting Playbooks.

✅

❌

❌

❌
How to use user-level Intent sources
The table below compares the different RollWorks features supported by the different user-level Intent sources available to you in RollWorks.
user-level intent sources

How to use it

Audience Solutions® Intent Topics

IntentMap

Target advertising toward unknown users who have shown intent for the topics selected using

Buyer Persona attribute

when launching

Account Targeting Playbooks

.

✅

❌

Automatically inform and optimize the bidding algorithms that power RollWorks advertising campaigns and playbooks.

❌

✅