Spiking Accounts email alerts allow Sales Reps and Managers to kickstart their daily account prioritization with a list of accounts Spiking with website and ad engagement and contact-level insights for CRM contacts we are able to deanonymize. From these email alerts, they can click on any account to open the Sales Insights widget and plan their outreach.
How to enable Spiking Account email alerts
To receive Spiking Account email alerts, each sales rep/manager needs to have a Sales Insights seat assigned in RollWorks. To learn to assign a seat and configure email alerts visit one of the following articles based on your CRM:
When are daily Spiking Account email alerts sent
RollWorks automatically sends Spiking Account email alerts daily at 9 am PST. The time these email alerts are sent cannot be changed, however, if you must change the time you notify your sales team daily you can work with your CRM administrator to create an automation in your CRM that creates a task, sends a Slack message or sends an email to your Sales Reps based on Account Owner, Account Spike Level, and Account Spike dates. RollWorks provides the Account Spike data for you and you can build any internal process with your CRM and Ops team:
Sales Managers: Act on Spike alerts for unassigned accounts
Sales Insights will send Account Spike email alerts to Sales Managers when unassigned/unowned accounts are spiking in engagement so that they can effectively assign these accounts to the appropriate sales rep.

SDRs & Sales Reps: Act on Spike alerts for assigned accounts
Sales Insights will send Account Spike email alerts to your sales reps when their assigned/owned accounts are spiking in engagement.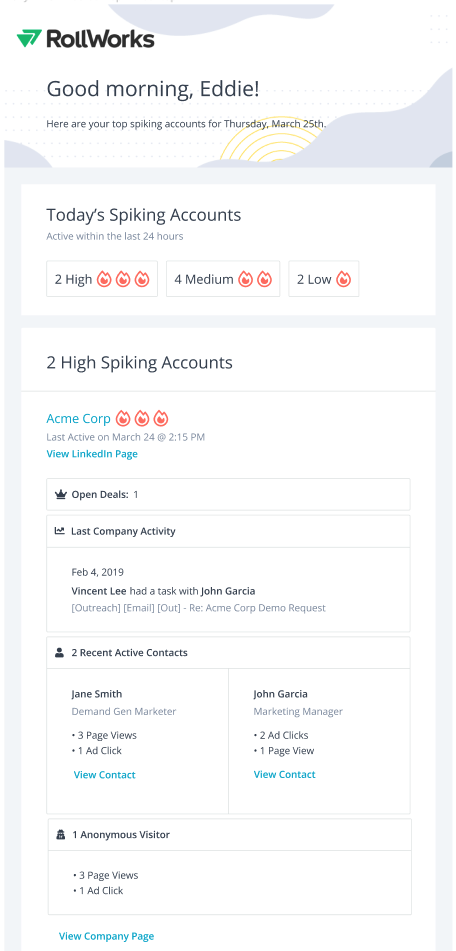 SDRs & Sales Reps: How to act on your Spike email alerts
As a Sales Rep, once you receive an Account Spike email alert you can use the information to prioritize and personalize your outreach to prospects. The example below will walk you through how to read and understand your Account Spike email alerts and act on them.
If an Account is included in your daily email alert it means that they are exhibiting an increase in engagement activity with your website and/or ads on the previous day. For example:
Acme Corp is an existing account in your CRM and the account is assigned to a Sales Rep named Eddie.

Acme Corp generally sees an engagement activity of 1-page view per day.

Acme Corp is suddenly viewing 4 pages today, based on our Account Spike data-science model we determine this constitutes a High Spike level, represented by three flame icons

🔥🔥🔥.

As a result, we include the account Acme Corp in Eddie's daily Spike email alert.

In the Spike email alert, Eddie can see:

Any Open Opportunities/Deals for Acme Corp and, for this example, there is one Open Opportunity/Deal.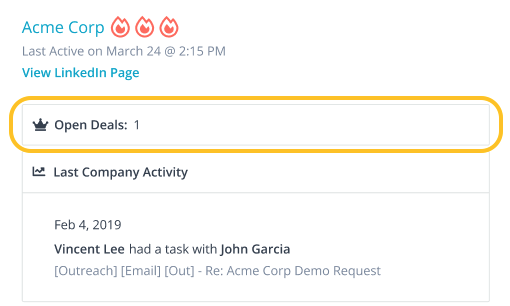 The last Sales activity for Acme Corp in their CRM was an email that the SDR Vincent Lee sent to John Garcia at Acme Corp on Feb 4th.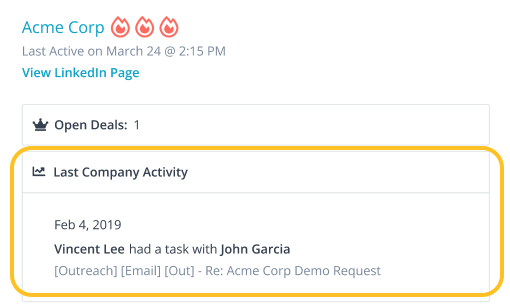 The company Acme Corp has several contacts listed as employees in your CRM. 2 of these known contacts were visiting your website! We can tell Eddie their names, their job titles, how many pages they viewed, how many ads they clicked, and if they submitted any lead forms. This gives Eddie some direction on who to contact and how to approach the conversation.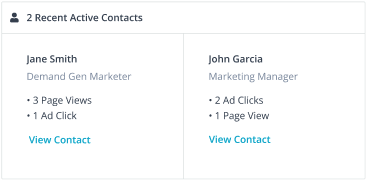 1 person who visited your website is not listed under your Acme Corp CRM record so we call them Anonymous Visitor and indicate how many pages they viewed, how many ads they clicked, and if they submitted any lead forms. Although this isn't as helpful as the matched contacts, Eddie has a general idea of what might be interesting to this anonymous visitor.

Eddie can go to the company's LinkedIn page to find new contacts and add them to the CRM, so if in the future there is another Spike in engagement and the contact exists in your CRM we have the opportunity to match it.

✍️

Maintaining quality contacts with the correct email addresses in your CRM will result in better deanonymization match rates.

Eddie can check what are the specific URLs visited by these matched

and anonymous contacts

by clicking on the Account name in the email alert to open this account record in your CRM.

By looking at the specific URLs visited Eddie can personalize his outreach and message based on:

High-value pages viewed.

Product/feature pages viewed.

Lead forms submitted.
In HubSpot
In Salesforce

Scroll down to find the CRM Card labeled 'RollWorks Sales Insights' on the right side

Find the specific day the visitor was deanonymized and Click 'View Activity Details' to view contact-level details like URLs viewed and lead form completed.

A pop-up window will open displaying the engagement details available for each matched and anonymous

visitor that day.

Click the Account Component labeled 'RollWorks Sales Insights.

Click the specific day the Spike occurred or the visitor was deanonymized.