What is the Pardot Integration
The Pardot Integration (also known as Salesforce Marketing Cloud Account Engagement) connects your account to the RollWorks platform and syncs contact lists to power your Account-Based strategy. With this integration you will be able to:
Target Pardot contact lists with personalized Advertising Campaigns tailored to role, sales stage, company, or any other contact lists you've built in Pardot.
Engage and reach known decision-makers at target accounts included in your Account Lists.
Create multi-channel strategies by reaching known contacts through email directly in Pardot and through RollWorks ad Web Campaigns and Facebook Campaigns.
At this time the Pardot Integration with RollWorks does not sync RollWorks data into Salesforce Marketing Cloud Account Engagement.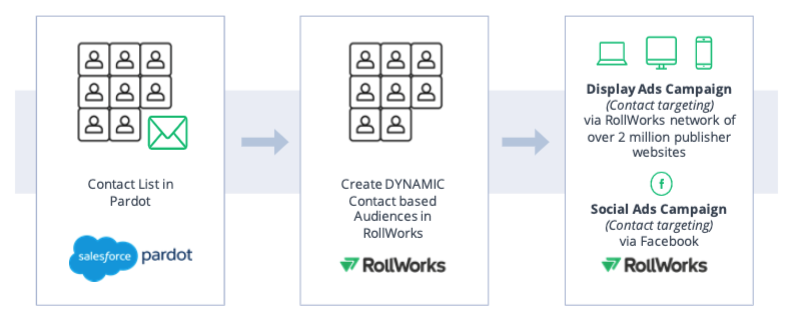 Who can access
In order to access the Salesforce Marketing Cloud Account Engagement Integration (formerly Pardot), customers must be on:
A Pardot Subscription that includes Business Units (Advanced, or Premium). Click here to find your Edition.

A RollWorks subscription: Starter, Standard, Professional, or Ultimate.
To find your current subscription, log in to RollWorks and navigate to Settings > Billing > Plans & Usage.
Connect to RollWorks
Step1: Login to RollWorks
Navigate to 'Integrations' > 'CRM & Marketing Automation' > 'Pardot'
Click 'Connect'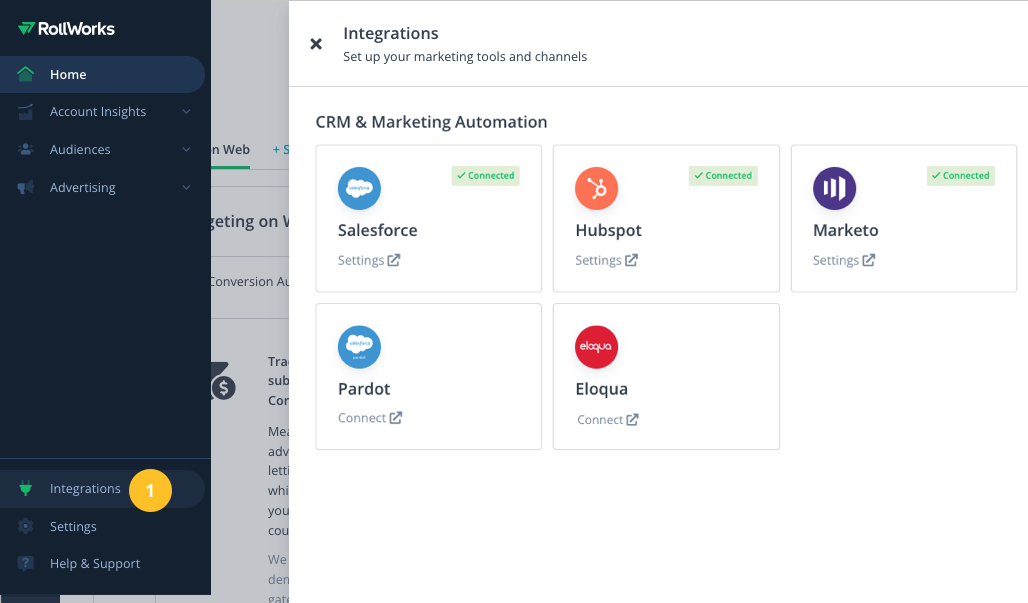 Step 2: Enter your Pardot information
Enter your Pardot Business Unit ID

To find your Pardot Business Unit ID go to 'Setup' > 'Pardot' > 'Pardot Account Setup'.  If you cannot access the Pardot Account Setup information, ask your Salesforce Administrator to provide you with the Pardot Business Unit ID.

Select whether the Pardot environment you would like to connect:

Pardot Production Environment

Pardot Sandbox Environment.   

Click 'Connect with Pardot', and you will be taken into the oAuth flow.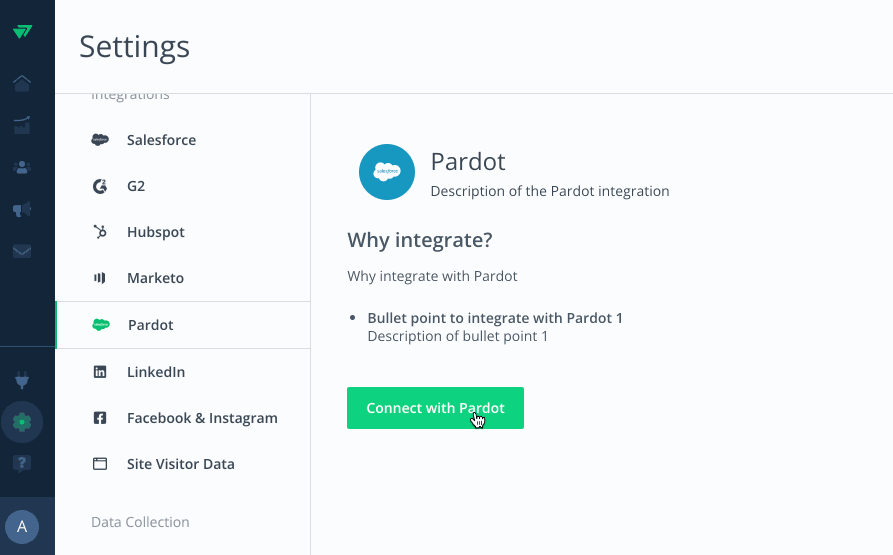 Step 3: Enter your Pardot login credentials
Enter your Pardot username and password credentials.

 Your selections in Step 2 will determine which username and password are valid, based on the Pardot Business Unit ID and Pardot environment chosen.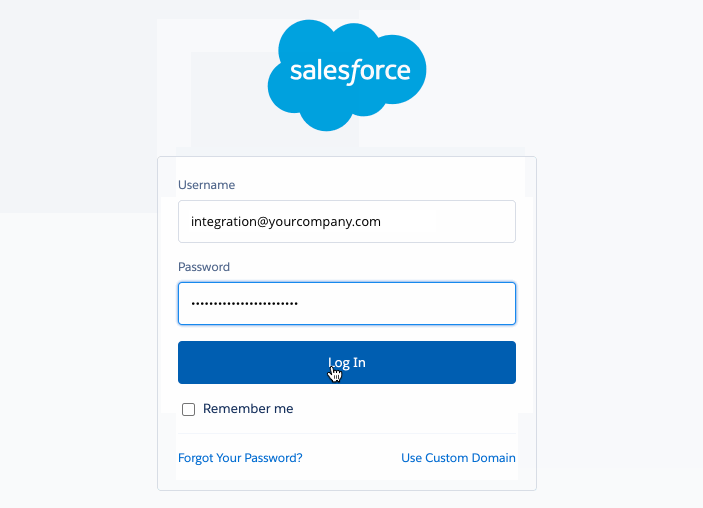 Import contact lists
Before you start
Importing your Pardot Contact Lists to RollWorks will allow you to either target this audience with Ads or to exclude this audience from these RollWorks Ad Campaigns:

You must ensure that your Pardot account is connected to RollWorks. Learn how-to here. 

Your Pardot Contact List must contain a minimum of 100 emails for you to run an Advertising campaign in RollWorks.
Step 1: Create a Contact List in Pardot
You can skip this step if you already have existing Pardot contact Lists that you want to bring over to RollWorks. Any Contact List that you have created in Pardot is eligible to be imported into RollWorks.
Log in to Pardot and click 'Lists' and 'Create'
Learn more about how to create Contact Lists in Pardot in their help center.
Step 2: Import Contact List to RollWorks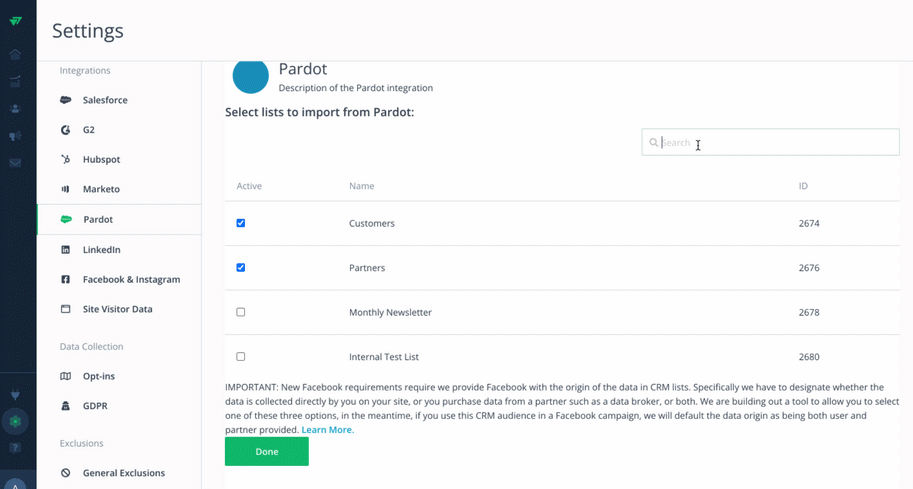 After completing the steps above you have successfully synced your selected Pardot Contacts Lists over to RollWorks. If the lists you import are dynamic Contact Lists in Pardot they will update automatically in RollWorks.
Now that you have synced over your contact lists from Pardot to RollWorks, you can engage or suppress this audience in your RollWorks Ad Campaigns. 
Find Pardot Contact Lists
Log in to RollWorks and go to 'Audiences' > 'Contact Audiences'
Your imported Pardot Contact Lists will be listed under 'Synced Audiences'.  You can use the 'Source' filter to find any Pardot Contact List synced into RollWorks.

Data Sync
The data sync between RollWorks and Pardot is scheduled daily at 15:00 (UTC), any new lists created in Pardot will appear as available to be imported to RollWorks after this daily sync.
After importing a list, RollWorks will complete the cookie matching process, which can take up to 72 hours. You cannot use imported Contact Lists in your Ad Campaigns until this cookie matching process is complete.
To confirm if a Contact List is ready to be used in Ad Campaigns login to RollWorks:
Navigate to 'Audiences' > 'Contact Audiences'
Under 'Synced Audiences' use the filter 'Source' = 'Pardot' to view Pardot contact lists only.
Or search your contact list name.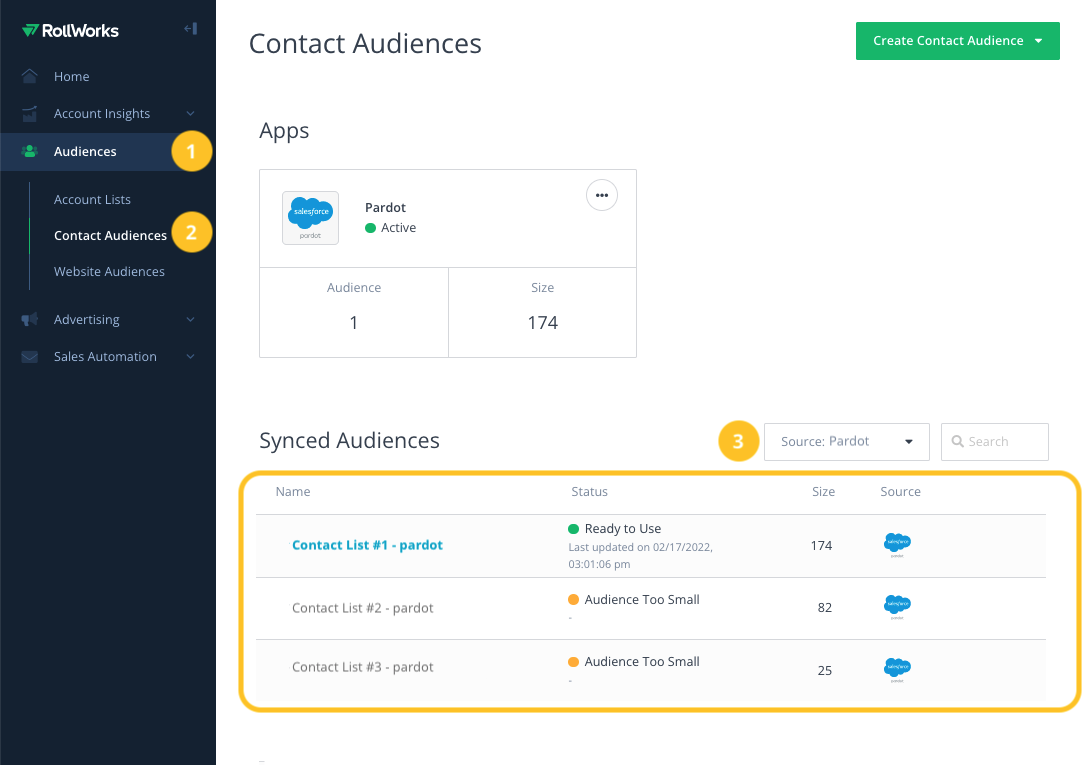 | | |
| --- | --- |
| Synced Audience Status | Description |
| Waiting for matches | You have successfully imported this list and Rollworks is matching your contact email addresses to use browser cookies. This process can take up to 72 hours. |
| Ready to use | The cookie matching process has been completed and your Contact List is ready to be used in an Ad Campaign. |
| Audience too Small | The imported contact list has less than 100 email addresses and cannot be used in RollWorks Ad Campaigns |
| Audience no longer Syncing | RollWorks is unable to update your imported contact list from Pardot, either because this list has been deleted from Pardot or has changed. |
To learn more about the RollWorks process we use to ingest your CRM Contact Lists go to this Help Center article.
FAQ
Can I see RollWorks data and reports directly in Pardot?
At this time the Pardot Integration with RollWorks does not sync RollWorks data into Pardot.
What type of Advertising campaigns can I launch using Pardot contact lists?
You can launch the following types of advertising campaigns using Pardot contact lists: