Recent Changes
In January 2022, we introduced a new UI navigation to make it easier for you to get around the RollWorks platform and quickly find what you are looking for.
We have made design changes to the UI navigation as well as renamed and reorganized some sections. No functionality has changed with the new UI navigation - only how you access that functionality.
Read on to learn more about the improvements and changes from the previous UI navigation!
| New UI Navigation | Old UI Navigation |
| --- | --- |
| | |
Who can access
All RollWorks customers will automatically see the new UI navigation after January 11th, 2022. 
Depending on your RollWorks subscription package, you may see fewer options in the RollWorks navigation sidebar. For example, if you don't have a subscription package active, you will not see 'Playbooks' or 'Account Lists' as part of your RollWorks account navigation.
To find your current subscription, log in to RollWorks and navigate to Settings > Billing > Plans & Usage.
Features and Benefits
The sections have been reorganized to make it easier to find what you are looking for:

The Account Insights section provides tailored fit, intent, engagement, and cross-channel measurement insights about any account.
The Audiences section contains all of your lists of accounts and contacts that you can use to activate or engage.
The Advertising section consolidates all advertising-related functionality in one place.
The Sales Automation section consolidates all sales automation functionality in one place.

We added an Integrations section to easily see which integrations you have connected, configure existing integrations, or set up new integrations.
We added a Home link for easily navigating back to the homepage. You can still click on the RollWorks logo to go back to the Home page too!
The Help & Support section has a new link to the RollWorks Community. If you don't have access yet email us at community@rollworks.com to join and learn from your fellow marketers and ABM practitioners!
The new navigation sidebar now stays open by default when your window size is large enough, making it easier to click over to other sections of the platform.
We have updated the page titles throughout the platform to be more descriptive. We all have so many browser tabs open these days, so we hope this will be a helpful change!
Navigate the RollWorks UI
The table below will help you find your way around your RollWorks account. Depending on your RollWorks package, you may see fewer options in your own RollWorks account.
The features marked with a key

🔑 

  in the table below are not available for customers without a package.
The features marked as with an asterisk * have been renamed, for example, 'Target Accounts' is now called 'Account Lists'. Click here to see all the terminology changes.
Terminology changes
To simplify and clarify a number of sections throughout the platform, we have made the following terminology changes:
| Before | Now |
| --- | --- |
| Target Account Lists | Account Lists |
| Ad Audiences | Audiences |
| Connected Audiences & CRM Audiences | Contact Audiences |
| Site Audiences | Website Audiences |
| Account Intent | 3rd Party Intent |
| Ad Campaigns | Campaigns |
| Ads (section) | Ad Library |
| Impact Dashboard | Account-Based Advertising Report |
| Sales Reports | Sales Automation Reports |
FAQ
How do I keep the navigation sidebar open?
If you're using a wide enough browser window, you will have the option of keeping the navigation bar open or collapsing it for more space.
Click the icon in the upper right corner of the navigation to toggle between collapsed and expanded mode.

If the icon does not appear, that means your browser or device window is not wide enough. The navigation will always be in collapsed mode for small window sizes.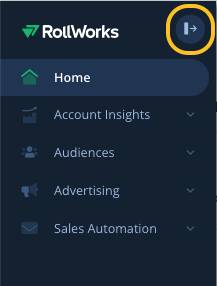 Will the URLs that I've saved/bookmarked to access my favorite RollWorks account sections still work?
The new RollWorks UI navigation is compatible with all existing URLs. That means that any links you've saved will continue to work.
How do I provide feedback about the new UI Navigation?
We will be using an in-product modal as well as a follow-up survey through Survey Monkey to gather feedback from you about your experience with the new UI navigation. You can also provide feedback in the RollWorks Community and we will pass it along to the product team.