What is an Audience
In the RollWorks platform, Audiences refer to a grouping of accounts and people based on their:
Behavior. For example, their engagement with your website, their intent signals, etc.
Attributes. For example, industry, job title, the technology they use, their seniority, etc.
To create successful B2B audiences to target in your advertising and cross-channel programs you need to start the foundational work to determine your Ideal Customer Profile and your Account Lists (and all of the elements within them). Without this foundation, your ABM efforts may be a little too shaky to stand. 
You also need to define your Website Audiences and optionally your Contact Audiences, these are the people that visit and engage with your website, as well as lists of known contacts you have collected in the form of email lists, like the list of attendees to a webinar.
To build your B2B audiences successfully you need to use these building blocks: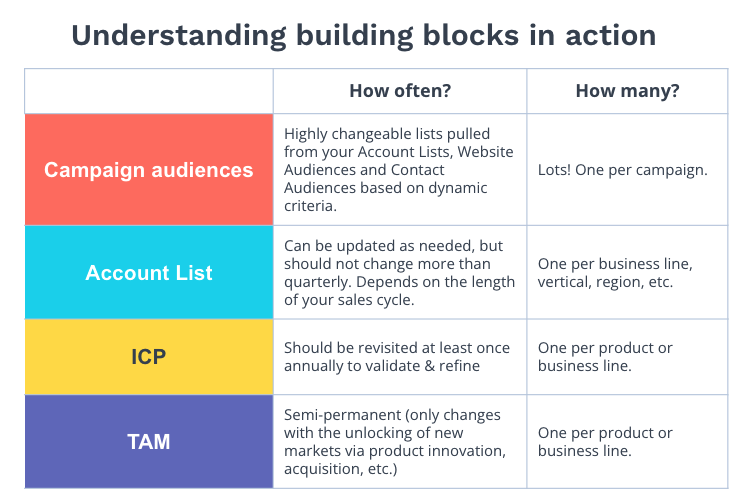 Types of Audiences
In the RollWorks platform you can define three different types of Audiences:
Account Lists
Account Lists are lists and groups of companies that align with your Ideal Customer Profile and you wish to target. Your Account Lists can be created by combining data from RollWorks and other sources like HubSpot, Salesforce, Marketo, G2, and static CSV files. Account Lists are the foundation of your Account-Based Marketing program and can be organized and broken down more granularly using Account Groups based on your unique segmentation needs.
Click here to learn more about Account Lists and Account Groups.
Contact Audiences
Contact audiences are email addresses you have collected and RollWorks will match to users browsing the internet through cookies so that we can display ads to these known contacts. Contact Audiences can be:
Uploaded as CSV file manually to RollWorks.

Dynamically synced to RollWorks via:

Salesforce.

Marketo.

HubSpot.

Oracle Eloqua.

Pardot.

or API.
Click here to learn more about how to create Contact Audiences in RollWorks.

Website Audiences
After connecting your site to RollWorks by placing the RollWorks Pixel on your website, we will start capturing your website visitor data into Website Audiences. Website audiences are groupings of your website visitors that you can segment and organize to understand their behavior and include in engagement strategies. Visitors will be added to the Website Audiences you define as soon as the RollWorks Pixel loads. If a visitor leaves your website before the Pixel loads, the visitor will not be added to your Website Audience. 
Click here to learn more about how to create your own Website Audiences.
In RollWorks you can define your Website Audiences based in the following ways.