DISCLAIMER: The Sales Insights product is in a closed beta. If you'd like more information on joining the beta program, please email your dedicated Account Manager and sam.kelly@rollworks.com
Overview
The Sales Insights product is comprised of a few main pieces of functionality:
Account Spike - The underlying data that flags spiking accounts for daily sales prioritization
Premium Salesforce App - Visualization of the Account Spike data in Salesforce via Salesforce reports & dashboards as well as a page layout component that lives on the Account record
Account Alerts - Email notifications to sales and sales managers on Account Spike data for the accounts they own
This article will walk you through how to configure your Sales Insights Premium Salesforce App experience to get your sales team ready to use the product.
If you need assistance setting up Account Spike reports in Salesforce, you can check out this article.
Important Callout: Before any sales user can view and use the RollWorks Sales Insights product in Salesforce, they must have the RollWorks Sales Insights SFDC permission set assigned.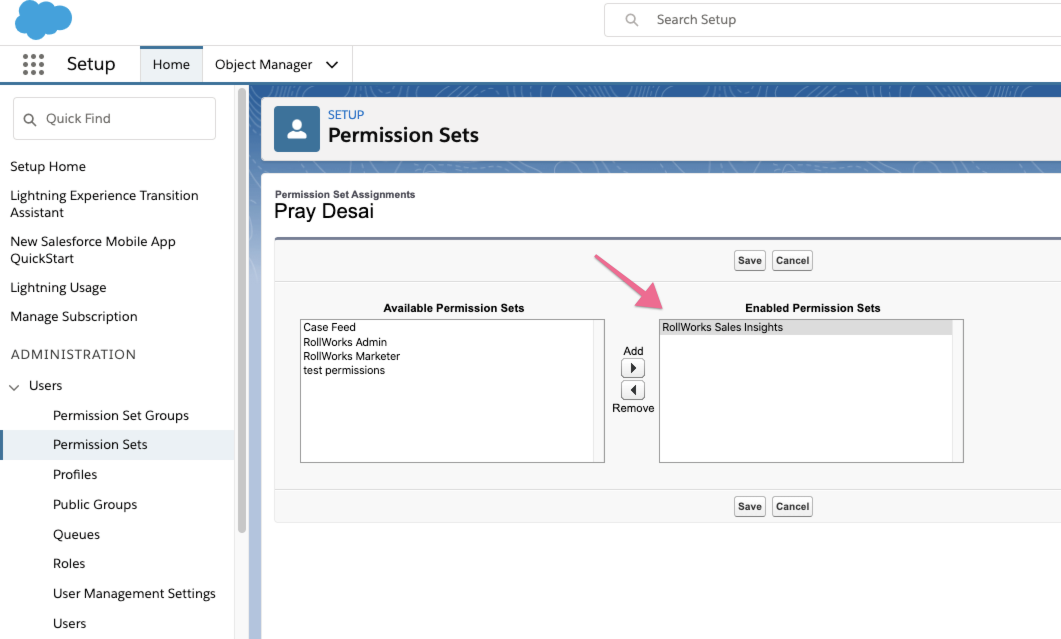 Marketing users with the RollWorks Admin or RollWorks Marketer permission sets assigned will also be able to view and use the Sales Insights product.
Adding the Salesforce Account Page Layout Component
Once you have Account Spike reports and dashboards configured for your sales team in Salesforce, the important next questions that often come from sales teams are (i) can you tell me who was engaging that led to the Account Spike event and (ii) what pages were they viewing? What content were they consuming?
The answers to those questions are critical to arming sales reps with the information they need to prioritize outreach to that spiking account, and those questions are answered via our Salesforce Account Page Layout Component.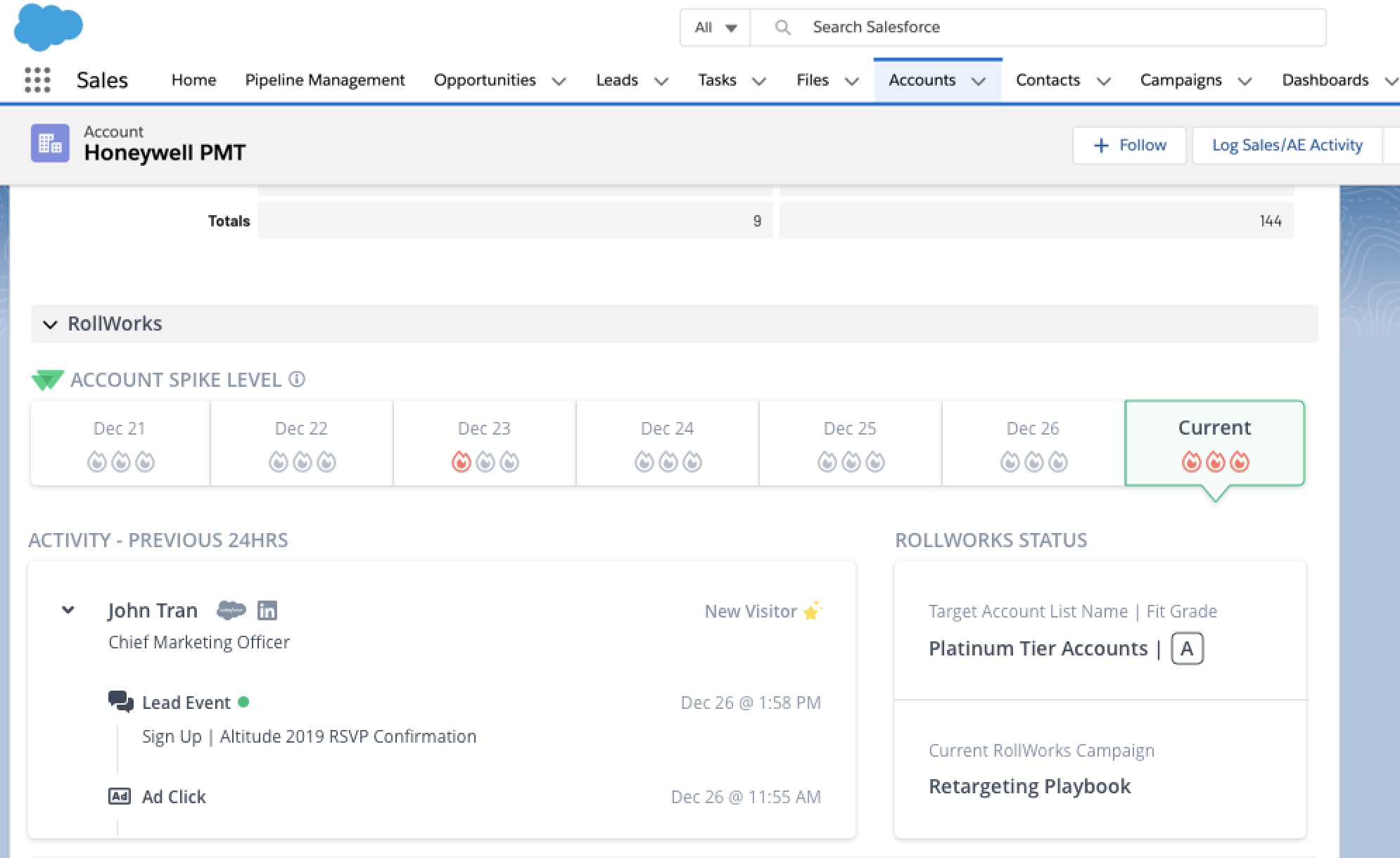 Adding RollWorks Sales Insights Component to Accounts
To add the Sales Insights Visualforce Page Layout component to account records, work with your Salesforce admin and follow the instructions below:
Navigate to Setup > Object Manager > Account > Page Layouts and select the page layout configuration used by the sales team that will be using RollWorks Sales Insights.

From the Page Layouts editor, create a new Section for your page layout and call it RollWorks Sales Insights and select the 1-Column Layout. We recommend creating this section high up on the Account Page Layout so that sales have easy access to daily Sales Insights updates.


After creating the RollWorks Sales Insights section, from the Page Layouts editor navigate to VisualForce Pages and find the RollWorks Sales Insights component. Drag and drop the RollWorks Sales Insights Visualforce page into your newly created section from step 2.

Click the Properties icon on the top right and adjust the Height (in pixels) of the component to 375 pixels. This will ensure the entire component can load without requiring scrolling within the component.

Click Save, and you're all set! You've successfully added RollWorks Sales Insights to your Account pages for sales.
Authenticating RollWorks Sales Insights
The final step before sales can begin to use the Sales Insights product on account pages is to authenticate the page layout component with RollWorks. You do not need your Salesforce admin for this step and simply need someone with a login to the RollWorks platform. The good news is that this step only has to be completed one time by the marketer, and does not need to be completed by sales users!
Navigate to an account record and scroll to the RollWorks Sales Insights component
Click the Connect to RollWorks button and enter your RollWorks platform login credentials

Click the Authorize button to establish the connection between the Sales Insights account component and your RollWorks platform.

You're all set! Now all sales users will be able to use the RollWorks Sales Insights product on account pages.
If you have any questions or want to hear more about RollWorks Sales Insights, reach out to your dedicated RollWorks Account Manager.