Setup Prerequisites
Before using Sales Insights, you must complete the following RollWorks platform onboarding steps:
Once these steps are complete, you are ready to onboard your Sales team with Sales Insights!
Sales Insights Setup in RollWorks
Seat Management
Setting up Sales Insights for your sales organization requires the RollWorks marketing user to configure sales seats within the RollWorks platform.
1. Navigate to Settings → Sales Insights → Seat Management. This is where you will configure your Sales Insights settings and assign/manage Sales Rep and Sales Manager seats.
2. Customize your account owner roles -To ensure the right account owners receive e-mails for their spiking accounts, click the "Salesforce Account Team Role" button to configure to how account ownership is represented in your Salesforce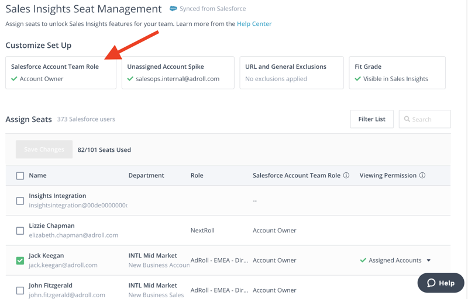 An editor will appear that will enable you to enter the fields that are used in your Salesforce to represent account ownership. Start typing in the "Salesforce Account Team Roles" field to find the right roles, select the roles you want to receive Sales Insights e-mails, and save your selection.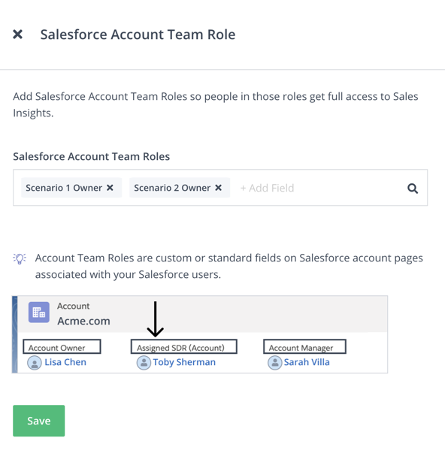 3. Assign Sales Seats - Close out of the editor for your Salesforce Account Team Roles, and refer to the list of all current Salesforce user profiles from your integrated Salesforce org. Use the search and filter functionality to find the sales users you want to assign a Sales Insights seat. Select by checking the box next to their names, edit their scope in the "Viewing Permissions" column to indicate if the user and click Save.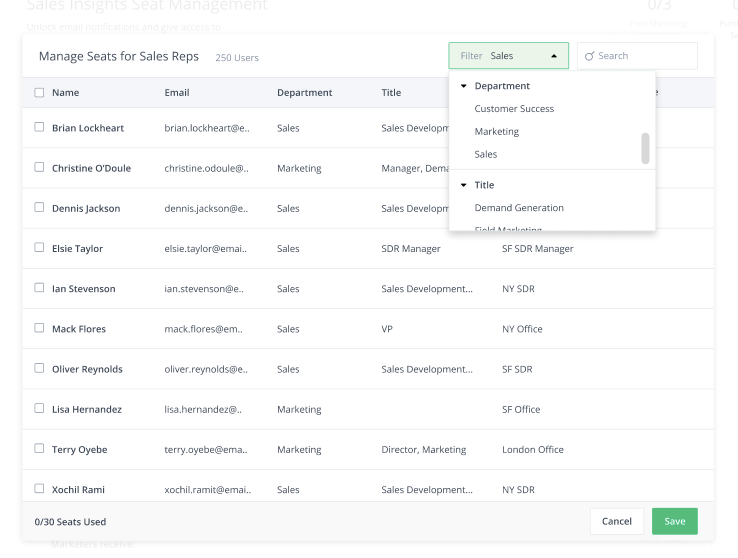 4. Configure your Unassigned Accounts Alias - Before setting up Sales Managers on the product to receive Account Spike data and email alerts for unassigned spiking accounts, first we need to map the unassigned spiking accounts to the right Salesforce user alias. From Seat Management home, click the link to connect your Unassigned Account Alias

5. Use the search bar to find the Salesforce User alias that accounts for your sales unassigned accounts in Salesforce. This typically defaults to your Salesforce Admin user, or can be a custom user alias setup specifically to represent these sales unassigned accounts.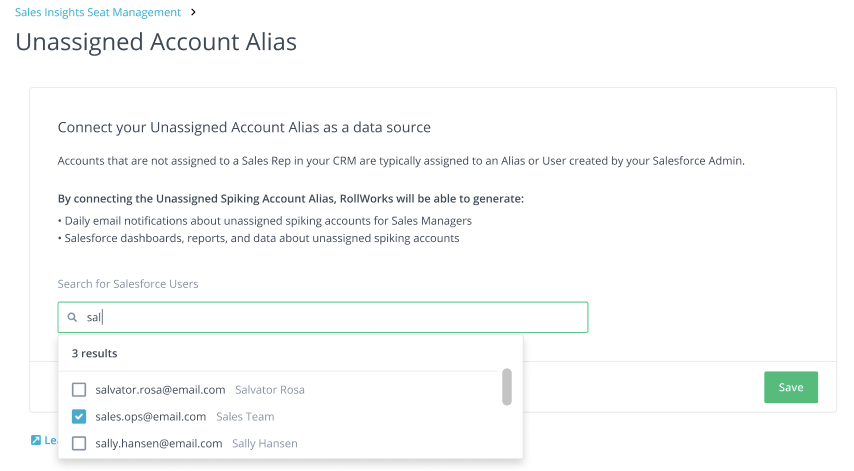 6. Assign Sales Manager Seats - With your Unassigned Accounts alias configured, follow the same flow from step 2 in assigning Sales Rep seats to assign your Sales Manager seats by setting the "Viewing Permissions" column to include the "Unassigned Accounts" permission.
7. You're all set! Once Sales Rep and Sales Manager seats are saved, your Sales Insights users will receive an email welcoming them to the Sales Insights product and informing them that they can now (i) access Account Spike data in Salesforce reports (ii) view the Sales Insights Account Page component on spiking account records (once installed) and (iii) receive daily email Account Alerts summarizing account spike data for their owned accounts (Sales Reps) and unassigned accounts (Sales Managers)
Salesforce Permission Sets
Before your sales users can use the Sales Insights product in Salesforce, they will need the RollWorks Sales Insights permission set assigned to their user in Salesforce. By assigning a Sales Rep or Sales Manager seat in Sales Insights settings, RollWorks will automatically push this permission set to their user profile in Salesforce. No additional action is required.
Viewing the Sales Insights Visualforce components including the Account Component and out-of-the-box dashboards in Salesforce require a Sales Insights seat in order to view. Marketing users who have the RollWorks Admin permission set assigned in Salesforce can view the raw Sales Insights Account Spike data within native Salesforce reporting without a Sales Insights seat assigned, but viewing the Account Component and out-of-the-box dashboards will require a seat.
Sales Insights Setup in Salesforce
With your Sales Rep and Sales Manager seats configured in RollWorks, your sales team is almost ready to start fully utilizing the Sales Insights product. The final step requires you to work with your Salesforce admin to place our Account Page Component on Account Page Layouts.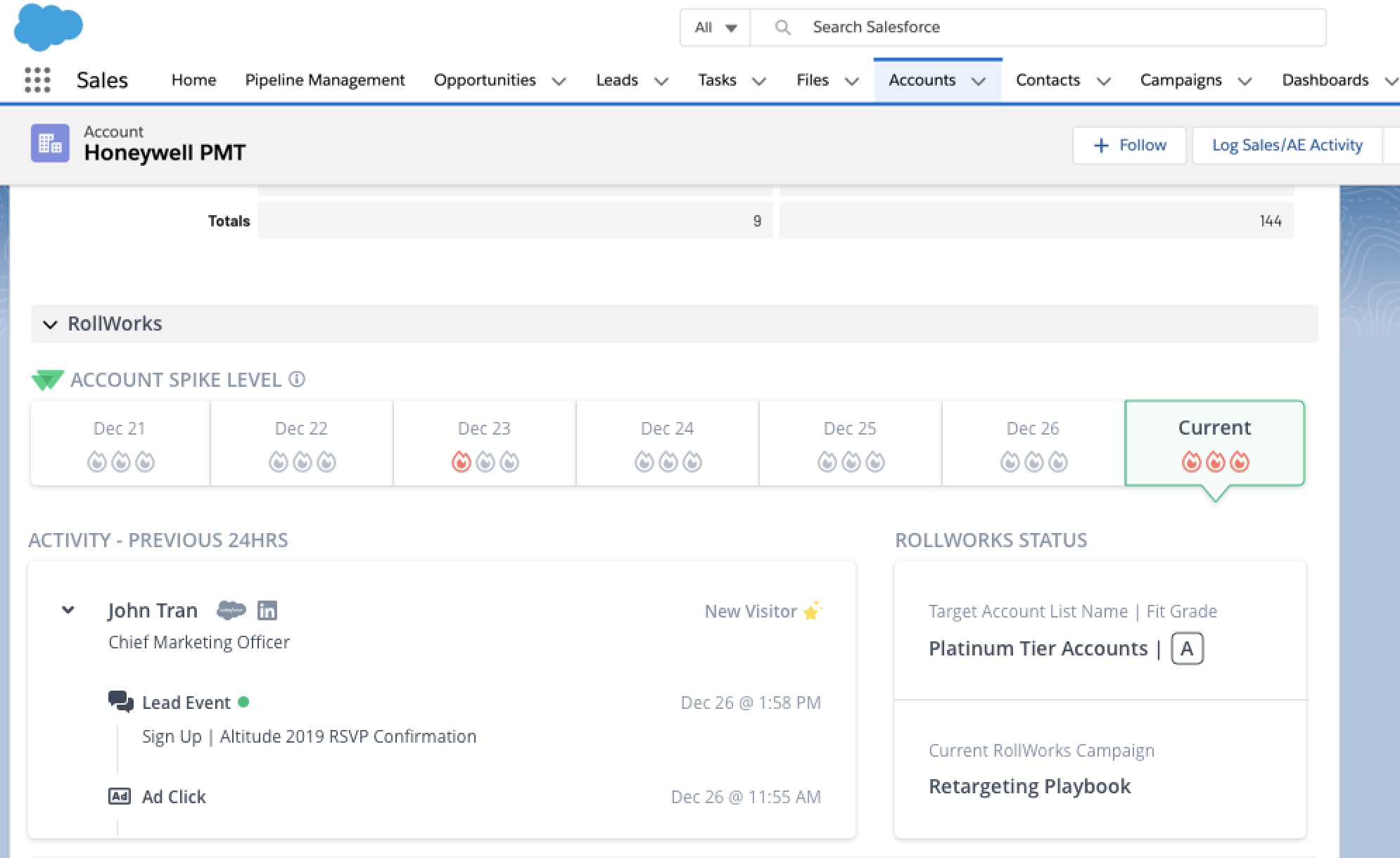 Adding RollWorks Sales Insights Component to Accounts
To add the Sales Insights Visualforce Page Layout component to account records, work with your Salesforce admin and follow the instructions below:
Navigate to Setup → Object Manager → Account → Page Layouts and select the page layout configuration used by the sales team that will be using RollWorks Sales Insights.

From the Page Layouts editor, create a new Section for your page layout and call it RollWorks Sales Insights and select the 1-Column Layout. We recommend creating this section high up on the Account Page Layout so that your sales team has easy access to daily Sales Insights updates.


After creating the RollWorks Sales Insights section, from the Page Layouts editor navigate to VisualForce Pages and find the RollWorks Sales Insights component. Drag and drop the RollWorks Sales Insights Visualforce page into your newly created section from step 2.

Click the Properties icon on the top right and adjust the Height (in pixels) of the component to 375 pixels. This will ensure the entire component can load without requiring scrolling within the component.

Click Save, and you're all set! You've successfully added RollWorks Sales Insights to your Account pages for sales.
Authenticating RollWorks Sales Insights
The final step is to authenticate the page layout component with RollWorks. You do not need your Salesforce admin for this step and simply need someone with a login to the RollWorks platform.
Navigate to an account record and scroll to the RollWorks Sales Insights component.
Click the Connect to RollWorks button and enter your RollWorks platform login credentials.

Click the Authorize button to establish the connection between the Sales Insights account component and your RollWorks platform.

You're all set! Now all sales users will be able to use the RollWorks Sales Insights product on account pages.
Building Account Spike Reports & Dashboards in Salesforce
Now that your product setup is complete, navigate to this article for a demonstration on how to configure Account Spike reports for your sales teams in Salesforce.
If you have any questions or want to hear more about RollWorks Sales Insights, reach out to your dedicated RollWorks Account Manager or email us at support@rollworks.com.