Today's B2B marketing and sales teams require solutions that focus on the accounts that are most likely to buy, driving business outcomes that impact revenue. Account-based marketing and sales allow B2B companies to identify and target the accounts that matter most. An account-based strategy enhances your ability to attract, engage, and measure key prospects and customers through the entire sales funnel.
Without this focus, marketing dollars are wasted, and it becomes difficult to measure results and tie marketing programs directly to revenue. Account-based strategy is not just digital marketing or an advertising tactic. It is an all-encompassing marketing and sales strategy. It's about driving authentic engagement and enabling much more control of the revenue cycle.
Account-based vs Traditional Demand Generation
Traditional demand generation strategies have been focused on looking for demand, and as a result, many B2B processes and systems have been tailored to increase the volume of activity rather than its precision. The digitization of business processes has reached a threshold where B2B marketing and sales professionals can now see a more complete view of total demand activity in a given market category. This is done by capturing "buyer activity signals" from your own properties (website, etc.) and third-party sources (off-site). Capturing this demand requires you to make a concerted effort to go after it. The presence of better information allows you to change your processes and yield better results.
The RollWorks account-based platform, powered by data and machine learning, can help you to do it all—from identifying your targets to engaging them across channels and measuring revenue impact.
Account-Based starts with Accounts
Your Ideal Customer Profile (ICP) can serve as a model to select accounts that are similar to your best customers. In order to build an Account List, it's important to understand your ICP. Accounts identified and selected through this methodology represent the best fit for your solution or product based on their shared firmographic and technographic attributes with your current customers. This approach has proven to yield the best results given that you are focusing your resources on accounts that are most likely to become real customers. The RollWorks platform grants you access to our proprietary database of 18 million vetted B2B companies to create a list of high-fit accounts in minutes. You can also use a predictive model built by machine learning technology to score these accounts based on their fit to current and prospective customers.
Understanding an Account and the Buying Committee
Once you have a list of high-fit accounts, it helps to understand the buying committee within each account. In B2B buyer journeys, a group of stakeholders is responsible for buying decisions, but these multiple stakeholders only engage at certain stages of the revenue funnel. For instance, the researcher may only engage with marketing, and the budget authority may only engage with sales, but it's all one account.
Account-based strategies use a targeted approach to engage all stakeholders, instead of individuals, from key accounts. The RollWorks account-based platform allows you to track key transition points of decision-makers and group stakeholders into their respective accounts.
Influencing accounts as they progress
Once you have a full understanding of your Account Lists and the relevant people that comprise the buying committee, you can now engage them through orchestrated marketing and sales programs.
Accounts exhibit behavioral signals that the RollWorks platform captures to indicate what stage they are in along the account/buyer's journey. These signals are represented by intent (offsite, in-market signals) and engagement signals (onsite engagement indicating awareness of your brand). Let's unpack how to classify these signals.
Unaware Accounts
Unaware accounts are companies that have never visited your website. The goal of your programs for these accounts should be to raise brand awareness and drive the right people from these accounts to visit your website.
Aware Accounts
Aware accounts companies that have seen at least one page of your website but are not visiting or consuming more than 3 pages. The goal of your programs for aware accounts should be to re-engage people from these accounts and increase engagement with your brand/website -- progressing them along their journey.
Engaged Accounts
Engaged accounts are target accounts that have seen 3 or more pages of your website. The goal of your programs for engaged accounts should be to provide air cover for your sales team while they prioritize outreach. Engagement is a strong signal of interest, and with the power of de-anonymizing account signals, your team can see when accounts are exhibiting these engagement signals. You should be looking for trends in this engagement and how it results in opportunity creation or meeting response rates to quantify a threshold of engagement. That threshold can be used to classify engaged accounts as Marketing Qualified Accounts.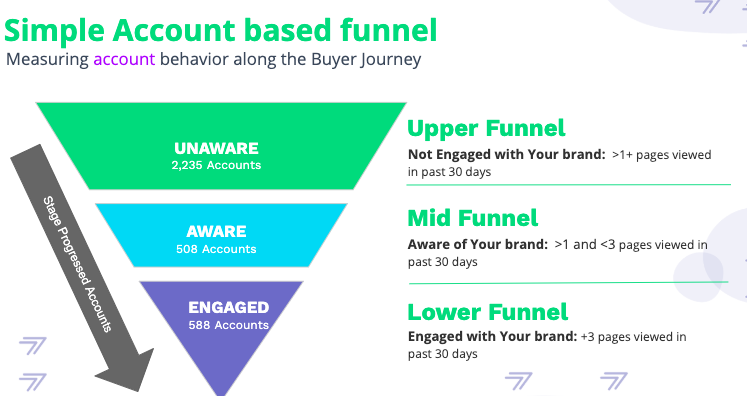 Opportunity to Revenue
After your sales team has turned account engagement into new sales opportunities, your account-based programs can provide air cover to help nurture accounts in tandem with sales activity, ultimately increasing pipeline velocity and support for sellers while you nurture opportunities to revenue.
Understanding Performance and Impact
The RollWorks platform allows you to track account reach, decision-maker engagement, and more to know what's working. Through the insights delivered, you can optimize your programs to increase efficiency in progressing accounts along their journey to revenue. One common way to take action is to identify key content pages as high-value touchpoints that influence stage progression and promote those pages.
Your programs should align your Marketing and Sales teams' understanding of your prospect's buying journey. Ultimately these programs will progress accounts along that journey and lead to real business impact which you can show with a simple dashboard on the RollWorks platform. You can also connect your CRM to RollWorks so that your company can see the RollWorks advertising business impact in your shared record of truth.