DISCLAIMER: Account Spike is a feature of the Sales Insights product which is in a closed beta. If you'd like more information on joining the beta program, please email your dedicated Account Manager and sam.kelly@rollworks.com
Overview
Using a variety of engagement and intent signals like account page views, account unique site visitors, ad engagement, and lead conversion data, Account Spike helps sales teams prioritize accounts using a data science model to flag accounts spiking in engagement compared to your site's baseline of account engagement.
Powered by machine learning, Account Spike learns and adapts based on your site's levels of account engagement to inform marketing and sales teams when there is meaningful account activity, every day.
Account Spike data is generated by RollWorks every morning before 9am EST, and new data is pushed to Salesforce for customers to use in native Salesforce reports and dashboards.
In order to utilize Account Spike, you must have the RollWorks ABM Salesforce app installed and opted-in to the Salesforce Data Sync in order to map engaging accounts to their corresponding sales owners. Furthermore, when rolling out Account Spike reports to your sales team, make sure that your sales reps have the RollWorks Sales Insights permission set assigned in order to view Account Spike data.
Salesforce Fields and Definitions
Account Spike data is generated within RollWorks daily and pushed to the Salesforce ABM App custom object RollWorks Account Score. Within this custom object, there are a few key Account Spike fields that can be utilized in account page layout, reports, and dashboards.
Important: In order to access Account Spike Data, your SFDC system admin must be granted the RollWorks Sales Insights permission set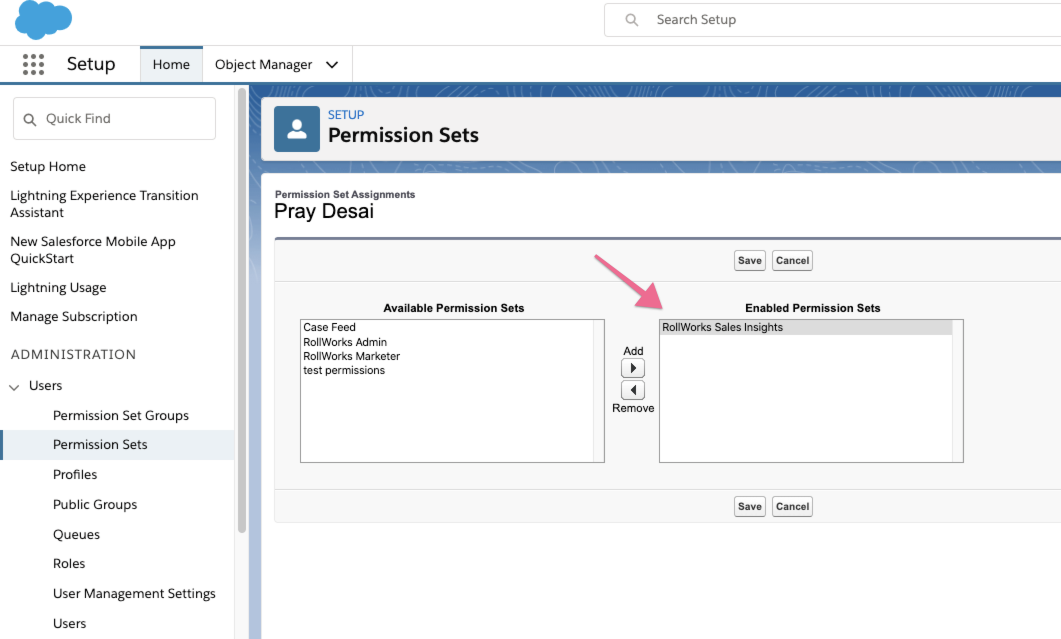 Account Spike Salesforce Fields:
Engagement Raw Score - The output of the data science model looking at various inputs of brand engagement. This score is between 0-n

and is an admin only field, meaning only a user with RollWorks Admin access has access to this field.
Engagement Level - Based on the Engagement Raw Score, we use machine learning to establish Account Spike thresholds of Low, Medium, and High Account spikes. These thresholds are dynamic and responsive to the volume of organic site traffic for your site. This is the main field that should be utilized by Sales in prioritizing accounts spiking in engagement.
Engagement Score Reason - Used to justify the Engagement Level, this field shows marketing and sales what that account did in order to be spiking in engagement.
RollWorks Account Score: Last Modified Date - Shows the last time the Engagement Data was updated. Engagement data is calculated off of the previous day's engagement data, meaning Last Modified Date of today would be based on that accounts engagement yesterday.
Last Surge Timestamp - Shows the last time this account spiked in engagement.
Engagement Reason Definitions:
Page View - Account level site visit. Someone from that account was engaging on pages of your website where the RollWorks pixel is placed.
Unique Visitor - Count of unique users at the Spiking Account who are engaging. Multiple UV's means that multiple unique cookies at the corresponding account are engaging on pages of the website where the RollWorks pixel is placed.
Unique Engaged Visitor - A RollWorks Engaged Visit = 2+ pages viewed. Unique Engaged Visitor is the count of site visitors who engaged with at least 2 pages where the RollWorks pixel is placed.
Clicks - Clicks on a digital ad from a RollWorks campaign
Conversion - Lead-form conversion from the account on a page where the RollWorks pixel is placed
Recurring Visitor - The same unique visitor has engaged on pages of your website for multiple days in a row
Setting up Account Spike for Sales
To enable your Sales team to prioritize daily outreach based on Account Spike data, first work with your Salesforce admin to ensure the right field and object access is granted via instructions below:
Make sure that the Sales user has access to the

RollWorks Sales Insights

permission set which grants Salesforce access to the objects and fields needed to view Account Spike
Navigate to Object Manager in Salesforce Setup and make sure that the RollWorks Account Score custom object has reports enabled.
Next, you'll want to meet with your sales management teams to align on the report and dashboard setup that works best for your org. We recommend a few options:
Report Only - Build Account Spike Salesforce reports and customize by team. For example, you may want the SDR/BDR assigned accounts separate from Account Executive assigned or current customers. Simply create these reports in your Salesforce report folders saved for each team.
Existing Dashboards - Based on the report above, add an Account Spike report as a new component to existing sales dashboards. For example, the SDR/BDR team may have Salesforce Dashboard they already use. Simply create an Account Spike Salesforce report and add to existing dashboards.
Brand New Dashboard - Create a singular view of all daily Account Spike data that can be used by all teams. To do this, create Account Spike reports for each team, and add them as components to a new Salesforce Dashboard. In the screenshot below, you can see this RollWorks Account Spike Dash is comprised of 4 individual spike reports for Unassigned, SDR Assigned, New Business Sales, and Current Customer accounts.
Unassigned vs. Assigned Engaging Accounts
Regardless of the preferred report or dashboard setup, we recommend breaking out your engaging accounts by those assigned to sales reps, and unassigned (not being worked by sales today). Typically, there is a specific user set as the Account Owner to denote accounts not being worked by sales that is either the Salesforce Admin user, or a custom internal user. We recommend creating a separate report for these unassigned accounts so that Marketing and Sales (typically SDR/BDR management) can work together to also prioritize accounts spiking in engagement that are not being worked by sales to ensure:
These accounts are properly routed and assigned to a sales rep for outreach if they fit your ICP
These accounts are added to your RollWorks TAL to ensure they are targeted in RollWorks campaigns
Account Spike Salesforce Report
To help get you started on building Account Spike salesforce reports for your sales and marketing orgs, we've provided a report template in the RollWorks Custom Reports folder called Account Spike Report (Template). The template may also be called Engagement Spike Report (Template) if you installed our Salesforce App before 2020.
To build your own Account Spike report, click into the Account Spike Report (Template) and click Edit. If you navigate to the report filters, you can see this report template is pre-configured to show you all spiking accounts over the past 7 days where Engagement Level is not equal to Null or 0 - None engagement.
To customize this for your sales and marketing org, simply add/edit the filters based on account ownership and any other standard and custom fields relevant to your org.

If you're building a Salesforce report from scratch on RollWorks Account Spike data, first make sure that reports are enabled on the RollWorks Account Scores custom object (instructions above) and select the RollWorks Account Scores with Account report type.

At this point, you're ready to help your sales team better prioritize their daily outreach using RollWorks Account Spike. If you have more questions, feel free to reach out to Sam Kelly (sam.kelly@rollworks.com) or your dedicated RollWorks Account Manager.