What is GDPR Cookie Consent Banner?
To comply with European law you must gather content on your website before tracking any European visitor. To show ads in the EU, you will need to make sure your company complies with various privacy laws, including the ePrivacy Directive (consent to drop cookies) and General Data Protection Regulation (collecting and processing the data collected through the cookie). Consent is gathered through a consent banner to all visitors in the EU (if your company is based outside the EU), or to all site visitors (if your company is based in the EU).
The RollWorks platform gives you three different Cookie Content Banner choices:
To choose your cookie consent banner option, go to Settings > GDPR and select your preference.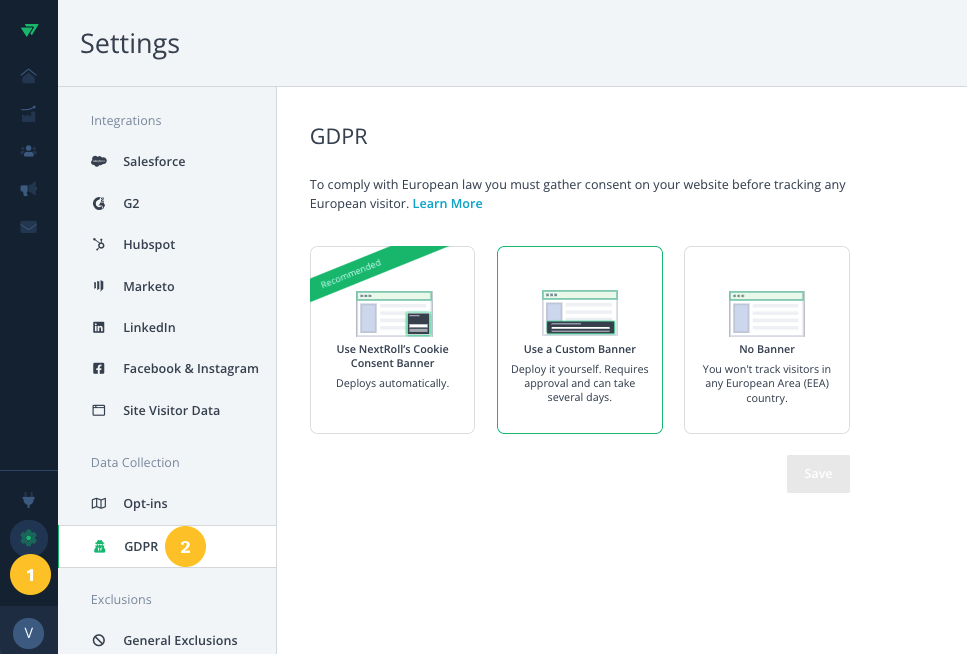 Use NextRoll's Cookie Consent Banner (Recommended)
Your first option is to use the NextRoll consent banner, which can be automatically implemented through your pixel code. Our banner is available in English, Dutch, French, German, Italian, Japanese, and Spanish (based on your visitors' browser language) and covers cookies directly related to NextRoll's services. This is a simple solution that doesn't require much extra developer work and will be implemented without any additional work on your end other than selecting our banner in your dashboard.
Use a Custom Cookie Consent Banner
A third-party banner might be right for you if you have other tracking banners, especially banners that use cookies on your site. If you choose to use a custom banner or a third-party banner, we require a review period and approval before your banner can go live.
Here are some supported third-party consent banners:
One Trust
Trust Arc
Evidon
We've compiled our suggested best practices if you choose to use an external consent banner.
In addition, we strongly recommend using a cookie consent banner (also called a "consent management platform" or "CMP") that integrates with the IAB Europe Transparency & Consent Framework and is configured properly to meet our criteria.
No Banner
If your company is based outside of the European Territories, only your European Territories traffic will need GDPR-level consent. If you don't have or don't want a banner, we won't track traffic from the European Territories and you won't be able to advertise to European Territories-based visitors.
If your company is based in the European Territories, all of your traffic needs to comply with GDPR and the ePrivacy Directive, which means you need to gather consent for advertising cookies from all visitors through a Cookie Consent Banner.