Native ads appear as a part of the design of the web page they're on. Rather than standing out as an ad, native ads tend to have an editorial look and feel, with a softer selling approach. For example, they can appear as recommended content on news sites. These ads have a 9% higher lift for brand affinity and a 18% higher purchase intent compared to regular banner ads. We recommend supplementing image ads with Native ads.
Example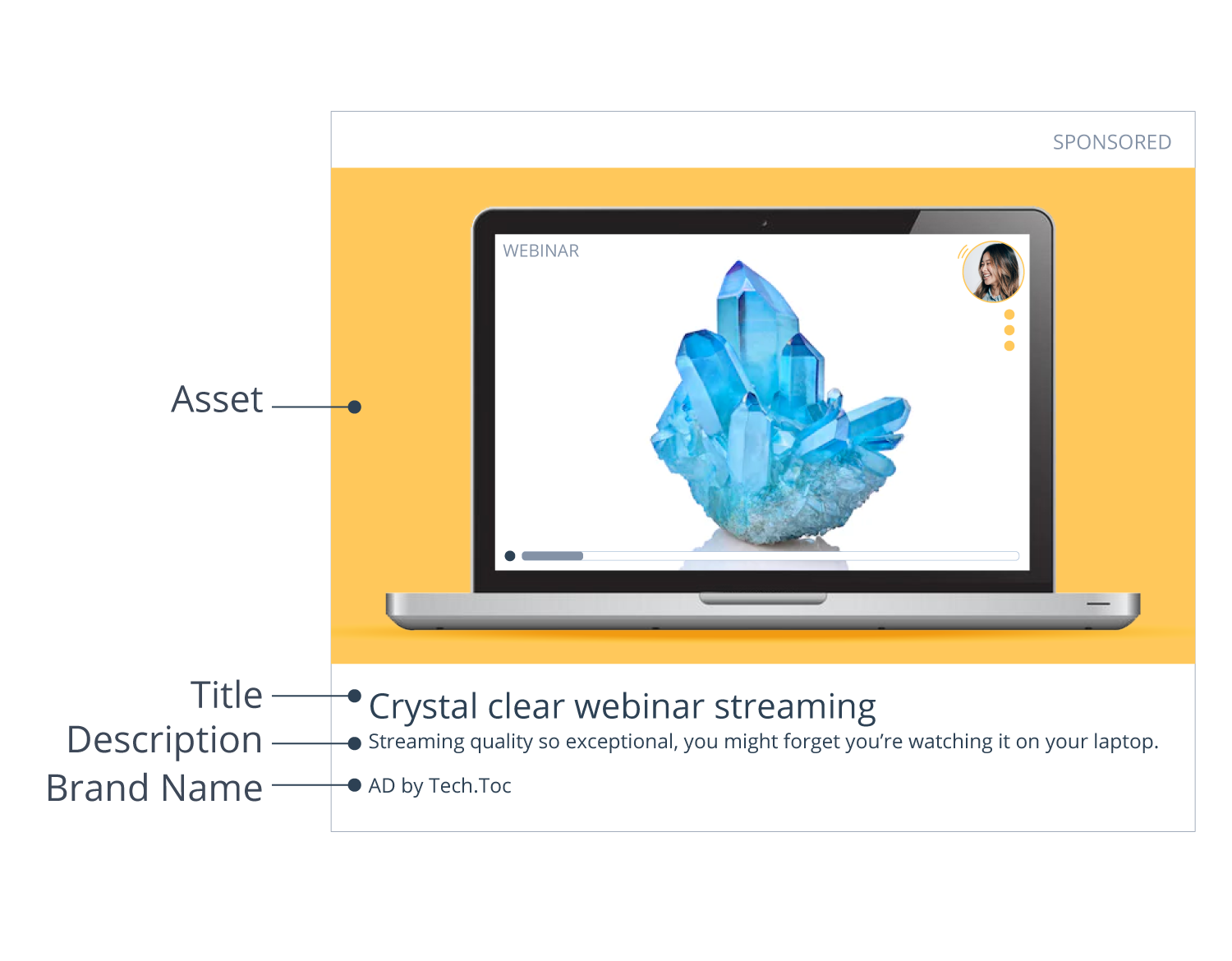 See more examples of native advertising.
Placements

Sizes
Format Requirements
| | |
| --- | --- |
| Supported File Types | JPG, PNG, GIF |
| File Size | Up to 150KB |
| Destination URL (Includes UTM Parameters) | Up to 1,024 characters, no redirecting URLs, URLs can't direct to a payment processor (e.g. PayPal) or video (e.g. YouTube), macros permitted. |
| Title | Up to 60 characters |
| Description | Up to 1024 characters. |
| Brand Name | Up to 900 characters (under 50 recommended) |
Additional Considerations
Publishers have editorial discretion for native ads on their websites. They can choose to resize your images or hide/truncate your descriptions to ensure consistency with their website.

Native Ad images should not contain any text. Text can get cropped or not appear in certain placements, which won't deliver an effective ad experience.

Third-party ad tags are not supported.
Create Static Native Ads
When you get to the Ads step, click Create.

Drag and drop your assets into the dropzone. We support the following sizes:

Fill in the details as needed in the form on the left and preview the changes.

If you need to crop or adjust the zoom level in the images used, click on the image in the preview and make your adjustments.

Click Create.

Review and Launch a new campaign, or Save an existing campaign.