How many Ads can I request to RollWorks for free?
At RollWorks we'll make you 10 free ads in different sizes within 5-7 business days. These ads will be automatically uploaded to your RollWorks Account so that you can add them to your Campaigns and Playbooks as needed. After we upload your set of Ads you can always go to your Ad Library and edit your Ads to change the messaging or CTA.
If you don't have a RollWorks subscription package you can request a new set of free ads once every 90 days.
What types of Ads will RollWorks create for free?
You will receive a set of 10 Image Ad sizes:
6 sized for Image Web Ads
3 sizes for Native Web Ads
1 size for Facebook/Instagram Ads
We don't provide the source files for your Ads or offer the ability to bulk download your Ads from the RollWorks platform.
How do I request free Ads?
Create a new Campaign

or

edit an existing one.
While creating your Campaign you will be asked to select your

Ads.

Click '

Request Free Ads'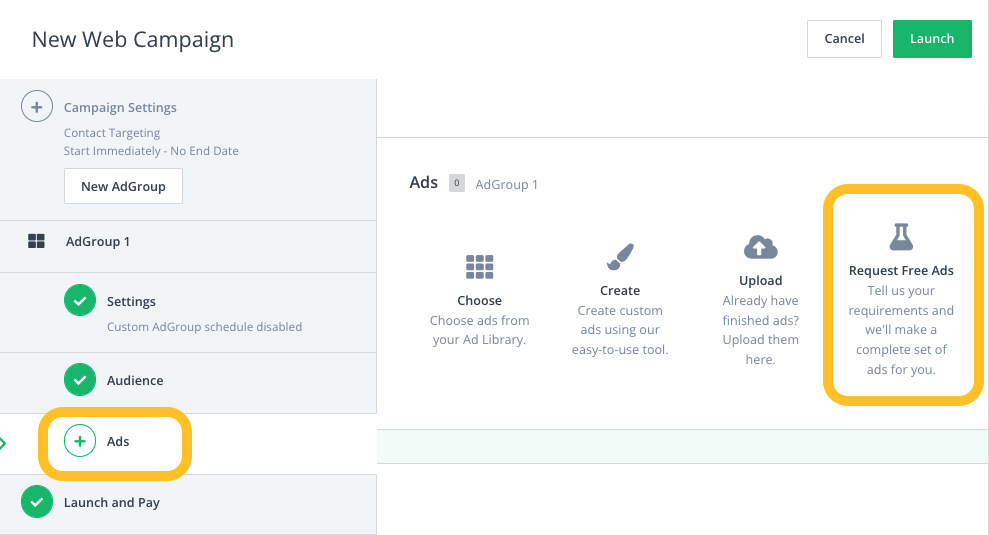 Fill out the form with the required information and click 'Request'

Upload your brand assets: your logos and images.

Format accepted: PSD (recommended) or PNG
File Size Limit: 2 MB per asset. 20MB in total for all assets.

Enter the following fields:

Destination after clicking Ads
Call to Action
Your Website URL
Text Headline: Describe your brand/product (up to 90 characters)
What types of Ads are restricted?
RollWorks will not provide Ad creation request services for the following categories:
Illegal products or services (includes drug-related content)
Discriminatory practices
Alcohol and alcohol-related products
Dangerous Products and Services
Gambling
Trade Restricted Countries
Political Content
Tobacco products and tobacco-related products
Forex Trading & Cryptocurrency
Special Interest
Misleading Content
Please check the full list of Restricted and Prohibited content and practices here.
For more information, visit our Ad Content Guidelines.