Note: These steps require admin access within Marketo.
Create a new Role
1. Create a new role from Marketo Admin > Security > Users & Roles
2. Click on Roles tab and then New Role
3. Enter a Role Name. We recommend to include RollWorks in the name like RollWorks API
4. Click on Access API to expand the list of role permissions. Select the following permissions :
Read-Only Person

Read-Write Activity

Read-Write Activity Metadata



5. Click on Create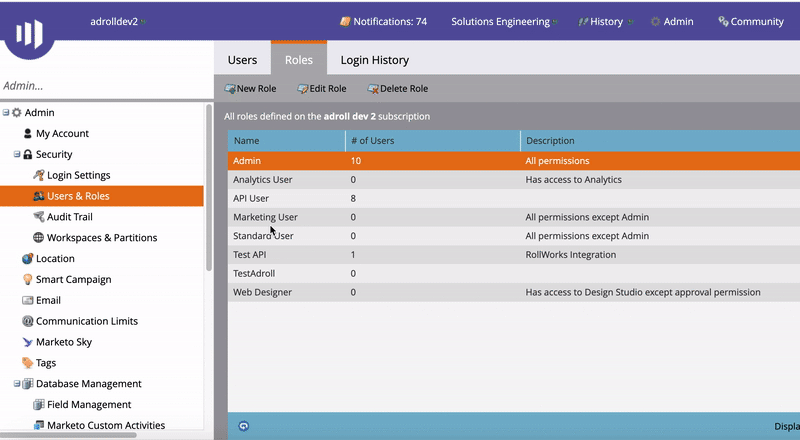 Create a new User
1. Navigate to Users tab under Users & Roles and click on Invite New User.
2. Enter unique email like RollWorksAPI@yourcompany.com. We recommend to include RollWorks in the name like RollWorks API and click on Next
3. Assign to RollWorks API Role created earlier and check the API Only box at the bottom, then click Next.
4. You'll see a message that An invitation is not required for API only. Click Send.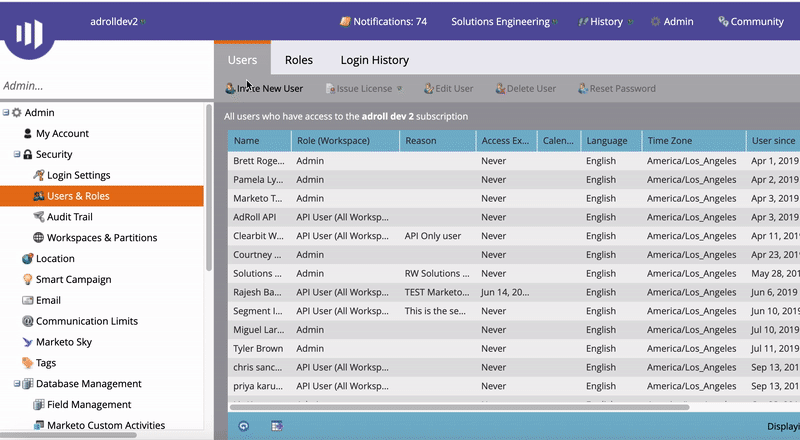 Create a new LaunchPoint service
Click on LaunchPoint from Admin > Integration in the left-hand column.

Click New > New Service to create a new LaunchPoint Service.

Add a name for the service. We recommend to include RollWorks in the name like RollWorks API.

Select Custom for the Service field.

Add a description. Again, we recommend to include RollWorks like RollWorks Integration.

Finally, connect the service to the API user we created above.

Add your Marketo account information into RollWorks
To connect RollWorks to Marketo, we need three pieces of information: your Marketo Client ID, Marketo Secret Key for the user, and your Marketo API Endpoint.
Since we're already in Marketo, we recommend to login to your RollWorks dashboard account in a new tab so that you can easily copy and paste the details over.

Navigate to Identify > Ad Audiences > Connected Audiences tab, then click on dropdown arrow next to New Audience and click on Connect an Audience.



Select Marketo in the integration apps




Click Authorize Account and you'll see three new fields for Marketo REST API Endpoint, Marketo Client ID, and Marketo Secret Key.



Go back to Marketo Admin in another tab, navigate to LaunchPoint, click on See Details on your RollWorks API service.



Copy and paste the Client Id and Client Secret from details into the corresponding fields in RollWorks integrations page.

To find your Marketo REST API Endpoint, navigate to Web Services in Marketo Admin and find your REST API Endpoint



Copy/paste the

REST API Endpoint into RollWorks integration page

Select the box 'Allow RollWorks to export data to Marketo'
Click on Connect

.

Ensure your API user has the required access
If you know the API user and role given to RollWorks, skip to step 3.
To find out the user linked to the RollWorks integration, check the LaunchPoint > Installed Services. Click on View Details for RollWorks API service and check the authorized user email and credentials.



To find out the role of the RollWorks API user, search for the RollWorks user in the Users screen and check the role column.

Find the role created for your RollWorks integration in the Roles tab, and ensure that at least the following "Access API" permissions are checked:

Read-Only Person

Read-Write Activity

Read-Write Activity Metadata