Latest version 1.146 (Sep, 2020) - The RollWorks ABM Salesforce App requires a RollWorks contract.
Installation
We recommend working with your Salesforce system administrator to install the RollWorks ABM App as the user completing the installation will require Download AppExchange Packages and Change Dashboard Colors system permissions.
To install the application, first work with your RollWorks Account Manager to ensure you're provided the URL required for installation. Once the installation link is received, log in to your Salesforce org, copy the link into your browser tab, and press enter.
From the Salesforce installation screen, we recommend selecting to "Install for Admins Only." This will make sure that only admins have access to all objects, fields, pages, and page layouts within the app upon installation. You can then use the RollWorks permission sets (documented later in this guide) to manage user access to different functionality in the RollWorks ABM app.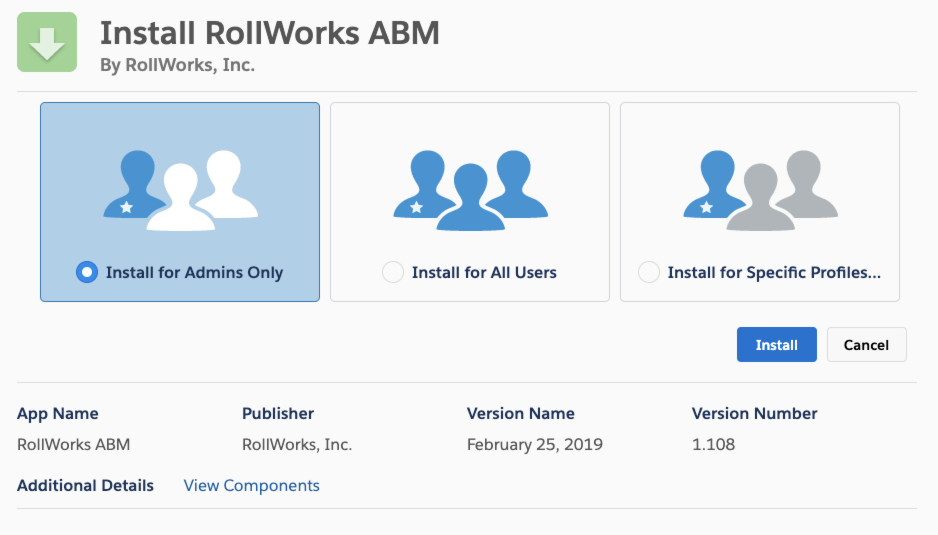 After installation is complete, you will receive an email from Salesforce confirming the package was installed successfully. You can confirm installation by navigating to Salesforce setup, Installed Packages, and finding RollWorks ABM.
Assign Permission Sets
The application comes with three Permission Sets to grant access to the app and manage usage for specific Salesforce users.
RollWorks Admin - Assign this permission set to the users that will be responsible for authenticating your Salesforce org with your RollWorks account and scheduling sync jobs. Any user with this permission set will have read and write access to all pages, objects, and fields in our app. This user also has the ability to create, edit, and delete RollWorks Audience Manager segments and attributes syncing to RollWorks.
RollWorks Marketer - Assign this permission set to give general read-only access to the pages, objects, and fields in our app. This user will not have access to the RollWorks Settings authentication page, and cannot create, edit, or delete Audience Manager segments or attributes syncing to RollWorks.
RollWorks Sales Insights - This permission set grants specific access to functionality in the RollWorks Sales Insights package add-on product for Sales users. This permission set is automatically assigned to sales users in the setup of the product within RollWorks.
Review Permissions & Authenticate to RollWorks Account
Next, we have to configure the data sync between your Salesforce org and RollWorks account. From the RollWorks ABM application, navigate to the RollWorks Settings tab and click the Authorize RollWorks ABM button.
Important Note: To ensure the authenticated user has access to all of the objects and fields required by our platform, please work with your system admin and follow the instructions below:
Recommended: Work with your Salesforce Admin to create a new Salesforce User dedicated to authenticating external app integrations like RollWorks. Make sure that the required app permissions (listed below) are assigned to that user. This option follows Salesforce AppExchange install best practices and ensures that we do not need to re-authenticate if the original auth user leaves your company.
Authenticate via Marketing User with expanded permissions: Work with your Salesforce Admin to make sure that your Salesforce User has the RollWorks required permissions below. If your system admin does not want to grant those permissions, we recommend option 1 above.
Authenticate via Salesforce System Admin: This will guarantee the RollWorks app has the required Salesforce system permissions, but is not recommended from an InfoSec standpoint.
RollWorks Required Permissions:
ViewAll/Read/Write access to Account, Opportunity, Contact, Lead, Campaign, and Activities/Tasks objects
Read/Edit access to User object with ability to manage permission sets
View Roles and Role Hierarchy
View Setup and Configuration
User must have

RollWorks Admin

permission set (provided upon installation) assigned
After clicking the Authorize RollWorks ABM button, you will be prompted with a RollWorks login screen.
Enter your RollWorks platform credentials and click Sign In.
Next, you will see a screen authorizing RollWorks to call into your Salesforce org.
Accept this prompt, and you will be redirected back to the RollWorks Settings tab in Salesforce.
If you have access to multiple RollWorks accounts, you will be prompted one additional step to choose the account to connect with your Salesforce org. You can only have 1 RollWorks account connected to your Salesforce org at a time.
Start Sync Jobs
Once your RollWorks account authentication is complete, we'll want to start sync jobs so that our app syncs data between Salesforce and RollWorks nightly. Before clicking the Start Sync Jobs button, make sure the user scheduling these jobs has System Administrator permissions and assigned RollWorks Admin permission set.
Navigate back to the RollWorks Settings tab and click Start Sync Jobs
If sync jobs are already configured and running, this button will read Stop Sync Jobs. Once running, you will see a log of the last time sync jobs ran, and the option to manually Run Now both the Segment Member Batch and the Tracking Data Batch.
Configure Account, Contact, and Lead Page Layouts
We recommend including several custom fields from the RollWorks Summary objects to the page layout of the Account, Contact, and Lead page layouts to show RollWorks performance data on the corresponding record.
Step 1: Add the RollWorks Summary Related List
Working with your Salesforce system admin, click the Edit Layout button from an Account, Contact, or Lead record page to enter the Page Layout Editor flow. In the editor modal, scroll down to Related Lists, and drag & drop the RollWorks Account Summary (will be called RollWorks User Summary for Contact and Lead page layouts) into the Page Layout.
Step 2: Add the RollWorks Summary Fields
Next, click the wrench icon (in Salesforce classic) to pull up the available fields to add into the RollWorks Summary Related List.
We recommend selecting the following fields to add to page layout:
Impressions
Impression Costs - Spend
Clicks
Page Views - Account Summary only
VTC - View-through Conversion
CTC - Click-through Conversion
Look Back Days - The length of your Tracking Data Timeframe window
Step 3: Save and Repeat for Remaining Objects
Save your new page layout settings, and you will now see RollWorks Summary data on the page layout of your Salesforce record.
Next, add the RollWorks Summary related list to the remaining record page layouts so it is added to the Account, Contact, and Lead pages.
Important things to note regarding object summary data:
These fields are only visible to users with RollWorks Admin or RollWorks Marketer permission sets granted
The data is summarized for the time period tied to the Tracking Data Timeframe (days) custom setting.
For more information on how RollWorks summarizes data on Account, Contact, and Lead objects, click here.