What are Impression-Based Website Audiences
After connecting your site to RollWorks by placing our pixel on your website, we will start capturing your visitor data to turn into Website Audiences. Impression-based audiences are used to define your website audience based on a minimum number of Ad impressions served. 
Keep in mind that your website visitors will be added to the Website Audiences you define as soon as the RollWorks Pixel loads. If a visitor leaves your website before the Pixel loads, the visitor will not be added to your Website Audience. The most common reasons why a visitor is not added to a Website Audience are:
You can use an Impression-based Website Audience when you want to:
Change your targeted and excluded audiences between campaigns.

For example, show a specific message to visitors after they have been shown at least 10 Ad impressions, and then target that segment in following campaigns.

Display sequential messaging based on the number of impressions shown.

Display sequential messaging based on the page visited. For example, you can target people that have been to your pricing page and have been shown at least 10 impressions. Go to this Composite Website Audience Guide to learn more about how to create Composite Audiences.

Exclude users from campaigns after a certain number of impressions, in a more granular way than through adjusting frequency caps.
Create Impression-based Website Audiences
Login to RollWorks and navigate to 'Audiences' > 'Website Audiences'
Select 'Create Website Audience'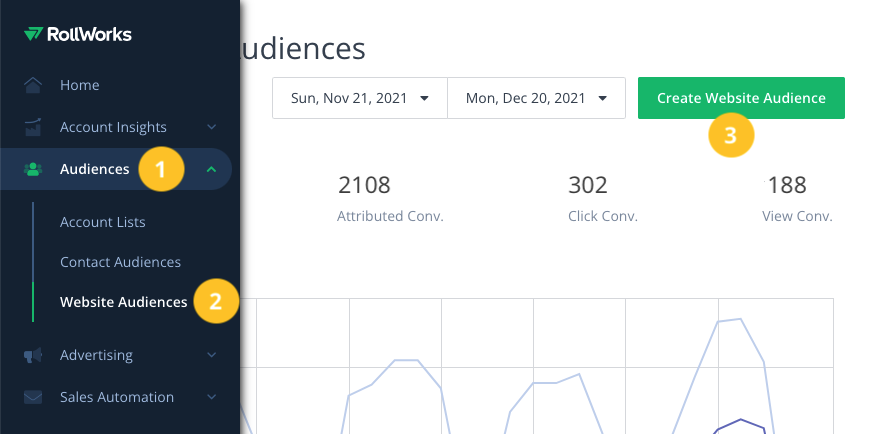 Select 'Audience Type' = 'Impression'
Enter the minimum number of impressions users must receive to be added to this audience under 'shown at least [  ] impression(s)'
Enter your desired 'Audience Name'
Enter your desired Audience Duration (in days) under 'How long to keep a person in this audience'. If you aren't sure, learn more in our Audience Duration article.
Click Create Audience