Conditions to detect an Account Spike
RollWorks will not automatically detect Account Spikes for all accounts in our database. Instead, RollWorks will detect Account Spikes for accounts that pre-exist in your CRM when Sales Insights seats have been configured as follows:
Your CRM accounts
Sales Insights Seat Conditions

Assigned accounts

(owned by a rep)

We will detect Account Spikes for assigned accounts only if a Sales Insights Seat is granted to the sales rep who owns the account in your CRM.

The seat must be configured with viewing permissions 'assigned' or 'both assigned & unassigned'.

Unassigned accounts

(not owned by a rep)

We will detect Account Spikes for unassigned accounts if at least one Sales Insights Seat is granted to a user with viewing permissions 'unassigned' or 'both assigned & unassigned'.

If Salesforce is your default CRM you must have your unassigned email alias correctly filled out here.
The image below illustrates how Sales Insights seats and viewing permissions will impact which accounts we detect Account Spikes for.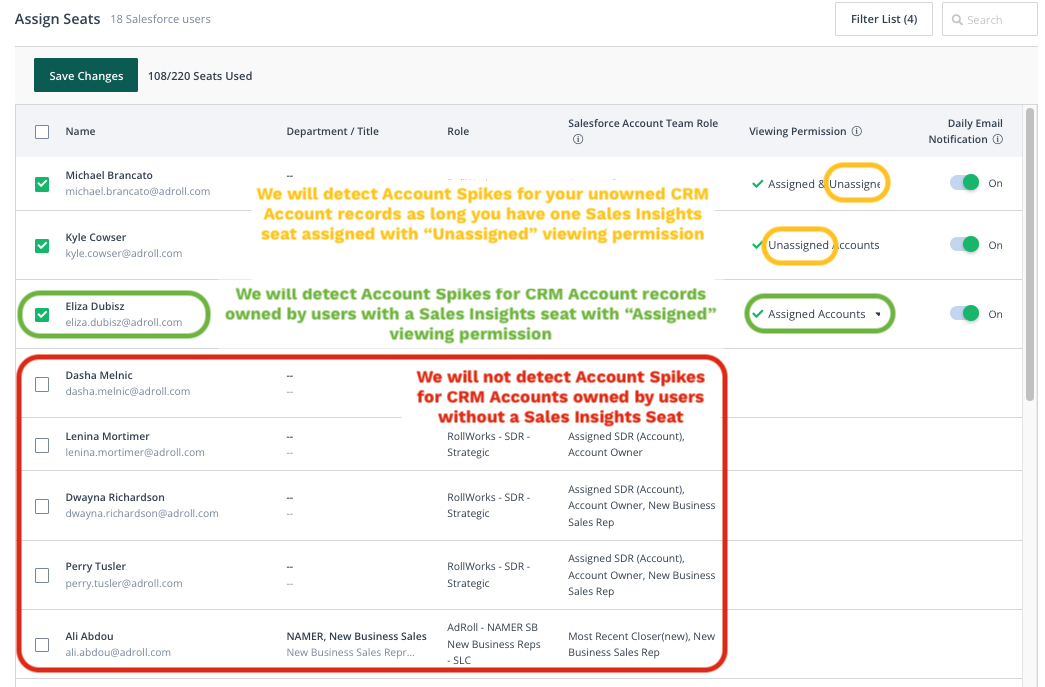 Requirements to deanonymize matched Contacts
Once Sales Insights identifies a Spiking Account we will attempt to uncover who are the visitors that are driving the Spike for a specific account.
When we are able to deanonymize a contact in a Spiking account we will write the following data to your CRM:
HubSpot
Salesforce

Object: Company Standard record

Property: Has Matched Contacts = Yes

Object: RollWorks Account Data Custom Object

Field: Matched Contacts = True
To successfully deanonymize a contact and display the contact details to your sales team, all the conditions below must be met:
We detected an Account spike based on these conditions.

A contact record with a correct email address existed in your CRM prior to the Account Spike (this is a legal requirement).

The email address captured by the Pixel is an exact 1-to-1 match with the email address in the existing contact in your CRM.
To match contacts at spiking accounts, we look at the unique site visitors for spiking accounts and within our cross-device data asset, attempt to match the unique visitor cookie to a cluster of cookies and emails. Once we have the matched cluster, we take the associated emails and look them up to contact records in the integrated CRM. If we can match to an existing contact record, we are able to deanonymize the site visitors and include contact insights.
When Sales Insights is able to deanonymize a matched visitor for a Spiking Account you will be able to visualize the following details:
The Contact Name and Job Title as recorded in your CRM contact record and a link to the contact record.
The URLs visited.
Any Conversion Lead Forms submitted.
How many Ad Clicks.
| HubSpot | Salesforce |
| --- | --- |
| | |
How to improve matched contact rates
Maintain your CRM contacts up to date
Maintaining quality contacts with correct email addresses in your CRM will result in better deanonymization match rates.
Contact match rates depend on the number of up-to-date contact records in your CRM, specifically correct email addresses. In order to deanonymize the unique site visitor on your website, the contact must exist in your CRM with the correct email address. If we are unable to match it to a contact record, we aggregate engagement actions under an Anonymous Visitor for you to visualize this information in your CRM.